Friendly, Affordable HVAC Repairs in Stafford Springs CT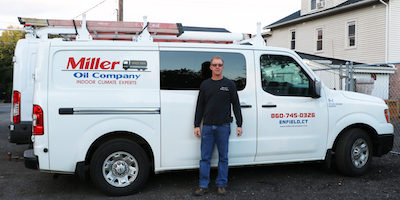 We are your resource for all heating and cooling repairs, service, installation and maintenance needs in Stafford Springs Connecticut. Call us for fast service on your HVAC equipment. We work on oil, propane and gas equipment, however, keep in mind that only our oil repairs are offered with 24-hour service. Gas and propane repairs are on a schedule-only basis.
Get started today with your heating and cooling repairs by calling our Home Comfort Specialists:
We are a locally owned and operated HVAC contractor servicing homes and business in and around Stafford Springs, CT
.
Miller Oil Company is Stafford Springs's leading HVAC contractor. We offer a full line of heating and cooling repairs for all types of equipment, oil, gas, propane and electric.
Stafford Springs, Tolland County, CT Service Area
We service all of Stafford Springs CT and handle furnace repair, air conditioning repair, boiler repairs, heater repairs, heat pump repairs, ductless heating, and cooling repairs and more. We also install new HVAC equipment for homes and businesses throughout Stafford Springs.
Stafford Springs has a population of 5,044 and is located at: Latitude 41.9542632 and Longitude -72.3023022
Call Us For Heating And Cooling In Stafford Springs, CT
Having a comfy home is fundamental and Miller Oil Company is your regional Stafford Springs HVAC contractor! Our expert HVAC technicians can address all your heating and ac problems. We offer full residential and commercial HVAC services.
We offer full HVAC troubleshooting in Stafford Springs and can provide you with the effective fix that you need to get everything functioning optimally. We know how necessary it is to have your heating and cooling working, and we pride ourselves on being able to not only address any HVAC complication you might be having but also on our capability to do it as effectively as possible. In this article, we will review a number of the specific services we provide at Miller Oil Company.
Stafford Springs Residential HVAC Services
One of the last things that you would like to have to deal with at the time of the colder months is a damaged heating unit. Not only is it extremely annoying, but it can cause your entire home substantial discomfort. That is the reason why we are fully dedicated to helping keep your entire home as warm as possible with our residential HVAC services.
If your air conditioner is malfunctioning during the warmer summer months, then you can count on the same quality of service. By giving us a ring, you will receive a comprehensive inspection, a diagnosis, and the needed options to repair your HVAC equipment in an economical manner.
Commercial HVAC Services In Stafford Springs, CT
Always keeping your Stafford Springs commercial building or office as comfortable as possible is not only essential to maximize work productivity, but also to keep everyone as content as possible. Miller Oil Company offers superior commercial HVAC services that can enhance the comfort of your office building.
Our professional services cover everything that you need to have so that your system runs efficiently and can provide a high level of comfort. We have fully certified contractors on staff to assist you with anything including full installation, routine maintenance to keep your HVAC system functioning optimally, and full repair services.
Heater and AC Tune-Up Services Stafford Springs, Connecticut
Routine maintenance is critical to ensure that your system runs optimally in Stafford Springs. We offer comprehensive expert tune-up services that can correctly improve the life-span of each unit and keep each unit operating at max efficiency which can save you a notable amount of cash overall.
Our all-inclusive tune-ups consist of a comprehensive cleaning of condenser coils to enhance unit efficiency, a complete evaluation of the refrigerant level, a full calibration of your thermostat to ensure accurate operation, assessment of your ductwork, inspection of electrically powered connections in your units to ensure maximum safety, as well as a complete evaluation of both the blower motor together with the belt. The tasks incorporated during a regular maintenance check help reduce the chances of any breakdowns when you need your heater or air conditioner the most.
Stafford Springs Heating and Cooling Troubleshooting
To have a heating and cooling system that works the manner that you want it to, you will need to schedule annual furnace or air conditioner maintenance. These tune-ups give the technician the opportunity to check your system and troubleshoot any issues. Our technicians will check every aspect of your system, including your thermostat, heat exchanger, refrigerant, and more.
One of the priorities of a tune-up is to make certain that your system is running as efficiently as possible. Anything that is affecting this will be taken care of to help reduce your energy costs. Another matter that we check for is incorrect heating or cooling that triggers your HVAC system to heat or cool unevenly. Our service technicians will replace your air filter and make sure that there are no blockages with your unit that can affect its ability to create a pleasant indoor environment.
HVAC Installation Services In Stafford Springs
Getting your HVAC system set up properly is essential to getting your unit to function optimally. When working with Miller Oil Company, you can expect the best HVAC installation service in the greater Stafford Springs area. We deliver friendly, professional, and affordable heating and cooling installations. This is something that we have been doing for many years. All of the contractors that we have on staff have suitable certifications, insurance, as well as experience.
When you work with us, you know that you are getting complete pricing transparency with no hidden costs, zero risks, and no stress. Any time you need a repair, installation, or tune-up, you can trust us to deliver the service that you would want.
Give us a call immediately if you are in Stafford Springs, CT. You can arrange an appointment for a free, in-home appointment with one of our highly trained specialists.
Heating & Cooling Repair Resources Near Me Stafford Springs AC Repair
HVAC Contractor Stafford Springs CT
Stafford Springs Heating and Cooling
Boiler Repair Services Stafford Springs CT
Stafford Springs Furnace Repair
Stafford Springs Home AC Repair
Heating and Air Stafford Springs CT
Points of Interest in Stafford Springs
Stafford Springs is the census-designated place for Stafford, Connecticut. It is located near the Willimantic River and, as a result, the mill industry in the town prospered. Stafford Springs has a total land area is 6.38 square miles and a total water area of .4 square miles. The United States Census Bureau reports that Stafford Springs has a population of 4,853 in 2018. As of 2017, the racial makeup in Stafford Springs is 93% White, 3% Hispanic, 2% other races. The estimated median household income in 2018 is $56,281 while the estimated per capita income in the same year is $28,777. The median home price is $188,132.
Places to check out in Stafford Springs:
Our high level of customer support ensure that we'll get your home's HVAC system operating quickly and affordably!
We install and service the following heating equipment for our Stafford Springs customers:
We install, service and repair the following cooling equipment in Stafford Springs, CT:
Get comfortable in your home again with Miller Oil Company! Call us today to schedule a free estimate for new HVAC equipment or to schedule fast heating and cooling system repairs or service.
Local Reviews
for Stafford Springs, CT
---
Miller Oil Company services all of Stafford Springs, Connecticut, including the following zip codes: 06076. Click here to return to our service area.