Friendly, Affordable HVAC Repairs in Stafford CT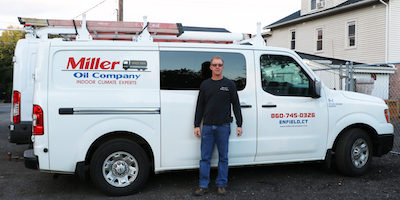 We are your resource for all heating and cooling repairs, service, installation and maintenance needs in Stafford Connecticut. Call us for fast service on your HVAC equipment. We work on oil, propane and gas equipment, however, keep in mind that only our oil repairs are offered with 24-hour service. Gas and propane repairs are on a schedule-only basis.
Get started today with your heating and cooling repairs by calling our Home Comfort Specialists:
We are a locally owned and operated HVAC contractor servicing homes and business in and around Stafford, CT
.
Miller Oil Company is Stafford's leading HVAC contractor. We offer a full line of heating and cooling repairs for all types of equipment, oil, gas, propane and electric.
Stafford, Tolland County, CT Service Area
We service all of Stafford CT and handle furnace repair, air conditioning repair, boiler repairs, heater repairs, heat pump repairs, ductless heating, and cooling repairs and more. We also install new HVAC equipment for homes and businesses throughout Stafford.
Stafford has a population of 11,758 and is located at: Latitude 41.984407 and Longitude -72.3162523
Call Us For Heating And Cooling In Stafford, CT
Having a comfy home is important and Miller Oil Company is your neighborhood Stafford HVAC contractor! Our repair technicians are the very best repairmen in the area. We can get your home's HVAC system working again, quickly and affordably. At Miller Oil Company, we provide a full assortment of HVAC services, including installation, maintenance, tune-ups, and even repairs.
As expert heating and cooling technicians in the profession, we can troubleshoot any complication that you encounter. Also, we can repair it quickly so that your Stafford HVAC equipment works the manner in which you expect it to once again. We know that a correct diagnosis to an ailing HVAC equipment is important when the weather is unbearable. We also know that servicing the unit quickly is essential. Below, you will uncover some of the services that you can expect when hiring Miller Oil Company.
Stafford Residential HVAC Services
One of the final things that you want to have to deal with during the course of the colder months is a faulty furnace. Not only is it exceedingly inconvenient, but it can cause your entire home great discomfort. That is precisely why we are fully dedicated to helping keep your whole household as warm as possible with our residential HVAC services.
If your air conditioner has malfunctioned, then you can count on swift, affordable, and competent services. We offer everything that you could possibly need including proper assessment, diagnostics, repair, installation, as well as routine maintenance.
Commercial HVAC Services In Stafford, CT
To achieve the most effective results at work, you need to keep your Stafford employees comfortable. Their comfort impacts their frame of mind and levels of productiveness. At Miller Oil Company, we can help you enhance the comfort of your commercial property by providing comprehensive commercial cooling and heating services.
At Miller Oil Company, we offer the services that are required to guarantee that your HVAC system performs efficiently and optimally. We have fully certified contractors on staff to assist you with anything including full installation, routine maintenance to keep your HVAC system functioning optimally, and full repair services.
Heater and AC Tune-Up Services Stafford, Connecticut
Routine maintenance is vital to ensure that your system runs optimally in Stafford. Since heating and cooling your home account for the majority of your energy costs, a tune-up is a great means to reduce these expenses. Our HVAC maintenance services can really help your system perform at its best to make sure that it performs efficiently while supplying you with the comfort that you require to get through the severe outdoor temperatures.
We use a thorough tune-up list to ensure that we inspect your unit inside out. We clean the HVAC system, lubricate it, and look for any minor issues. This inspection gives you the option to repair any minor problems before they intensify into major and more costly ones. For this reason, not only is our tune-up a terrific means to reduce your energy costs, but it is a great way to reduce your HVAC repair costs. The tasks involved during a routine maintenance check help prevent any breakdowns when you need your heater or air conditioner the most.
Stafford Heating and Cooling Troubleshooting
As discussed above, an annual heating or AC inspection helps increase the operation of your system. As a result, it is a valuable investment. A tune-up includes a thorough inspection of your heater or air conditioner. Our technicians will troubleshoot any concerns that they identify with your unit. Not only do we check for potential thermostat issues that could be causing your system to malfunction, but we also hunt for potential refrigerant leaks as this can be very common.
We also make sure that your system is performing well, incorporating the efficiency of your system. We will inform you of any concerns that could possibly impact your home heating or cooling costs. We check for complications with your system's functionality. We make sure that your furnace or air conditioning unit is able to create a balanced temperature throughout your home or office building. An air filter replacement is conducted and we check your outdoor unit for any blockages including plants or other debris.
HVAC Installation Services In Stafford
Getting your HVAC system installed properly is essential to getting your unit to operate optimally. At Miller Oil Company, we take pride in offering the best installations in Stafford. This is something that we have been providing for many years. We have the best HVAC technicians on staff who all have the necessary licenses, know-how, and skills.
When you work with us, you know that you are getting complete pricing transparency with no hidden charges, zero risks, and no stress. You can rely on us to service your unit the right way, the 1st time around.
Call Miller Oil Company for every one of your Stafford, CT heating and air conditioning requirements. We have the professionals on staff to help you with any concerns or problems you may be having and we take pride in delivering the most effective HVAC service in the entire area.
Heating & Cooling Repair Resources Near Me Stafford AC Repair
HVAC Contractor Stafford CT
Stafford Heating and Cooling
Boiler Repair Services Stafford CT
Stafford Furnace Repair
Stafford Home AC Repair
Heating and Air Stafford CT
Points of Interest in Stafford
Known as the Colonial Town of Stafford, the town started as an agricultural community in the eastern area of Hartford County. However, when Tolland County was formed on October 13, 1785, Stafford became part of this county instead. It has a total area of 58.8 square miles. Its total land area is 58 square miles, whereas .8 square miles is water. The average high temperature in Stafford is 81 degrees in July. Whereas, the average low temperature is 14 degrees in January. The United States Census Bureau reports that Stafford has a population of 11,758 in 2016. As of 2010, the racial makeup in Stafford is 93.7% White, 2.9% Hispanic, .6% Black, and 1.1% Asian. The estimated median household income in 2016 is $72,520 while the estimated per capita income in the same year is $31,680. The median home price is $211,879.
Places to check out in Stafford:
Our high level of customer support ensure that we'll get your home's HVAC system operating quickly and affordably!
We install and service the following heating equipment for our Stafford customers:
We install, service and repair the following cooling equipment in Stafford, CT:
Get comfortable in your home again with Miller Oil Company! Call us today to schedule a free estimate for new HVAC equipment or to schedule fast heating and cooling system repairs or service.
Local Reviews
for Stafford, CT
---
Miller Oil Company services all of Stafford, Connecticut, including the following zip codes: 06071, 06075, 06076, 06077, 06279. Click here to return to our service area.