Friendly, Affordable HVAC Repairs in Staffordville CT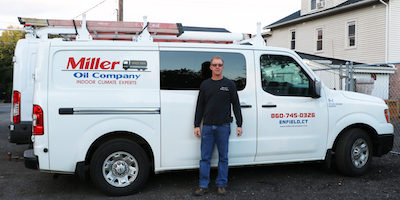 We are your resource for all heating and cooling repairs, service, installation and maintenance needs in Staffordville Connecticut. Call us for fast service on your HVAC equipment. We work on oil, propane and gas equipment, however, keep in mind that only our oil repairs are offered with 24-hour service. Gas and propane repairs are on a schedule-only basis.
Get started today with your heating and cooling repairs by calling our Home Comfort Specialists:
We are a locally owned and operated HVAC contractor servicing homes and business in and around Staffordville, CT
.
Miller Oil Company is Staffordville's leading HVAC contractor. We offer a full line of heating and cooling repairs for all types of equipment, oil, gas, propane and electric.
Staffordville, Tolland County, CT Service Area
We service all of Staffordville CT and handle furnace repair, air conditioning repair, boiler repairs, heater repairs, heat pump repairs, ductless heating, and cooling repairs and more. We also install new HVAC equipment for homes and businesses throughout Staffordville.
Staffordville has a population of 6,541 and is located at: Latitude 41.9939848 and Longitude -72.25869
Call Us For Heating And Cooling In Staffordville, CT
If you are on the lookout for heating and cooling installation or repair in Staffordville, CT, Miller Oil Company is prepared to offer professional assistance. Our expert HVAC technicians can resolve all your heating and ac concerns. At Miller Oil Company, we provide a full assortment of HVAC services, including installation, maintenance, tune-ups, as well as repairs.
As skilled heating and cooling technicians in the industry, we can troubleshoot any complication that you come across. Also, we can repair it swiftly so that your Staffordville HVAC system runs the way that you expect it to once more. We know that a correct diagnosis to an ailing HVAC system is important when the weather is unbearable. We also know that fixing the unit quickly is essential. Some of the kinds of services that we provide can be seen below.
Staffordville Residential HVAC Services
Dealing with a malfunctioning heating system when the weather is cold is a horrible experience. It is uncomfortable and has an effect on your safety and security. One of the goals at Miller Oil Company is to provide our clients with superior residential HVAC services. If your furnace is giving you problems, then it is crucial for us to get it functioning once again.
In addition, we offer the same services to help keep your home cool during the warmer months when you need your central air conditioning functioning correctly. By giving us a ring, you will receive a full inspection, a diagnosis, and the necessary strategies to fix your HVAC equipment in an affordable manner.
Commercial HVAC Services In Staffordville, CT
Keeping your Staffordville commercial building or work environment as comfortable as possible is not only crucial to maximize productivity but also to keep everyone as content as possible. At Miller Oil Company, we can help you enhance the comfort of your commercial property by offering comprehensive commercial heating and cooling services.
We offer everything that you could possibly require to keep your HVAC system operational and functioning optimally. Our NATE certified specialists have a wealth of knowledge and experience. They can assist you with installations, repairs, and also the maintenance of your heating and cooling system.
Heater and AC Tune-Up Services Staffordville, Connecticut
Routine maintenance is vital to ensure that your system runs optimally in Staffordville. Since heating and cooling your home account for the majority of your utility expenditures, a tune-up is a great method to reduce these expenses. Our HVAC maintenance services can help your system run at its best to ensure that it performs efficiently while supplying you with the comfort that you need to get through the extreme outdoor temperatures.
We use a thorough tune-up list to ensure that we inspect your unit from top to bottom. We clean the HVAC system, lubricate it, and search for any small issues. This inspection gives you the chance to repair any minor problems before they escalate into major and more costly ones. Therefore, not only is our tune-up a great approach to reduce your energy costs, but it is an excellent way to reduce your HVAC repair service costs. These are just a few of the things that we will carry out during our complete heater and AC tune-up.
Staffordville Heating and Cooling Troubleshooting
As stated above, a yearly heating or AC checkup helps increase the effectiveness of your system. Therefore, it is a valuable investment. A tune-up includes a thorough inspection of your heating unit or air conditioning system. Our technicians will address any issues that they identify with your unit. Our service technicians will check every element of your system, including your thermostat, heat exchanger, refrigerant, and more.
We also make sure that your system is performing well, incorporating the efficiency of your system. We will update you of any problems that could possibly impact your home heating or air conditioning costs. We check to see if your heating or cooling system is able to deliver an even, balanced temperature throughout your office or home. During the troubleshooting professional service, we also check and change the air filters if needed and fully inspect the outside unit to make sure that it is not being blocked due to debris build-up.
HVAC Installation Services In Staffordville
A brand-new HVAC system is quite an investment. Yet, did you know that the quality of the installation will substantially affect its performance? At Miller Oil Company, we take pride in offering the best installations in Staffordville. This is something that we have been doing for many years. We have the absolute best HVAC technicians on staff who all have the necessary licenses, expertise, and skills.
As a family owned and operated company, we provide fair and affordable prices. We have the capacity to solve all of your service and installation needs for your HVAC system.
Contact Miller Oil Company for all of your Staffordville, CT heating and cooling needs. If you have any questions or concerns, we will address them for you. One of our technicians will put in the time to thoroughly address your questions as we are proud to be the area's best HVAC provider.
Heating & Cooling Repair Resources Near Me Staffordville AC Repair
HVAC Contractor Staffordville CT
Staffordville Heating and Cooling
Boiler Repair Services Staffordville CT
Staffordville Furnace Repair
Staffordville Home AC Repair
Heating and Air Staffordville CT
Points of Interest in Staffordville
Staffordville is one of the eight rural villages in Stafford, Tolland County, Connecticut. Locals and tourists alike frequent the Staffordville Lake, where a small public beach is a favorite summertime destination. Staffordville has one of the three elementary schools in the Stafford. The village also has one of the two strategically-placed volunteer fire department in town.
Places to check out in Staffordville:
Our high level of customer support ensure that we'll get your home's HVAC system operating quickly and affordably!
We install and service the following heating equipment for our Staffordville customers:
We install, service and repair the following cooling equipment in Staffordville, CT:
Get comfortable in your home again with Miller Oil Company! Call us today to schedule a free estimate for new HVAC equipment or to schedule fast heating and cooling system repairs or service.
Local Reviews
for Staffordville, CT
---
Miller Oil Company services all of Staffordville, Connecticut, including the following zip codes: 06077. Click here to return to our service area.