Friendly, Affordable HVAC Repairs in South Windsor CT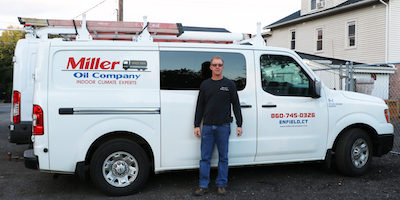 We are your resource for all heating and cooling repairs, service, installation and maintenance needs in South Windsor Connecticut. Call us for fast service on your HVAC equipment. We work on oil, propane and gas equipment, however, keep in mind that only our oil repairs are offered with 24-hour service. Gas and propane repairs are on a schedule-only basis.
Get started today with your heating and cooling repairs by calling our Home Comfort Specialists:
We are a locally owned and operated HVAC contractor servicing homes and business in and around South Windsor, CT
.
Miller Oil Company is South Windsor's leading HVAC contractor. We offer a full line of heating and cooling repairs for all types of equipment, oil, gas, propane and electric.
South Windsor, Hartford County, CT Service Area
We service all of South Windsor CT and handle furnace repair, air conditioning repair, boiler repairs, heater repairs, heat pump repairs, ductless heating, and cooling repairs and more. We also install new HVAC equipment for homes and businesses throughout South Windsor.
South Windsor has a population of 25,962 and is located at Latitude 41.8489872 and Longitude -72.5717551
Call Us For Heating And Cooling In South Windsor, CT
If you are on the hunt for heating and cooling installation or servicing in South Windsor, CT, Miller Oil Company is prepared to offer professional assistance. Our repair technicians are the very best repairmen in the area. We can get your home's HVAC system working again, quickly and affordably. You can rest assured that we can take care of all of your home comfort requirements.
We offer full HVAC troubleshooting in South Windsor and can offer you with the effective fix that you need to get everything functioning ideally. We understand how crucial it is to have your home heating and cooling working, and we pride ourselves on being able to not only handle any HVAC issue you might be having but also on our capability to do it as efficiently as possible. Below, you will uncover some of the professional services that you can look forward to when employing Miller Oil Company.
South Windsor Residential HVAC Services
One of the final things that you want to have to deal with in the middle of the colder months is a faulty furnace. Not only is it remarkably annoying, but it can cause your entire home considerable discomfort. That is why we are fully dedicated to helping keep your whole family as warm as possible with our residential HVAC professional services.
If your air conditioner is malfunctioning during the summer months, then you can anticipate the same quality of service. Our experienced heating and cooling professionals can provide you with a thorough inspection, a diagnosis, as well as practical solutions that can address your ailing HVAC unit.
Commercial HVAC Services In South Windsor, CT
Many research studies have proven that when workers feel comfortable at work and they are content and more productive. Therefore, it is essential, for the general well-being of your South Windsor business, to keep a comfortable indoor environment. At Miller Oil Company, we can help you improve the comfort of your commercial property by offering comprehensive commercial cooling and heating services.
At Miller Oil Company, we offer the services that are vital to guarantee that your HVAC system performs efficiently and optimally. Our NATE certified technicians have a wide range of knowledge and experience. They can assist you with installations, repairs, as well as the maintenance of your heating and cooling system.
Heater and AC Tune-Up Services South Windsor, Connecticut
Keeping up with routine maintenance on your South Windsor home heating and AC systems is crucial in order to keep both units functioning correctly. Since heating and cooling your home account for the majority of your energy costs, a tune-up is a great approach to reduce these expenses. Our HVAC maintenance services can really help your system perform at its best to ensure it performs efficiently while providing you with the comfort that you need to get through the severe outdoor conditions.
Our thorough tune-ups include a comprehensive cleaning of condenser coils to boost unit efficiency, a full evaluation of the refrigerant level, a full calibration of your thermostat to guarantee accurate operation, assessment of your ductwork, inspection of electrical connections in your units to ensure maximum safety, as well as a complete evaluation of both the blower motor and the belt. These are just a few of the aspects that we will perform during our complete heater and AC tune-up.
South Windsor Heating and Cooling Troubleshooting
As pointed out above, a yearly heating or AC examination helps increase the performance of your system. Therefore, it is a valuable investment. A tune-up includes things like a thorough inspection of your furnace or air conditioner. Our technicians will address any problems that they identify with your unit. We look for thermostat issues, performance problems, oversee the combustion process, refrigerant leaks, and so much more.
Among one of the main concerns of a tune-up is to make certain that your system is running as efficiently as possible. Anything that is having an effect on this will be dealt with to help reduce your energy costs. Another matter that we look for is improper heating or cooling that results in your HVAC system to heat or cool unevenly. Our specialists will replace your air filter and make certain that there are no stoppages with your unit that can affect its capacity to create a pleasant indoor environment.
HVAC Installation Services In South Windsor
A new HVAC system in your house or business is an opportunity to boost your comfort and decrease your energy costs. Nevertheless, did you know that the installation needs to be perfect for you to genuinely gain the benefits of your new system? When working with Miller Oil Company, you can count on the best HVAC installation service in the greater South Windsor area. We provide pleasant, professional, and affordable heating and cooling replacements. We have the background, knowledge, and skills to deal with all makes and models. All of the service technicians that we have on staff have suitable certifications, insurance, and experience.
We have a long history in the business and we have thrived all of these years by providing our clients with superior services at affordable prices. We have the ability to solve all of your service and installation requirements for your HVAC system.
Contact Miller Oil Company for every one of your South Windsor, CT heating and cooling necessities. We have the contractors on staff to help you with any issues or problems you may be having and we take pride in delivering the best HVAC service in the whole entire area.
Heating & Cooling Repair Resources Near Me South Windsor AC Repair
HVAC Contractor South Windsor CT
South Windsor Heating and Cooling
Boiler Repair Services South Windsor CT
South Windsor Furnace Repair
South Windsor Home AC Repair
Heating and Air South Windsor CT
Points of Interest in South Windsor
South Windsor is a suburban town with commercial and industrial districts. However, before the 1950s, South Windsor was a rural/agricultural community. It has a total area of 28.7 square miles. Its total land area is 28.1 square miles, whereas .6 square miles is water. The average high temperature in South Windsor is 84 degrees in July. Whereas, the average low temperature is 18 degrees in January. The United States Census Bureau reports that South Windsor has a population of 25,737 in 2016. As of 2010, the racial makeup in South Windsor is 82.1% White, 4.3% Hispanic, 3.7% Black, and 8.1% Asian. The estimated median household income in 2016 is $101,217 while the estimated per capita income in the same year is $44,344. The median home price is $272,194.
Places to check out in South Windsor:
Our high level of customer support ensure that we'll get your home's HVAC system operating quickly and affordably!
We install and service the following heating equipment for our South Windsor customers:
We install, service and repair the following cooling equipment in South Windsor, CT:
Get comfortable in your home again with Miller Oil Company! Call us today to schedule a free estimate for new HVAC equipment or to schedule fast heating and cooling system repairs or service.
Local Reviews
for South Windsor, CT
Miller Oil Company
Rated
5.0
out of 5 stars based on
2
customer reviews
---
Professional
Bill

-

South Windsor

,

CT

06074



Review of
Miller Oil Company
Recently bought a condo that allegedly had gas furnace and a/c serviced by Lodge heading and cooling of Manchester ct. As we suspected, Inspection revealed this had not been done. We have the pictures to prove it. We will definitely be using W L Heating and cooling for recommended yearly service including blower and motor removal and cleaning and in the near future, replacement of entire system. Tony was fantastic
---
Great service
Debbie

-

South Windsor

,

CT

06074



Review of
Miller Oil Company
Service guy joe was wonderful ....so kind and professional .
---
Russell A.
Emergency no heat service call
Near

Oakwood Dr,

South Windsor

,

CT

06074
Antonio M.
Inspection
Near

Mill Pond Dr,

South Windsor

,

CT

06074
Antonio M.
Gas boiler pm Weil McLain GV-90 and State on demand water heater pm
Near

Niederwerfer Rd,

South Windsor

,

CT

06074
Joseph M.
Tune up
Near

Clark St,

South Windsor

,

CT

06074
Miller Oil Company services all of South Windsor, Connecticut, including the following zip codes: 06028, 06042, 06074, 06120. Click here to return to our service area.