HVAC Manchester CT Contractor, Affordable & Trusted Repairs & Installations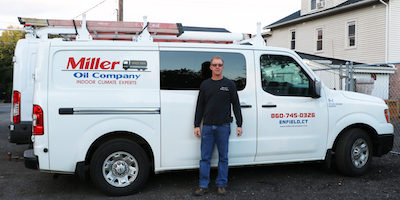 We are Manchester, Connecticut's go-to for all heating and cooling solutions, from repairs and maintenance to installations. Reach out to us for prompt HVAC service. We handle oil, propane, and gas systems. Note that we offer round-the-clock service for oil repairs, while gas and propane services are by appointment only.
Get started today with your HVAC Manchester CT heating and cooling repairs by calling our Home Comfort Specialists:
We are a locally owned and operated HVAC contractor servicing homes and businesses in and around Manchester, CT.
Miller Oil Company is Manchester's leading HVAC contractor. We offer a full line of heating and cooling repairs for all types of equipment, oil, gas, propane and electric.
Manchester, Hartford County, CT Service Area
We service all of Manchester CT and handle furnace repair, air conditioning repair, boiler repairs, heater repairs, heat pump repairs, ductless heating, and cooling repairs and more. We also install new HVAC equipment for homes and businesses throughout Manchester.
Manchester has a population of 35,946 and is located at Latitude 41.7770485 and Longitude -72.5236311
Call Us For Heating And Cooling In Manchester, CT
Miller Oil Company is your trusted partner for HVAC solutions in Manchester, CT. Boasting the region's top technicians, we ensure prompt and cost-effective services for your HVAC needs. Our comprehensive suite of HVAC offerings encompasses installation, maintenance, tune-ups, and repairs.
With a rich experience in heating and cooling solutions, our technicians are adept at identifying and resolving any HVAC challenges you may face. Recognizing the importance of a fully functional HVAC system in your home, we take immense pride in our efficiency and effectiveness in addressing your concerns. A glimpse of our specialized services is detailed below.
Manchester Residential HVAC Services
Dealing with a malfunctioning heating system during the chilly winter months is more than just a hassle. It leaves your home freezing, pushing you to find alternative heating solutions. Miller Oil Company stands steadfastly by its customers. Armed with expertise and proven methods, we can promptly restore your heating system to its optimal condition.
Should your air conditioner experience a breakdown, trust in our quick, cost-effective, and proficient services. A simple call to us ensures a thorough examination, a precise diagnosis, and affordable solutions to get your HVAC equipment back in top shape.
Commercial HVAC Services In Manchester, CT
Ensuring the comfort of your Manchester employees is pivotal to achieving optimal results at work. Their well-being directly impacts their mindset and productivity levels. Miller Oil Company is here to enhance the comfort level of your commercial space with our extensive range of heating and cooling services.
Miller Oil Company delivers crucial services to ensure your HVAC system operates at its peak efficiency. Whether it's installations, replacements, repairs, or tune-ups, we make certain your HVAC system functions as intended and meets your specific needs.
Heater and AC Tune-Up Services Manchester, Connecticut
Routine maintenance is necessary to make sure that your system runs optimally in Manchester. Our comprehensive tune-up services can help your system provide you with the level of comfort that you should have while functioning at peak efficiency. A system that runs efficiently is a fantastic way to lower your home heating and cooling payments.
We use a thorough tune-up guideline to ensure that we inspect your unit from top to bottom. We clean the HVAC system, lubricate it, and look out for any minor issues. This inspection gives you the option to repair any minor problems before they grow into major and more expensive ones. As a result, not only is our tune-up an exceptional means to reduce your electricity costs, but it is a terrific way to reduce your HVAC repair service costs. Since most breakdowns happen when the weather is extreme, these tune-ups help prevent unexpected malfunctions. Consequently, you can rely on having a reliable and energy efficient cooling and heating system all throughout the summer or winter season.
Manchester Heating and Cooling Troubleshooting
As stated above, a yearly heating or AC check-up helps promote the performance of your system. Thus, it is a valuable investment. A tune-up involves a thorough inspection of your heater or cooling system. Our technicians will troubleshoot any issues that they identify with your unit. Our service technicians will check every part of your system, including your thermostat, heat exchanger, coolant, and much more.
One of the top priorities of a tune-up is to ensure that your system is running as efficiently as possible. Anything that is affecting this will be dealt with to help decrease your energy costs. Another issue that we check for is improper heating or cooling that causes your HVAC system to heat or cool unevenly. Our service technicians will replace your air filter and ensure that there are no obstructions with your unit that can affect its ability to create a pleasant indoor environment.
HVAC Installation Services In Manchester
Getting your HVAC system set up properly is crucial to getting your unit to run optimally. When working with Miller Oil Company, you can count on the best HVAC installation service in the greater Manchester area. We deliver courteous, professional, and affordable heating and air conditioning installations. This is something that we have been providing for many years. Every one of our employees are fully educated and certified.
When you hire us, you know that you are getting total pricing transparency with no hidden charges, zero risks, and no stress. We have the capacity to address all of your service and installation demands for your HVAC system.
Give us a call today if you are in Manchester, CT. If you have any questions or concerns, we will resolve them for you. One of our technicians will put in the time to thoroughly resolve your questions as we are proud to be the region's best HVAC provider.
Heating & Cooling Repair Resources Near Me
Manchester AC Repair
HVAC Contractor Manchester CT
Manchester Heating and Cooling
Boiler Repair Services Manchester CT
Manchester Furnace Repair
Manchester Home AC Repair
Heating and Air Manchester CT
Points of Interest in Manchester
Nestled in the heart of Connecticut, Manchester offers an eclectic mix of historical, natural, and modern attractions that cater to visitors of all tastes.
Manchester History Center: A cornerstone for history enthusiasts, the Manchester History Center provides a deep dive into the town's storied past. The center is home to exhibits that shed light on Manchester's industrial, cultural, and social evolution. With rotating exhibits and knowledgeable guides, it's an enlightening trip down memory lane.
Case Mountain: Nature lovers will find solace in the trails of Case Mountain. This serene locale offers a myriad of hiking paths that cater to both beginners and experienced trekkers. The panoramic views of Manchester and beyond from the peak are breathtaking, making the climb truly worth the effort. Moreover, it's a popular spot for mountain biking and picnicking, providing an escape from the hustle and bustle.
Cheney Brothers Historic District: As a testament to Manchester's industrial past, the Cheney Brothers Historic District is a must-visit. The district's beautifully preserved mill buildings paint a picture of an era gone by. Today, some of these structures have been repurposed into residential and commercial spaces, retaining their historic charm while serving modern needs.
The Fire Museum: Located in a restored 1901 firehouse, The Fire Museum showcases the evolution of firefighting equipment and techniques over the past century. It's a fascinating place for both kids and adults, highlighting the bravery and innovation associated with this noble profession.
Buckland Hills Mall: For those looking for a more contemporary experience, the Buckland Hills Mall offers a delightful shopping experience. With a range of stores, eateries, and entertainment options, it's a hub of activity in Manchester.
In essence, Manchester, CT seamlessly blends the past and present, offering a plethora of attractions that resonate with its rich history while embracing modernity. Whether you're a history buff, an outdoor enthusiast, or a shopper at heart, Manchester has something special for you.
Places to check out in Manchester:
Our high level of customer support ensure that we'll get your home's HVAC system operating quickly and affordably!
We install and service the following heating equipment for our Manchester customers:
We install, service and repair the following cooling equipment in Manchester, CT:
Get comfortable in your home again with Miller Oil Company! Call us today to schedule a free estimate for new HVAC equipment or to schedule fast heating and cooling system repairs or service.
Local Reviews
for Manchester, CT
Miller Oil Company
Rated
5.0
out of 5 stars based on
1
customer reviews
---
Great service
Paul

-

Manchester

,

CT

06042



Review of
Miller Oil Company
Tony was awesome. Excellent knowledge of his job. Explained everything to me that was done and all parts used. Then he showed me where they were installed. He also took pictures to show the cleaning that was done inside my furnace. I hope that you have many employees like this one. Honest and trustworthy. Great qualities in a employee. I feel confident and secure that my furnace has been taking care of. Thank you
---
ALEXANDER R.
Annual tuneup of furnace
Near

Hartford Rd,

Manchester

,

CT

06040
Antonio M.
Oil boiler preventive maintenance
Near

Hilltop Dr,

Manchester

,

CT

06042
Miller Oil Company services all of Manchester, Connecticut, including the following zip codes: 06040 & 06042. Click here to return to our service area.