Friendly, Affordable HVAC Repairs in Enfield CT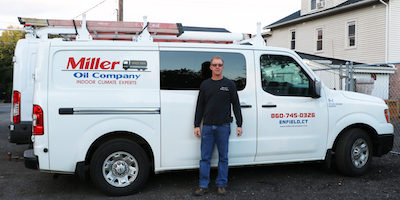 We are your resource for all heating and cooling repairs, service, installation and maintenance needs in Enfield Connecticut. Call us for fast service on your HVAC equipment. We work on oil, propane and gas equipment, however, keep in mind that only our oil repairs are offered with 24-hour service. Gas and propane repairs are on a schedule-only basis.
Get started today with your heating and cooling repairs by calling our Home Comfort Specialists:
We are a locally owned and operated HVAC contractor servicing homes and business in and around Enfield, CT.
Miller Oil Company is Enfield's leading HVAC contractor. We offer a full line of heating and cooling repairs for all types of equipment, oil, gas, propane and electric.
View HVAC Contractor & Heating Oil Supplier in a full screen map
Enfield, Hartford County, CT Service Area
We service all of Enfield CT and handle furnace repair, air conditioning repair, boiler repairs, heater repairs, heat pump repairs, ductless heating, and cooling repairs and more. We also install new HVAC equipment for homes and businesses throughout Enfield.
Enfield has a population of 44,654 and is located at: Latitude 42.002718 and Longitude -72.544145
Call Us For Heating And Cooling In Enfield, CT
Having a comfy home is important and Miller Oil Company is your local area Enfield HVAC contractor! We have the professional background and expertise to help fix any heating and cooling troubles you might be facing. We offer full residential and commercial HVAC solutions.
Our HVAC technicians are aware of every make and model and they can troubleshoot your Enfield system properly. Likewise, with their practical knowledge and skill, they can repair any system to make sure that it performs optimally. Miller Oil Company recognizes that having a home with a working furnace or cooling system is critical in the harsh weather. Consequently, when working with us, not only will we solve your heating or cooling issue but we will do it within a practical timeframe. Listed below, we will examine a number of the specific services we provide at Miller Oil Company.
Enfield Residential HVAC Services
Dealing with a malfunctioning heating system when the weather is cold is an unpleasant experience. Not only is it significantly inconvenient, but it can cause your entire household substantial discomfort. One of the goals at Miller Oil Company is to offer our customers unrivalled residential HVAC services. If your heating system is giving you challenges, then it is necessary for us to get it operating once again.
If your air conditioner is malfunctioning during the summer, then you can count on the same quality of service. Our skilled heating and cooling contractors can supply you with a thorough inspection, a diagnosis, as well as practical solutions that can repair your ailing HVAC unit.
Commercial HVAC Services In Enfield, CT
Many research studies have revealed that when employees feel comfortable at work and they are content and more productive. Therefore, it is important, for the overall well-being of your Enfield business, to keep a comfortable indoor environment. We have the ability to help you guarantee the comfort of your entire workplace by providing our comprehensive commercial HVAC services.
We provide everything that you could possibly need to keep your HVAC system working and working optimally. Our NATE certified experts have a wide range of knowledge and experience. They can assist you with installations, repairs, and also the maintenance of your cooling and heating system.
Heater and AC Tune-Up Services Enfield, Connecticut
Routine maintenance is critical to make sure that your system runs optimally in Enfield. Our comprehensive tune-up services can enable your system provide you with the degree of comfort that you should have while running at peak efficiency. A system that runs efficiently is a wonderful way to minimize your home heating and cooling costs.
Our extensive tune-ups incorporate a comprehensive cleaning of condenser coils to increase unit efficiency, a full evaluation of the coolant level, a full calibration of your thermostat to guarantee accurate operation, inspection of your ductwork, inspection of electrical connections in your units to ensure maximum safety, as well as a complete evaluation of both the blower motor and the belt. The tasks involved during a regular maintenance check help reduce the chances of any breakdowns when you need your central heater or air conditioner the most.
Enfield Heating and Cooling Troubleshooting
As mentioned above, an annual heating or AC examination helps increase the performance of your system. For that reason, it is a worthwhile investment. There are multiple tasks that we perform during our heating and cooling troubleshooting assessments. Not only do we check for potential thermostat issues that could be causing your system to become defective, but we also look for potential refrigerant leaks as this can be very common.
We also make sure that your system is performing well, incorporating the efficiency of your system. We will update you of any concerns that could potentially impact your home heating or cooling costs. Another matter that we check for is incorrect heating or cooling that triggers your HVAC system to heat or cool unevenly. Our experts will replace your air filter and make certain that there are no stoppages with your unit that can affect its ability to create a comfortable indoor environment.
HVAC Installation Services In Enfield
A new HVAC system in your home or office is an opportunity to improve your comfort and cut down your utility costs. However, did you know that the installation must be perfect for you to truly gain the advantages of your new system? At Miller Oil Company, we take pride in offering the finest installations in Enfield. We have the experience, knowledge, and skills to work with all makes and models. We have the best HVAC technicians on staff who all have the necessary licenses, practical experience, and skills.
As a family owned and operated business, we offer fair as well as affordable rates. You can trust us to service your system accurately, the first time around.
Give us a call at this time if you are in Enfield, CT. We have the service providers on staff to help you with any concerns or problems you may be having and we take pride in delivering the absolute best HVAC service in the whole entire area.
Heating & Cooling Repair Resources Near Me
Enfield AC Repair
HVAC Contractor Enfield CT
Enfield Heating and Cooling
Boiler Repair Services Enfield CT
Enfield Furnace Repair
Enfield Home AC Repair
Heating and Air Enfield CT
Points of Interest in Enfield
Enfield is home to the US base for Lego, a famous Danish plastic building blocks toy manufacturer. Lego is also the town's largest employer. Enfield has a total area of 34.2 square miles of which 33.3 square miles is land, and .93 square miles is water. Enfield is bordered by Longmeadow and East Longmeadow (north), East Windsor and Ellington (south), Somers (east), and the Connecticut River (west). The United States Census Bureau states that Enfield has a population of 44,368 in 2016. As of 2010, the racial makeup in Enfield is 83.6% White, 6.7% Hispanic, 5.8% Black, and 1.9% Asian. The estimated median household income in 2016 is $72,243 while the per capita income of the same year is $31,457.
Places to check out in Enfield:
Our high level of customer support ensure that we'll get your home's HVAC system operating quickly and affordably!
We install and service the following heating equipment for our Enfield customers:
We install, service and repair the following cooling equipment in Enfield, CT:
Our goal is to make sure that you and your family aer 100% comfortable in your home, regardless of the outdoor conditions and weather. We want you to be cool in the summer and warm in the winter! If your heating and/or cooling system is not providing the level of home comfort that you expect, please contact us. We will assess your current HVAC equipment and develop a plan to get you comfortable again, ASAP!
Our heatign and cooling technicians are the best in Enfield! We are trained in all of the latest technology, systems and equipment to ensure that we can repair your heating and cooling equipment quickly and within budget! If you need a new HVAC system, we can help with that too! Ask us about our no-obligation, hassle-free, in-home HVAC estimates.
Get comfortable in your home again with Miller Oil Company! Call us today to schedule a free estimate for new HVAC equipment or to schedule fast heating and cooling system repairs or service.
Local Reviews
for Enfield, CT
Rated
4.9
out of 5 stars based on
19
customer reviews
Powered by Nearby Now
---
Extremely fast, great service
Ben

-

Enfield

,

CT



---
great service
Kam

-

Enfield

,

CT



Joe was very knowledgeable ran through the check list found the problem was the power, can't say the same about the other vendor that are in town, that's why we had to get Miller oil!!
---
Awesome service great price
Steve

-

Enfield

,

CT



The best
---
Great Service arrived on time, left work area clean when finished. Tested boiler when done for any problems. Very pleased with the service he preform
William

-

Enfield

,

CT



---
Great service
Vaudreuil

-

Enfield

,

CT



---
Tech was friendly and knowledgeable and completed work in short time frame
MrCollins

-

Enfield

,

CT



Miller Oil is a company that's been in business for many years and delivers great service to customers.
---
Great service!
Doughty

-

Enfield

,

CT



Joe was very helpful today. He was able to answer all my questions and address any of my concerns! He was quick and made the process very easy! I am very satisfied with my service. Thanks Joe!
---
Great service!
Jacqui

-

Enfield

,

CT



Quick oil delivery, and great service on furnace.
---
Always There When You Need Them
AndrewM

-

Enfield

,

CT



The Service Technicians from Miller Oil are all truly top notch. Thank you Rick for coming out and fixing our Boiler this week. We are Miller Oil customers for life! Keep up the great work!
---
Excellent service
Paluck

-

Enfield

,

CT



He was coming to clean my furnace which sadly was way overdue and the primary went the night before his service call. Diagnosed the problem right away, gave me a fair price and fixed the problem and cleaned the furnace in little more than an hour. Thumbs up to Muller Oil!!!!
---
Excellent service technician
Ben

-

Enfield

,

CT



Had problems with furnace, miller oil technicians new their stuff fixed the problems no games and no hassles.
---
Great Service and awesome prices.
Henry

-

Enfield

,

CT



Miller Oil just installed a new furnace in my home. They were very professionals, polite and answered all my question that I had.
---
Fast efficient service
Jan

-

Enfield

,

CT



I called in the morning for service and he came out that afternoon. Fixed the problem on the spot.
---
good job
Richard

-

Enfield

,

CT



---
efficient, friendly, knowledgeable.
Mark Timothy Clark

-

Enfield

,

CT



I can't thank Miller Oil company enough for the job they did. The response time was unbelievable. The job was done top notch by top notch people. They also left the job site as clean as it was when they arrived.
---
Great technician
Hey

-

Enfield

,

CT



---
Great fast service
Chris

-

Enfield

,

CT



My problem was handled within 1 day with professional service. I'm very pleased and will do business again. Thank you.
---
Great Service
Brenda

-

Enfield

,

CT



Alexander was extremely professional and knowledgeable. He did a great job!
---
Excellent experience.
Mike

-

Enfield

,

CT



Miller Oil is lucky to have Russ working for them. Personable, knew what to do and did it. I'm switching to Miller Oil after being with another oil company for 35 years.
---
ALEXANDER R.
No hot water
Near
Pioneer Dr,

Enfield

,

CT

06082
Joseph M.
Tune up
Near
Cora St,

Enfield

,

CT

06082
Joseph M.
Too much heat service call / tune up
Near
Orchard Hill Dr,

Enfield

,

CT

06082
ALEXANDER R.
No heat
Near
Lake Rd,

Enfield

,

CT

06082
Joseph M.
No heat service call
Near
Cornell Dr,

Enfield

,

CT

06082
Joseph M.
No heat service call
Near
2nd Ave,

Enfield

,

CT

06082
Joseph M.
No heat service call
Near
2nd Ave,

Enfield

,

CT

06082
Joseph M.
No Heat service call
Near
Abbe Rd,

Enfield

,

CT

06082
Joseph M.
Tune up
Near
Steele Rd,

Enfield

,

CT

06082
Rick M.
Purged air from hot water heating system
Near
Shaker Rd,

Enfield

,

CT

06082
Rick M.
Cleaning wm hw boiler beckett burner
Near
Shaker Rd,

Enfield

,

CT

06082
Rick M.
Cleaning
Near
Bass Dr,

Enfield

,

CT

06082
Rick M.
Cleaning and combustion chamber replacement
Near
Third St,

Enfield

,

CT

06082
ALEXANDER R.
No heat
Near
Laurie Dr,

Enfield

,

CT

06082
ALEXANDER R.
Water leak
Near
Shannon Dr,

Enfield

,

CT

06082
Miller Oil Company services all of Enfield, Connecticut, including the following zip codes: 06083, 06088, 06082. Click here to return to our service area.