HVAC Simsbury CT Contractor, Fast & Affordable Repairs & Installations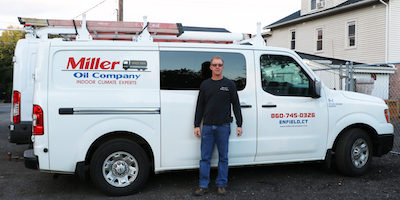 In Simsbury, Connecticut, we're your trusted choice for comprehensive heating and cooling services. Whether it's installations, repairs, or upkeep, give us a call for swift HVAC assistance. We expertly manage oil, propane, and gas systems. Remember, we provide 24/7 support for oil-related issues, but for gas and propane tasks, please schedule an appointment.
Get started today with your HVAC Simsbury CT heating and cooling repairs by calling our Home Comfort Specialists:
We are a locally owned and operated HVAC contractor servicing homes and businesses in and around Simsbury , CT.
Miller Oil Company is Simsbury's leading HVAC contractor. We offer a full line of heating and cooling repairs for all types of equipment, oil, gas, propane and electric.
Simsbury, Hartford County, CT Service Area
We service all of Simsbury CT and handle furnace repair, air conditioning repair, boiler repairs, heater repairs, heat pump repairs, ductless heating, and cooling repairs and more. We also install new HVAC equipment for homes and businesses throughout Simsbury.
Simsbury has a population of 24,517 and is located at Latitude 41.8684629 and Longitude -72.8176415.
Call Us For Heating And Cooling In Simsbury, CT
In Simsbury, CT, Miller Oil Company stands as a beacon for HVAC excellence. With a team of the area's premier technicians, we provide timely and economically sound solutions for all your HVAC requirements. Our extensive range of services includes installations, upkeep, optimization, and troubleshooting.
With a deep-rooted history in the realm of heating and cooling, our skilled technicians excel at pinpointing and tackling any HVAC issues you might encounter. We understand how crucial a well-operating HVAC system is for your comfort, and thus, our commitment to delivering top-notch services remains unparalleled. Dive into a snapshot of our specialized offerings below.
Simsbury Residential HVAC Services
Facing a broken heating system in the heart of winter isn't merely inconvenient; it can leave your home uncomfortably cold, forcing you to seek other warmth sources. At such times, Miller Oil Company remains your reliable ally. With a wealth of knowledge and time-tested techniques, we swiftly bring your heating system back to peak performance.
If your air conditioner decides to falter, you can count on our efficient, wallet-friendly, and adept services. Just one call to us guarantees a comprehensive check-up, an accurate assessment, and economical fixes to revitalize your HVAC equipment.
Commercial HVAC Services In Simsbury, CT
Prioritizing the comfort of your Simsbury staff is key to maximizing workplace output. Their overall well-being plays a significant role in their focus and efficiency. To support this, Miller Oil Company offers a comprehensive suite of heating and cooling solutions designed to elevate the ambiance of your commercial environment.
Miller Oil Company is committed to ensuring that your HVAC system performs at its best. Be it new installations, system upgrades, timely repairs, or routine maintenance, we ensure that your HVAC setup aligns with your distinct requirements and operates seamlessly.
Heater and AC Tune-Up Services Simsbury, Connecticut
Consistent maintenance is crucial to ensure your system in Simsbury operates at its best. With our all-encompassing tune-up services, we aim to enhance your system's performance so that it provides the optimal comfort while running at top efficiency. An efficient system can significantly cut down your heating and cooling expenses.
Our meticulous tune-up checklist ensures we scrutinize every part of your unit. From cleaning and lubricating the HVAC system to spotting minor irregularities, we leave no stone unturned. These detailed checks allow you to address potential issues before they escalate into more significant, costlier problems. As such, our tune-ups not only aid in minimizing your energy bills but also play a pivotal role in reducing potential HVAC repair expenses. Given that most system failures occur during extreme weather conditions, these routine checks help mitigate unforeseen system glitches. This ensures that you have a dependable and energy-savvy heating and cooling system ready to face the peaks of summer or depths of winter.
Simsbury Heating and Cooling Troubleshooting
Undoubtedly, an annual review of your heating or AC unit significantly enhances its operation, making it a worthwhile investment. This process entails a comprehensive examination of either your heating or cooling apparatus. Our seasoned technicians will pinpoint and address any discrepancies or malfunctions they detect within your system. Every component, from the thermostat and heat exchanger to the coolant, will be scrutinized meticulously.
A core objective of this tune-up is to optimize your system's efficiency. Any hindrances to this will be rectified, aiming to reduce your energy expenditure. We also address any issues leading to inconsistent heating or cooling, ensuring uniform temperature distribution. Our expert technicians will swap out your air filter and confirm that there are no blockages or hindrances affecting your system's efficacy in providing a comfortable indoor climate.
HVAC Installation Services In Simsbury
Ensuring your HVAC system is correctly installed is paramount for its peak performance. With Miller Oil Company at your service, you're entrusting the finest HVAC installation experts in the wider Simsbury region. We pride ourselves on delivering prompt, expert, and cost-effective heating and air conditioning installation solutions, a legacy we've upheld for years. Rest assured, each member of our team is thoroughly trained and certified.
Engaging with us guarantees absolute clarity in pricing — no hidden fees, zero uncertainties, and a stress-free experience. We're equipped and ready to cater to all your HVAC service and installation needs.
If you're based in Simsbury, CT, don't hesitate to reach out. Should you have queries or need clarity, we're here to assist. Our technicians are dedicated to addressing your concerns comprehensively, reinforcing our position as the top HVAC service provider in the area.
Heating & Cooling Repair Resources Near Me
Simsbury AC Repair
HVAC Contractor Simsbury CT
Simsbury Heating and Cooling
Boiler Repair Services Simsbury CT
Simsbury Furnace Repair
Simsbury Home AC Repair
Heating and Air Simsbury CT
Points of Interest in Simsbury
Nestled in the picturesque Farmington Valley, Simsbury, Connecticut is a historical gem filled with myriad attractions and points of interest that charm both residents and tourists alike.
Simsbury Historical Society:
One of the town's primary treasures is the Simsbury Historical Society, where visitors can immerse themselves in the rich history of the region. The society's vast complex houses multiple buildings, including the Phelps Tavern and the Meeting House, which collectively paint a vivid picture of Simsbury's past. Exploring these sites is akin to traveling back in time, where one can discover the stories and legacies of the town's earliest settlers.
Talcott Mountain State Park:
For those with a penchant for the outdoors, Talcott Mountain State Park beckons. Home to the iconic Heublein Tower, a short hike rewards visitors with panoramic views of the Farmington Valley and the Hartford skyline. Once at the top, the 165-foot tower offers an even loftier vantage point, from which on clear days, you might even catch sight of Mount Monadnock in New Hampshire.
Simsbury Farms:
A recreation hub in Simsbury is the Simsbury Farms—a multi-faceted recreational facility. It boasts a challenging nine-hole golf course, outdoor pools for both children and adults, and an ice-skating rink open during the colder months. For families and sports enthusiasts, it's a year-round destination offering diverse activities.
Old Drake Hill Flower Bridge:
Simsbury's Old Drake Hill Flower Bridge is not just any bridge; it's a spectacle of floral beauty. This historic "chain bridge," adorned with hanging flower baskets during warmer months, is a picturesque spot perfect for photography or a serene walk. The sight of the bridge reflecting on the water, paired with its vibrant blooms, is truly enchanting.
International Skating Center of Connecticut:
Sports enthusiasts will be delighted to know that Simsbury is also home to the International Skating Center of Connecticut. It's more than just a skating rink; it's where champions train. The center has seen numerous Olympic and World figure skaters pass through its doors, and for visitors, it's a chance to skate on the same ice or even catch a glimpse of elite athletes in training.
In essence, Simsbury is a blend of history, natural beauty, and modern recreation, making it a must-visit for anyone in the region. Whether you're a history buff, nature lover, or a sports enthusiast, Simsbury has something unique to offer.
Places to check out in Simsbury:
Our high level of customer support ensure that we'll get your home's HVAC system operating quickly and affordably!
We install and service the following heating equipment for our Simsbury customers:
We install, service and repair the following cooling equipment in Simsbury, CT:
Get comfortable in your home again with Miller Oil Company! Call us today to schedule a free estimate for new HVAC equipment or to schedule fast heating and cooling system repairs or service.
Local Reviews
for Simsbury, CT
---
Antonio M.
Gas boiler pm
Near

Caryn Ln,

Simsbury

,

CT

06089
Miller Oil Company services all of Simsbury, Connecticut, including the following zip code: 06070. Click here to return to our service area.