HVAC Longmeadow Contractor, Unparalleled Repairs & Installations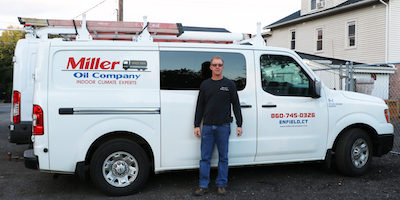 In Longmeadow, Massachusetts, our establishment is esteemed as the paramount authority for comprehensive heating and cooling solutions, encompassing installations, repairs, and regular upkeep. We stand ready for prompt HVAC consultations. Our expertise spans oil, propane, and gas systems. It is important to convey that we offer continuous assistance for oil-related matters, while engagements related to gas and propane systems demand advanced scheduling.
Get started today with your HVAC Longmeadow MA heating and cooling repairs by calling our Home Comfort Specialists:
We are a locally owned and operated HVAC contractor servicing homes and businesses in and around Longmeadow, MA.
Miller Oil Company is Longmeadow's leading HVAC contractor. We offer a full line of heating and cooling repairs for all types of equipment, oil, gas, propane, and electric.
Longmeadow, Hampden County, MA Service Area
We service all of Longmeadow MA, and handle furnace repair, air conditioning repair, boiler repairs, heater repairs, heat pump repairs, ductless heating, and cooling repairs and more. We also install new HVAC equipment for homes and businesses throughout Longmeadow.
Longmeadow has a population of 15,853 and is located at Latitude 42.0483439 and Longitude -72.5697541.
Call Us For Heating And Cooling In Longmeadow, MA
In Longmeadow, MA, Miller Oil Company holds a prominent position in addressing multifaceted HVAC demands. Our team, comprised of highly-regarded local technicians, guarantees timely and economically-efficient solutions tailored to your HVAC requirements. Our extensive service offerings include installations, routine maintenance, system adjustments, and intricate diagnostics.
Rooted in profound expertise in the heating and cooling sector, our proficient technicians possess the capability to identify and remedy any HVAC complexities you might confront. Acknowledging the indispensability of a high-performing HVAC system in a home, we steadfastly uphold our dedication to superior service quality. The following provides a detailed overview of our specialized service offerings.
Longmeadow Residential HVAC Services
In Longmeadow, MA, Miller Oil Company holds a preeminent position as a reliable entity for holistic HVAC solutions. With our assembly of esteemed technicians from the area, we assure timely and economically advantageous resolutions to your HVAC dilemmas. Our exhaustive suite of services extends from installations and regular upkeep to system fine-tuning and advanced diagnostics.
Anchored in a profound understanding of the heating and cooling industry, our proficient technicians have the capability to discern and mitigate any HVAC quandaries you may encounter. Understanding the critical role an impeccable HVAC system plays in a household, we persistently strive for exceptional service delivery. Delve deeper to uncover a comprehensive breakdown of our specialized service provisions.
Commercial HVAC Services In Longmeadow, MA
Emphasizing the well-being of your employees in Longmeadow is paramount to cultivating optimum productivity within the office. Their overall comfort directly influences their enthusiasm and effectiveness. In recognition of this, Miller Oil Company presents an extensive portfolio of heating and cooling services, meticulously designed to enhance the comfort of your corporate setting.
Miller Oil Company commits to delivering essential services that are pivotal for the peak performance of your HVAC system. From the initiation of new installations and system enhancements to punctual repairs and scheduled maintenance, our aim remains consistent: to fine-tune your HVAC infrastructure to match your distinct needs, ensuring its unwavering efficiency throughout its lifespan.
Heater and AC Tune-Up Services Longmeadow, Massachusetts
Routine maintenance is imperative for the impeccable operation of your HVAC system in Longmeadow. Our methodical maintenance protocols are designed to heighten your system's output, granting you an unmatched indoor experience while the system runs at its best. A diligently maintained system emerges as a primary strategy for curbing the heating and cooling expenses within your premises.
Adhering to a meticulous maintenance schedule, we undertake a comprehensive assessment of every component of your unit. This entails purifying the HVAC setup, ascertaining proper lubrication, and detecting any emergent challenges. Our thorough inspections empower homeowners to identify and remedy trifling concerns before they escalate into larger, more financially demanding predicaments. As such, our methodical services are not merely aimed at reducing energy expenditures but also play a pivotal role in mitigating unforeseen repair costs. Given that HVAC disruptions predominantly occur during extreme weather shifts, our preemptive inspections provide a safeguard against abrupt malfunctions, assuring you of a steadfast and energy-conservative HVAC operation irrespective of seasonal extremities.
Longmeadow Heating and Cooling Troubleshooting
As highlighted, an annual scrutiny of your heating or AC apparatus is paramount for ensuring optimal output, thereby representing a judicious investment. This scrutiny entails a detailed evaluation of your heating or cooling mechanism. Our adept technicians will probe for discrepancies within your system, ensuring integral elements like the thermostat, heat exchanger, and coolant are in prime condition.
Central to our maintenance strategy is the aspiration to augment your system's operational efficacy. Any impediments affecting this parameter are promptly addressed, with the ultimate goal of diminishing your energy liabilities. Furthermore, we maintain an acute awareness of potential inconsistencies, such as fluctuating heating or cooling patterns, to guarantee your HVAC system's steadfast temperature regulation. Our team will also renew your air filter and ascertain the absence of obstructions, safeguarding your system's capability to maintain an ideal interior climate.
HVAC Installation Services In Longmeadow
To ensure the peak performance of your HVAC system, precise installation is indispensable. Entrusting Miller Oil Company in Longmeadow positions you with an esteemed HVAC installation service in the larger region. Our ethos revolves around offering expert, quality-centric, and economically efficient heating and air conditioning installations—a tenet we've steadfastly upheld. Importantly, every member of our cadre is rigorously trained and accredited.
Engaging our services guarantees a clear pricing structure, devoid of concealed charges or unwarranted add-ons, guaranteeing an uninterrupted service experience. Our expertise encompasses a vast array of HVAC service and installation nuances.
For residents of Longmeadow, MA, we invite you to engage with us. If you have queries or require detailed explanations, our team is poised to assist. Our devoted technicians take pride in offering comprehensive insights, further establishing our stature as the foremost HVAC service provider in the vicinity.
Heating & Cooling Repair Resources Near Me
Longmeadow AC Repair
HVAC Contractor Longmeadow MA
Longmeadow Heating and Cooling
Boiler Repair Services Longmeadow MA
Longmeadow Furnace Repair
Longmeadow Home AC Repair
Heating and Air Longmeadow MA
Points of Interest in Longmeadow
Longmeadow, MA – a picturesque town nestled in western Massachusetts – is replete with rich history, beautiful landscapes, and various points of interest that appeal to both residents and visitors alike.
One of the town's most renowned sites is the Longmeadow Historic District, which encapsulates the very essence of New England charm. As you wander through this area, you'll be captivated by an array of historic homes, some dating back to the 18th century, each with its unique architecture and story. This district paints a vivid picture of the town's storied past and the preservation efforts to retain its historic charm.
For nature enthusiasts, Bliss Park offers a serene setting that allows for a momentary escape from the hustle and bustle of everyday life. Encompassing expansive green spaces and well-maintained trails, it's an ideal spot for leisurely walks, picnics, and relaxation. Its playground and performance stage make it a popular destination for families and community events.
Another remarkable site is the Longmeadow Shops. This shopping district blends the best of both worlds by offering a range of boutiques, eateries, and essential services. Here, one can indulge in a delightful shopping experience, sample gourmet delicacies, or simply enjoy a cup of coffee as they watch the world go by.
In the realm of academia, Bay Path University stands as a beacon of higher education in Longmeadow. Founded in 1897, this institution has grown to be a dynamic university offering a plethora of undergraduate and graduate programs, fostering innovation, and instilling a commitment to community service.
Lastly, the Community House is a testament to Longmeadow's sense of community. Often serving as a hub for town events, gatherings, and celebrations, it's a place where memories are made, and the town's camaraderie is palpable.
In essence, Longmeadow, with its rich history, verdant landscapes, and myriad points of interest, remains a cherished gem in Massachusetts, beckoning visitors with its timeless allure.
Places to check out in Longmeadow:
Our high level of customer support ensures that we'll get your home's HVAC system operating quickly and affordably!
We install and service the following heating equipment for our Longmeadow customers:
We install, service and repair the following cooling equipment in Longmeadow, MA:
Get comfortable in your home again with Miller Oil Company! Call us today to schedule a free estimate for new HVAC equipment or to schedule fast heating and cooling system repairs or services.
Local Reviews
for Longmeadow, MA
Miller Oil Company
Rated
5.0
out of 5 stars based on
1
customer reviews
---
Excellent. Same day service. Reasonable cost.
Wcislo

-

Longmeadow

,

MA

01106



Review of
Miller Oil Company
---
Joseph M.
Tune up
Near

Maplewood St,

Longmeadow

,

MA

01106
Russell A.
No ac call
Near

Hopkins Pl,

Longmeadow

,

MA

01106
Miller Oil Company services all of Longmeadow, Massachusetts, including the following zip code: 01106. Click here to return to our service area.