HVAC Feeding Hills MA Contractor, Reputable & Trusted Repairs & Installations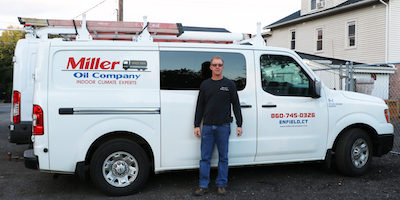 In Feeding Hills, Massachusetts, our organization holds a distinguished position as the leading entity for holistic heating and cooling services, from installations to repairs and consistent maintenance. We are available for immediate HVAC consultations. Our technical acumen extends to oil, propane, and gas systems. We would like to highlight that continuous support is available for oil-related challenges, whereas for gas and propane matters, pre-scheduled appointments are mandatory.
Get started today with your HVAC Feeding Hills MA heating and cooling repairs by calling our Home Comfort Specialists:
We are a locally owned and operated HVAC contractor servicing homes and businesses in and around Feeding Hills, MA.
Miller Oil Company is Feeding Hills's leading HVAC contractor. We offer a full line of heating and cooling repairs for all types of equipment, oil, gas, propane, and electric.
Feeding Hills, Hampden County, MA Service Area
We service all of Feeding Hills MA, and handle furnace repair, air conditioning repair, boiler repairs, heater repairs, heat pump repairs, ductless heating, and cooling repairs and more. We also install new HVAC equipment for homes and businesses throughout Feeding Hills.
Feeding Hills has a population of 11,669 and is located at Latitude 42.0706805 and Longitude -72.6764195.
Call Us For Heating And Cooling In Feeding Hills, MA
In Feeding Hills, MA, Miller Oil Company stands as a trusted resource for comprehensive HVAC needs. With a dedicated team of regionally-renowned technicians, we ensure prompt and cost-effective responses to your HVAC needs. Our expansive suite of services covers installations, regular maintenance, system fine-tuning, and diagnostic services.
With a wealth of knowledge in the realm of heating and cooling, our adept technicians are well-equipped to detect and resolve any HVAC challenges that arise. Recognizing the essential nature of an efficient HVAC system for your residence, our commitment to service excellence remains unwavering. Below is a synopsis of our distinct services.
Feeding Hills Residential HVAC Services
In Feeding Hills, MA, Miller Oil Company is distinguished as a trusted partner for all encompassing HVAC needs. Boasting a cadre of top-tier technicians from the region, we promise prompt and value-driven solutions tailored to your HVAC issues. Our comprehensive range of services encompasses installations, maintenance, system optimization, and problem diagnosis.
Benefitting from a vast pool of expertise in the heating and cooling sector, our technicians are adept at identifying and ameliorating any HVAC challenges you might confront. Recognizing the integral importance of a faultless HVAC system in one's home, we maintain an unwavering dedication to ensuring unparalleled efficiency in fulfilling your requirements. A detailed overview of our unique services can be explored further.
Commercial HVAC Services In Feeding Hills, MA
Prioritizing the comfort of your employees in Feeding Hills is essential for fostering peak performance in the workplace. Their overall well-being intricately ties into their morale and efficiency. With this understanding, Miller Oil Company offers a vast array of heating and cooling solutions, tailored to elevate the ambiance of your business environment.
At Miller Oil Company, we provide indispensable services geared towards maximizing your HVAC system's functionality. Be it new installations, system upgrades, timely repairs, or routine check-ups, we are dedicated to ensuring your HVAC setup aligns perfectly with your unique requirements, guaranteeing optimal operation at all times.
Heater and AC Tune-Up Services Feeding Hills, Massachusetts
Regular upkeep is essential to ensure the seamless functioning of your HVAC system in Feeding Hills. Our comprehensive maintenance services are crafted to amplify your system's efficiency, enabling you to relish unparalleled comfort while the system performs optimally. A well-maintained system stands as a principal method to minimize heating and cooling costs for your residence.
By following a rigorous maintenance regimen, we conduct an exhaustive review of each element of your system. This includes cleaning the HVAC infrastructure, ensuring adequate lubrication, and pinpointing any nascent issues. Our in-depth evaluations allow you to address and rectify minor issues before they burgeon into significant, more costly problems. Consequently, our regular maintenance not only targets energy cost reductions but also serves to diminish potential repair outlays. Recognizing that HVAC issues often arise in extreme climatic conditions, our systematic evaluations act as a bulwark against unexpected hitches, ensuring you benefit from a consistent and energy-efficient HVAC system throughout both scorching summers and icy winters.
Feeding Hills Heating and Cooling Troubleshooting
As emphasized, conducting a yearly assessment of your heating or AC system is crucial for maximizing its performance, making it a wise investment. This assessment involves an in-depth inspection of your heating or cooling equipment. Our skilled technicians will investigate any anomalies they detect in your setup, verifying that components such as the thermostat, heat exchanger, and coolant function impeccably.
A fundamental objective of our maintenance approach is to elevate your system's functional efficiency. Any challenges inhibiting this will be promptly rectified, aiming to curtail your energy expenditures. We also remain vigilant for variations, like uneven heating or cooling, to ensure your HVAC system consistently modulates temperatures. In addition, our technicians will refresh your air filter and verify there are no hindrances that could compromise your unit's capacity to sustain a comfortable indoor ambiance.
HVAC Installation Services In Feeding Hills
For optimal functionality of your HVAC system, correct installation is paramount. By selecting Miller Oil Company in Feeding Hills, you're aligning with a leading HVAC installation service in the broader area. Our mission is to deliver professional, quality-focused, and cost-effective heating and air conditioning installations—a commitment we've consistently honored. It's essential to highlight that every individual in our team possesses extensive training and certification.
Engaging with us ensures transparency in pricing, with an assurance of no hidden costs or unexpected charges, fostering a seamless service experience. We are equipped to handle a broad spectrum of HVAC service and installation requirements.
For those in Feeding Hills, MA, we encourage you to connect with us. For any questions or clarifications, our team stands ready to provide guidance. Our dedicated technicians are committed to addressing your needs in-depth, reinforcing our position as the top-tier HVAC service provider in the region.
Heating & Cooling Repair Resources Near Me
Feeding Hills AC Repair
HVAC Contractor Feeding Hills MA
Feeding Hills Heating and Cooling
Boiler Repair Services Feeding Hills MA
Feeding Hills Furnace Repair
Feeding Hills Home AC Repair
Heating and Air Feeding Hills MA
Points of Interest in Feeding Hills
1. Robinson State Park: One of the jewels of Feeding Hills, Robinson State Park offers visitors a chance to immerse themselves in nature. Covering a substantial area, the park has miles of trails suitable for hiking, biking, and even horseback riding. The serene Westfield River runs through the park, offering scenic views and opportunities for fishing.
2. School Street Park: A haven for families and children, School Street Park is an epitome of community involvement. The park hosts a range of facilities including playgrounds, sports fields, and picnic areas, making it a popular spot for weekend outings and local events.
3. Feeding Hills Center: As the heart of the community, Feeding Hills Center brings together a mix of local shops, restaurants, and services. It's an ideal place to experience the local culture, indulge in regional cuisine, or simply spend an afternoon browsing through unique boutiques.
4. Agawam Golf Course: Located near Feeding Hills, the Agawam Golf Course is a destination for golf enthusiasts. Its well-maintained greens and fairways coupled with challenging terrains make it a preferred spot for both amateurs and seasoned golfers.
5. The Captain Charles Leonard House: This historic gem, built in the 19th century, is a testament to the region's rich past. The Captain Charles Leonard House not only offers architectural splendor but also hosts various cultural and community events throughout the year.
In summary, Feeding Hills, MA, presents a balanced blend of nature, history, and community spirit. Whether you're exploring its parks, delving into its history, or enjoying community activities, Feeding Hills provides a diverse array of attractions that cater to a wide range of interests.
Places to check out in Feeding Hills:
Our high level of customer support ensures that we'll get your home's HVAC system operating quickly and affordably!
We install and service the following heating equipment for our Feeding Hills customers:
We install, service and repair the following cooling equipment in Feeding Hills, MA:
Get comfortable in your home again with Miller Oil Company! Call us today to schedule a free estimate for new HVAC equipment or to schedule fast heating and cooling system repairs or services.
Local Reviews
for Feeding Hills, MA
---
Miller Oil Company services all of Feeding Hills, Massachusetts, including the following zip code: 01030. Click here to return to our service area.