HVAC Southwick MA Contractor, Fast & Affordable Repairs & Installations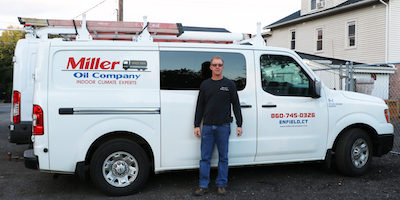 In Southwick, Massachusetts, Miller Oil Company is recognized as the premier provider for holistic heating and cooling services, including but not limited to installations, repairs, and periodic maintenance. We invite you to engage with us for prompt HVAC solutions. Our technical proficiency covers a broad spectrum, including oil, propane, and gas systems. It is imperative to note that while we offer continuous support for oil-related inquiries, consultations pertaining to gas and propane systems necessitate scheduled appointments.
Get started today with your HVAC Southwick MA heating and cooling repairs by calling our Home Comfort Specialists:
We are a locally owned and operated HVAC contractor servicing homes and businesses in and around Southwick, MA.
Miller Oil Company is Southwick's leading HVAC contractor. We offer a full line of heating and cooling repairs for all types of equipment, oil, gas, propane, and electric.
Southwick, Hampden County, MA Service Area
We service all of Southwick MA, and handle furnace repair, air conditioning repair, boiler repairs, heater repairs, heat pump repairs, ductless heating, and cooling repairs and more. We also install new HVAC equipment for homes and businesses throughout Southwick.
Southwick has a population of 9,232 and is located at Latitude 42.0498939 and Longitude -72.7721945.
Call Us For Heating And Cooling In Southwick, MA
In Southwick, MA, Miller Oil Company is distinguished as a trusted partner for comprehensive HVAC needs. With our esteemed cadre of regional technicians, we guarantee timely and cost-effective responses tailored to your HVAC issues. Our extensive suite of services encompasses system installations, regular maintenance, performance enhancements, and diagnostic evaluations.
Benefiting from a vast foundation of knowledge in the realm of heating and cooling, our technicians are adept at discerning and addressing any HVAC challenges you might confront. Recognizing the integral importance of a faultless HVAC system within any establishment, our devotion to service excellence remains steadfast. A detailed insight into our exceptional services can be explored further.
Southwick Residential HVAC Services
In Southwick, MA, Miller Oil Company establishes itself as a trusted resource for comprehensive HVAC solutions. With our team of regionally-renowned technicians, we ensure prompt and value-driven responses for all your HVAC concerns. Our extensive portfolio of services covers installations, routine maintenance, system fine-tuning, and diagnostic services.
Building upon our considerable expertise in the heating and cooling sector, our technicians are proficient in detecting and addressing any HVAC challenges that arise. Recognizing the indispensable nature of an efficient HVAC system for your residence or business, we consistently aim to achieve unparalleled standards in meeting your expectations. Below is a detailed description of our unique services.
Commercial HVAC Services In Southwick, MA
The comfort of your employees in Southwick is instrumental in realizing peak performance in the professional arena. Their physical and mental well-being significantly influences their morale and productivity. To this end, Miller Oil Company offers a comprehensive spectrum of heating and cooling solutions, tailored to refine the ambiance of your business environment.
At Miller Oil Company, we provide indispensable services designed to optimize the functionality of your HVAC system. From new installations and system upgrades to prompt repairs and routine maintenance, we ensure that your HVAC setup aligns seamlessly with your bespoke requirements, guaranteeing optimal operation at all junctures.
Heater and AC Tune-Up Services Southwick, Massachusetts
Regular maintenance is essential to guarantee the seamless performance of your HVAC system in Southwick. Our holistic maintenance programs aim to enhance your system's efficacy, guaranteeing you unparalleled comfort as it operates at peak proficiency. A meticulously maintained system is a paramount approach to reduce your residence's heating and cooling outlays.
By adhering to a stringent maintenance regimen, we conduct a comprehensive review of each component of your HVAC system. This involves purifying the system, confirming adequate lubrication, and pinpointing preliminary issues. Our intensive evaluations offer you the foresight to preemptively address minor discrepancies before they develop into significant, more expensive challenges. Consequently, our methodical service extends beyond merely reducing energy costs—it substantially diminishes the likelihood of incurring elevated repair charges. Understanding that HVAC complications often manifest amidst extreme climatic conditions, our routine inspections act as a safeguard against unexpected setbacks, thereby assuring you of a dependable and energy-efficient HVAC system throughout diverse seasonal extremes.
Southwick Heating and Cooling Troubleshooting
In Southwick, MA, an annual audit of your heating or AC system stands paramount to fortify its performance, representing a judicious investment. This meticulous process involves an exhaustive scrutiny of your heating or cooling infrastructure. Our proficient technicians will inspect for anomalies within the system, ascertaining that components such as the thermostat, heat exchanger, and coolant function seamlessly.
A chief objective of our maintenance strategy is to amplify your system's efficiency quotient. Any factors compromising this metric will be judiciously identified and rectified, aiming to curtail your overall energy expenses. Moreover, we vigilantly evaluate for variances, such as non-uniform heating or cooling patterns, to guarantee that your HVAC system consistently modulates ambient temperatures. In continuation of this, our technicians will replenish your air filter and confirm the absence of hindrances that could debilitate your system's capability to foster an optimal indoor environment.
HVAC Installation Services In Southwick
In Southwick, MA, the integrity of your HVAC system's installation significantly influences its efficiency. Entrusting Miller Oil Company with this responsibility assures you of top-tier HVAC installation services in the extended area. Our mandate is to offer precision-driven, professional, and cost-effective heating and air conditioning installations—a tenet we've consistently adhered to throughout our service tenure. It is imperative to highlight that all our technicians undergo rigorous training and are duly certified.
Engaging our services ensures transparent pricing, eliminating any concerns about hidden charges or unforeseen costs, and facilitates a streamlined service journey. We possess the expertise to cater to a diverse spectrum of HVAC service and installation requisites.
For residents and businesses situated in Southwick, MA, we invite you to communicate with us. Should you have questions or require further insights, our seasoned team is readily available. Each technician is committed to providing comprehensive responses to your inquiries, reinforcing our esteemed position as the region's leading HVAC solution provider.
Heating & Cooling Repair Resources Near Me
Southwick AC Repair
HVAC Contractor Southwick MA
Southwick Heating and Cooling
Boiler Repair Services Southwick MA
Southwick Furnace Repair
Southwick Home AC Repair
Heating and Air Southwick MA
Points of Interest in Southwick
The Congamond Lakes: Nestled in Southwick, the Congamond Lakes, comprising North, Middle, and South ponds, serve as a focal point for both residents and visitors alike. These freshwater lakes offer myriad recreational opportunities. From boating and fishing in the warmer months to ice fishing in winter, they're a haven for outdoor enthusiasts. The lakeside scenery, especially during the fall, provides picturesque vistas that photographers and nature lovers find irresistible.
The Southwick Rail Trail: For those who prefer land-based activities, the Southwick Rail Trail is a must-visit. This multi-purpose trail, which was once a railroad corridor, stretches over 6 miles and connects Southwick to the bordering Connecticut towns. It's a favored spot for joggers, cyclists, and even horseback riders, offering serene views of New England's changing landscapes.
The Southwick's Zoo: While not located directly in Southwick, this nearby attraction deserves mention due to its proximity and popularity. Recognized as one of the finest zoological experiences in the region, Southwick's Zoo houses a diverse collection of animals and birds from around the globe. With interactive exhibits, animal encounters, and educational programs, it's a destination that both children and adults find captivating.
Historic Downtown Southwick: Southwick's historic downtown area offers a delightful blend of the past and the present. Quaint boutiques, artisanal shops, and local eateries line the streets, providing visitors a chance to indulge in unique shopping and dining experiences. The area is rich in history, and several buildings reflect architectural designs from the 18th and 19th centuries.
The Edgewood Golf Course: For the golfing aficionados, the Edgewood Golf Course presents a meticulously designed landscape perfect for all skill levels. Its lush greens, strategic bunkers, and picturesque fairways make it one of Southwick's prized sporting venues.
In conclusion, Southwick, MA, is more than just a town; it's a confluence of history, nature, and recreation. Whether you're a resident or a visitor, Southwick promises a myriad of experiences waiting to be explored.
Places to check out in Southwick:
Our high level of customer support ensures that we'll get your home's HVAC system operating quickly and affordably!
We install and service the following heating equipment for our Southwick customers:
We install, service and repair the following cooling equipment in Southwick, MA:
Get comfortable in your home again with Miller Oil Company! Call us today to schedule a free estimate for new HVAC equipment or to schedule fast heating and cooling system repairs or services.
Local Reviews
for Southwick, MA
---
Miller Oil Company services all of Southwick, Massachusetts, including the following zip code: 01077. Click here to return to our service area.