Friendly, Affordable HVAC Repairs in Warehouse Point CT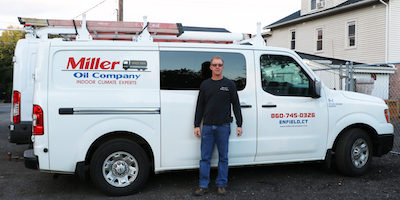 We are your resource for all heating and cooling repairs, service, installation and maintenance needs in Warehouse Point Connecticut. Call us for fast service on your HVAC equipment. We work on oil, propane and gas equipment, however, keep in mind that only our oil repairs are offered with 24-hour service. Gas and propane repairs are on a schedule-only basis.
Get started today with your heating and cooling repairs by calling our Home Comfort Specialists:
We are a locally owned and operated HVAC contractor servicing homes and business in and around Warehouse Point, CT
.
Miller Oil Company is Warehouse Point's leading HVAC contractor. We offer a full line of heating and cooling repairs for all types of equipment, oil, gas, propane and electric.
Warehouse Point, Hartford County, CT Service Area
We service all of Warehouse Point CT and handle furnace repair, air conditioning repair, boiler repairs, heater repairs, heat pump repairs, ductless heating, and cooling repairs and more. We also install new HVAC equipment for homes and businesses throughout Warehouse Point.
Warehouse Point has a population of 852 and is located at Latitude 41.9292639 and Longitude -72.6181454
Call Us For Heating And Cooling In Warehouse Point, CT
Having a comfy home is essential and Miller Oil Company is your regional Warehouse Point HVAC contractor! Our expert HVAC technicians can resolve all your heating and ac troubles. We offer full residential and commercial HVAC professional services.
We deliver full HVAC troubleshooting in Warehouse Point and can provide you with the necessary fix that you need to get everything functioning optimally. Miller Oil Company recognizes that having a house with a functioning heater or cooling system is vital in the harsh weather. Consequently, when working with us, not only will we resolve your cooling or heating issue but we will do it within a reasonable timeframe. Listed below, we will discuss several of the specific services we provide at Miller Oil Company.
Warehouse Point Residential HVAC Services
If you have ever had to deal with a broken heating system in the wintertime, you know that it is more than inconvenient. Not only is it extremely inconvenient, but it can cause your entire home considerable discomfort. At Miller Oil Company, we are fully committed to our customers. We have the skills and experience to get your furnace up and running again quickly.
If your air conditioner is malfunctioning during the summertime, then you can rely upon the same quality of service. Our competent heating and cooling specialists can provide you with a comprehensive inspection, a diagnosis, and practical solutions that can fix your ailing HVAC unit.
Commercial HVAC Services In Warehouse Point, CT
Many studies have proven that when workers feel comfortable at work and they are happy and more productive. Therefore, it is essential, for the general well-being of your Warehouse Point business, to keep a comfortable indoor environment. At Miller Oil Company, we can help you improve the comfort of your commercial property by offering comprehensive commercial cooling and heating services.
We offer everything that you could possibly require to keep your HVAC system operational and working optimally. We have fully certified experts on staff to assist you with anything including full installation, routine maintenance to keep your HVAC system functioning optimally, and full repair.
Heater and AC Tune-Up Services Warehouse Point, Connecticut
Keeping up with normal maintenance on your Warehouse Point heating system and AC systems is crucial in order to keep both units functioning effectively. Since heating and cooling your home make up the majority of your energy expenses, a tune-up is a great means to reduce these expenses. Our HVAC maintenance services can really help your system perform at its best to make sure that it performs efficiently while providing you with the comfort that you need to get through the extreme outdoor conditions.
Our extensive tune-ups consist of a comprehensive cleaning of condenser coils to amplify unit efficiency, a complete evaluation of the coolant level, a full calibration of your thermostat to guarantee accurate operation, inspection of your ductwork, inspection of electrical connections in your units to ensure maximum safety, and a complete evaluation of both the blower motor together with the belt. Since most breakdowns happen when the weather is harsh, these tune-ups help reduce the chances of unexpected malfunctions. As a result, you can depend on having a reliable and energy efficient heating and cooling system during the summer or winter.
Warehouse Point Heating and Cooling Troubleshooting
As pointed out above, a yearly heating or AC inspection helps increase the effectiveness of your system. Thus, it is a worthwhile investment. There are multiple duties that we accomplish during our heating and cooling troubleshooting evaluations. Not only do we check for potential thermostat issues that could be causing your system to become defective, but we also search for potential refrigerant leaks as this can be very common.
One of the main concerns of a tune-up is to ensure that your system is running as efficiently as possible. Anything that is impacting this will be addressed to help reduce your energy costs. Another matter that we look for is improper heating or cooling that results in your HVAC system to heat or cool unevenly. During the troubleshooting service, we also check and replace the filters if needed and fully inspect the outside unit to make sure that it is not being blocked due to debris build-up.
HVAC Installation Services In Warehouse Point
A brand-new HVAC system is quite an investment. Having said that, did you know that the quality of the installation will substantially influence its performance? We pride ourselves in offering comprehensive, competent, and affordable HVAC installation for both residential and commercial customers. Given that we have been in the HVAC industry for quite a long time, we have the experience of performing impeccable installations, no matter the fuel source or model. All of the service technicians that we have on staff have the appropriate certifications, insurance, and experience.
We have a long history in the business and we have survived all of these years by offering our clients great services at affordable prices. You can rely on us to service your equipment the right way, the very first time around.
Contact Miller Oil Company for every one of your Warehouse Point, CT heating and air conditioning needs. We have the contractors on staff to assist you with any issues or problems you may be having and we take pride in providing the very best HVAC service in the whole entire area.
Heating & Cooling Repair Resources Near Me Warehouse Point AC Repair
HVAC Contractor Warehouse Point CT
Warehouse Point Heating and Cooling
Boiler Repair Services Warehouse Point CT
Warehouse Point Furnace Repair
Warehouse Point Home AC Repair
Heating and Air Warehouse Point CT
Points of Interest in Warehouse Point
Along with Broad Brook, Melrose, Scantic, and Windsorville, Warehouse Point is one of the sections of East Windsor. Of the five villages, Warehouse Point is the oldest section of town. The first English settler in East Windsor, William Pychon, erected a warehouse for his transhipped goods in 1638. It is what is now known as Warehouse Point. For 132 years, Warehouse Point was the southern border for Springfield, Massachusetts. However, in 1768, it was annexed by the Connecticut Colony.
Places to check out in Warehouse Point:
Our high level of customer support ensure that we'll get your home's HVAC system operating quickly and affordably!
We install and service the following heating equipment for our Warehouse Point customers:
We install, service and repair the following cooling equipment in Warehouse Point, CT:
Get comfortable in your home again with Miller Oil Company! Call us today to schedule a free estimate for new HVAC equipment or to schedule fast heating and cooling system repairs or service.
Local Reviews
for Warehouse Point, CT
---
Miller Oil Company services all of Warehouse Point, Connecticut, including the following zip codes: 06088. Click here to return to our service area.