Friendly, Affordable HVAC Repairs in West Granby CT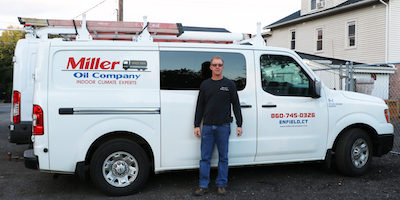 We are your resource for all heating and cooling repairs, service, installation and maintenance needs in West Granby Connecticut. Call us for fast service on your HVAC equipment. We work on oil, propane and gas equipment, however, keep in mind that only our oil repairs are offered with 24-hour service. Gas and propane repairs are on a schedule-only basis.
Get started today with your heating and cooling repairs by calling our Home Comfort Specialists:
We are a locally owned and operated HVAC contractor servicing homes and business in and around West Granby, CT
.
Miller Oil Company is West Granby's leading HVAC contractor. We offer a full line of heating and cooling repairs for all types of equipment, oil, gas, propane and electric.
West Granby, Hartford County, CT Service Area
We service all of West Granby CT and handle furnace repair, air conditioning repair, boiler repairs, heater repairs, heat pump repairs, ductless heating, and cooling repairs and more. We also install new HVAC equipment for homes and businesses throughout West Granby.
West Granby has a population of 11,282 and is located at Latitude 41.9560875 and Longitude -72.8439595
Call Us For Heating And Cooling In West Granby, CT
Having a comfy home is fundamental and Miller Oil Company is your neighborhood West Granby HVAC contractor! Our expert HVAC technicians can handle all your heating and ac troubles. You can feel confident that we can address all of your home comfort goals.
As seasoned heating and cooling technicians in the business, we can troubleshoot any concern that you come across. Also, we can repair it quickly so that your West Granby HVAC unit works the manner in which you expect it to once more. We know how vital it is to have your home heating and cooling functioning, and we pride ourselves on having the capacity to not only handle any HVAC concern you might be having but also on our ability to do it as effectively as possible. Listed below, we will review several of the specific services we provide at Miller Oil Company.
West Granby Residential HVAC Services
Coping with a malfunctioning heating system when the weather is cold is a horrible experience. Your dwelling is cold and you need to look for alternative ways to generate heat. That is the reason that we are fully devoted to helping keep your whole home as warm as possible with our residential HVAC services.
Similarly, we provide the same services to help keep your home cool during the hotter months when you need your air conditioner functioning effectively. By giving us a phone call, you will receive a full inspection, a diagnosis, and the necessary strategies to fix your HVAC equipment in an affordable manner.
Commercial HVAC Services In West Granby, CT
To achieve the most effective results at the workplace, you need to keep your West Granby employees comfortable. Their comfort affects their frame of mind and levels of productivity. Miller Oil Company offers remarkable commercial HVAC services that can enhance the comfort of your office building.
Our professional services cover anything that you require so that your system runs efficiently and can provide a high degree of comfort. With our installations, replacements, repairs and tune-up services, your HVAC system can perform the manner that it ought to and the way that you need it to.
Heater and AC Tune-Up Services West Granby, Connecticut
Keeping up with regular maintenance on your West Granby heater and AC systems is crucial to keep both units functioning adequately. Our company offers comprehensive professional tune-up services that can correctly improve the life-span of each unit and keep each unit running at max efficiency which can save you a notable amount of cash in the long run.
We use an extensive tune-up guideline to ensure that we inspect your unit from top to bottom. We clean the HVAC system, lubricate it, and look for any minor issues. This inspection gives you the option to fix any minor concerns before they escalate into major and more expensive ones. Consequently, not only is our tune-up a good way to reduce your energy costs, but it is a wonderful way to reduce your HVAC repair costs. Since most breakdowns happen when the weather is extreme, these tune-ups help prevent unexpected malfunctions. For that reason, you can rely on having a reliable and energy efficient cooling and heating system all throughout the summer or winter months.
West Granby Heating and Cooling Troubleshooting
As pointed out above, an annual heating or AC check-up helps promote the functionality of your system. For that reason, it is a worthwhile investment. A tune-up includes things like a thorough inspection of your heater or cooling system. Our technicians will troubleshoot any concerns that they find with your unit. Not only do we check for potential thermostat issues that might be causing your system to become defective, but we also search for potential refrigerant leaks as this can be very common.
We also make sure that your system is operating well, incorporating the efficiency of your system. We will inform you of any problems that could potentially influence your home heating or cooling costs. We check for issues with your system's functionality. We make certain that your heating system or air conditioning unit is able to create a balanced temperature throughout your home or office building. During the troubleshooting service, we also check and replace the air filters if needed and fully inspect the exterior unit to make sure that it is not being obstructed due to debris build-up.
HVAC Installation Services In West Granby
A new HVAC system in your home or business is an opportunity to raise your comfort and decrease your power expenditures. However, did you know that the installation will have to be perfect for you to really gain the rewards of your new system? We pride ourselves in offering comprehensive, competent, and affordable HVAC installation for both residential and commercial clients. Since we have been in the HVAC industry for quite some time, we have the experience of performing flawless installations, no matter the fuel source or model. All of the contractors that we have on staff have the necessary certifications, insurance, and also experience.
When you work with us, you know that you are getting full pricing transparency with no hidden fees, zero risks, and no stress. We have the capacity to solve all of your service and installation requirements for your HVAC system.
Make sure to consult with us right now for any of your West Granby, CT HVAC needs. If you have any questions or concerns, we will resolve them for you. One of our technicians will take the time to thoroughly resolve your questions as we are proud to be the local area's best HVAC service provider.
Heating & Cooling Repair Resources Near Me West Granby AC Repair
HVAC Contractor West Granby CT
West Granby Heating and Cooling
Boiler Repair Services West Granby CT
West Granby Furnace Repair
West Granby Home AC Repair
Heating and Air West Granby CT
Points of Interest in West Granby
West Granby is known as the historic district in Granby, Connecticut. It was listed on the National Register of Historic Places in 1992. West Granby has a total land area of 750 acres. It encompasses Simsbury Road, between Hartland Road and Firetown Road. Many of its 113 buildings are residential, with some used as agricultural outbuildings and garages. During the 18th century, West Granby was an agrarian community. It also became one of the most vital economic centers in Granby in 1819. Unfortunately, the American Civil War brought an end to these small businesses. It was only during the early 20th century when the area experienced an agricultural revival with the introduction of the tobacco.
Places to check out in West Granby:
Our high level of customer support ensure that we'll get your home's HVAC system operating quickly and affordably!
We install and service the following heating equipment for our West Granby customers:
We install, service and repair the following cooling equipment in West Granby, CT:
Get comfortable in your home again with Miller Oil Company! Call us today to schedule a free estimate for new HVAC equipment or to schedule fast heating and cooling system repairs or service.
Local Reviews
for West Granby, CT
---
Miller Oil Company services all of West Granby, Connecticut, including the following zip codes: 06035, 06060, 06090. Click here to return to our service area.