Friendly, Affordable HVAC Repairs in Wapping CT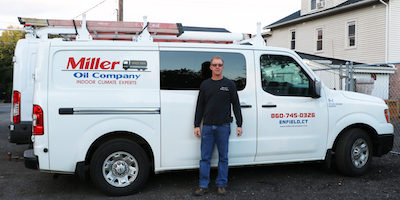 We are your resource for all heating and cooling repairs, service, installation and maintenance needs in Wapping Connecticut. Call us for fast service on your HVAC equipment. We work on oil, propane and gas equipment, however, keep in mind that only our oil repairs are offered with 24-hour service. Gas and propane repairs are on a schedule-only basis.
Get started today with your heating and cooling repairs by calling our Home Comfort Specialists:
We are a locally owned and operated HVAC contractor servicing homes and business in and around Wapping, CT
.
Miller Oil Company is Wapping's leading HVAC contractor. We offer a full line of heating and cooling repairs for all types of equipment, oil, gas, propane and electric.
Wapping, Hartford County, CT Service Area
We service all of Wapping CT and handle furnace repair, air conditioning repair, boiler repairs, heater repairs, heat pump repairs, ductless heating, and cooling repairs and more. We also install new HVAC equipment for homes and businesses throughout Wapping.
Wapping has a population of 12,894 and is located at: Latitude 41.8273207 and Longitude -72.5531433
Call Us For Heating And Cooling In Wapping, CT
If you are on the hunt for heating and cooling installation or repair in Wapping, CT, Miller Oil Company is available to offer professional assistance. We have the professional practical experience and expertise to help solve any heating and cooling problems you might be coping with. We offer full residential and commercial HVAC professional services.
We offer full HVAC troubleshooting in Wapping and can provide you with the appropriate fix that you need to get everything functioning optimally. We understand that a correct diagnosis to an ailing HVAC equipment is critical when the weather is unbearable. We also know that fixing the unit quickly is essential. In this article, we will look at a few of the specific services we provide at Miller Oil Company.
Wapping Residential HVAC Services
Coping with a malfunctioning heating system when the weather is cold is a terrible experience. Not only is it significantly inconvenient, but it can cause your entire household great discomfort. At Miller Oil Company, we are fully dedicated to our customers. We have the abilities and experience to get your heating system up and running again immediately.
Similarly, we provide the same services to help keep your loved ones cool during the warmer months when you need your central air conditioning functioning effectively. Our knowledgeable heating and cooling service technicians can supply you with a thorough inspection, a diagnosis, as well as practical solutions that can fix your ailing HVAC unit.
Commercial HVAC Services In Wapping, CT
Always keeping your Wapping commercial building or office environment as comfortable as possible is not only necessary to maximize productivity, but also to keep everyone as happy as possible. At Miller Oil Company, we can help you boost the comfort of your commercial property by providing comprehensive commercial cooling and heating services.
At Miller Oil Company, we offer the services that are vital to make sure that your HVAC system performs efficiently and optimally. Our NATE certified technicians have a wealth of knowledge and experience. They can assist you with installations, repairs, and also the maintenance of your cooling and heating system.
Heater and AC Tune-Up Services Wapping, Connecticut
A component of keeping your Wapping system running properly includes routine maintenance. Our comprehensive tune-up services can help your system provide you with the level of comfort that you need while functioning at optimal efficiency. A system that runs efficiently is a fantastic way to decrease your home heating and cooling payments.
Our all-inclusive tune-ups include a comprehensive cleaning of condenser coils to increase unit efficiency, a thorough evaluation of the coolant level, a full calibration of your thermostat to ensure accurate operation, examination of your ductwork, inspection of electric connections in your units to ensure maximum safety, and a complete evaluation of both the blower motor together with the belt. The tasks involved during a routine maintenance check help defend against any breakdowns when you need your heater or air conditioning system the most.
Wapping Heating and Cooling Troubleshooting
As pointed out above, an annual heating or AC examination helps increase the performance of your system. Therefore, it is a worthwhile investment. These tune-ups give the specialist the chance to look over your system and troubleshoot any problems. Our technicians will check every part of your system, including your thermostat, heat exchanger, cooling solution, and even more.
We also check the efficiency of each system to make sure that you are not working with potential complications that may be increasing your utility bills. We check to see if your cooling or heating system has the ability to deliver an even, balanced temperature throughout your home or office. An air filter replacement is performed and we check your outdoor system for any blockages including plants or other blockages.
HVAC Installation Services In Wapping
Getting your HVAC system set up properly is key to getting your unit to work optimally. At Miller Oil Company, we take pride in offering the finest installations in Wapping. This is something that we have been doing for many years. We have the best HVAC technicians on staff who all have the necessary licenses, expertise, and skills.
As a family owned and operated business, we offer fair and affordable rates. We have the ability to solve all of your service and installation requirements for your HVAC system.
Give us a call at this time if you are in Wapping, CT. We have the professionals on staff to help you with any issues or problems you might be having and we take pride in providing the most effective HVAC service in the entire area.
Heating & Cooling Repair Resources Near Me Wapping AC Repair
HVAC Contractor Wapping CT
Wapping Heating and Cooling
Boiler Repair Services Wapping CT
Wapping Furnace Repair
Wapping Home AC Repair
Heating and Air Wapping CT
Points of Interest in Wapping
The northeastern part of South Windsor was referred to as Wapping during the Colonial times. The first settler in this area is said to be Joseph Stedman, along with Nathaniel Drake and Benjah Starkweather. Today, it is a suburban neighborhood with a population of 12,894. The median household income in Wapping is $94,217. On the other hand, the average high temperature in Wapping is 83.9 degrees in July. Whereas, the average low temperature is 18.5 degrees in January. Also, Wapping receives an average 50.3 inches of rainfall annually, with 40.5 inches of snowfall per year.
Places to check out in Wapping:
Our high level of customer support ensure that we'll get your home's HVAC system operating quickly and affordably!
We install and service the following heating equipment for our Wapping customers:
We install, service and repair the following cooling equipment in Wapping, CT:
Get comfortable in your home again with Miller Oil Company! Call us today to schedule a free estimate for new HVAC equipment or to schedule fast heating and cooling system repairs or service.
Local Reviews
for Wapping, CT
---
Miller Oil Company services all of Wapping, Connecticut, including the following zip codes: 06074. Click here to return to our service area.