Friendly, Affordable HVAC Repairs in Vernon Rockville CT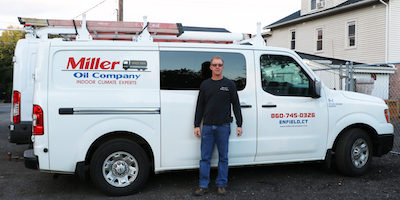 We are your resource for all heating and cooling repairs, service, installation and maintenance needs in Vernon Rockville Connecticut. Call us for fast service on your HVAC equipment. We work on oil, propane and gas equipment, however, keep in mind that only our oil repairs are offered with 24-hour service. Gas and propane repairs are on a schedule-only basis.
Get started today with your heating and cooling repairs by calling our Home Comfort Specialists:
We are a locally owned and operated HVAC contractor servicing homes and business in and around Vernon Rockville, CT
.
Miller Oil Company is Vernon Rockville's leading HVAC contractor. We offer a full line of heating and cooling repairs for all types of equipment, oil, gas, propane and electric.
Vernon Rockville, Tolland County, CT Service Area
We service all of Vernon Rockville CT and handle furnace repair, air conditioning repair, boiler repairs, heater repairs, heat pump repairs, ductless heating, and cooling repairs and more. We also install new HVAC equipment for homes and businesses throughout Vernon Rockville.
Vernon Rockville has a population of 10,254 and is located at: Latitude 41.8186802 and Longitude -72.479037
Call Us For Heating And Cooling In Vernon Rockville, CT
Miller Oil Company is your resource for any HVAC installations or repairs in Vernon Rockville, CT. Our expert HVAC technicians can address all your heating and ac issues. We offer full residential and commercial HVAC professional services.
We offer full HVAC troubleshooting in Vernon Rockville and can offer you with the appropriate fix that you need to get everything functioning ideally. We understand how crucial it is to have your heating and cooling functioning, and we pride ourselves on having the chance to not only solve any HVAC issue you might be having but also on our capability to do it as efficiently as possible. Some of the kinds of services that we provide can be located below.
Vernon Rockville Residential HVAC Services
One of the last things that you would like to have to deal with throughout the colder months is a malfunctioning heater. It is uncomfortable and impacts your well-being. At Miller Oil Company, we are fully committed to our clients. We have the abilities and experience to get your heater up and running again in no time.
Also, we offer the same services to help keep your family members cool during the hotter months when you need your air conditioner functioning efficiently. We offer everything that you could possibly need such as proper assessment, diagnostics, repair, installation, as well as routine maintenance.
Commercial HVAC Services In Vernon Rockville, CT
Always keeping your Vernon Rockville commercial building or office environment as comfortable as possible is not only essential to maximize work productivity but also to keep everyone as content as possible. At Miller Oil Company, we can help you significantly improve the comfort of your commercial property by offering comprehensive commercial cooling and heating services.
At Miller Oil Company, we offer the services that are vital to make sure that your HVAC system performs efficiently and also optimally. We have fully certified technicians on staff to help you with anything including full installation, routine maintenance to keep your HVAC system functioning optimally, and full repair.
Heater and AC Tune-Up Services Vernon Rockville, Connecticut
Keeping up with regular maintenance on your Vernon Rockville heater and AC units is crucial in order to keep both units functioning adequately. We offer comprehensive professional tune-up services that can correctly improve the life-span of each unit and keep each unit operating at the greatest efficiency which can save you a major amount of money overall.
A tune-up involves the cleaning of all of the parts of your system. The components are lubricated to ensure energy-saving performance. Our technicians will use their trained eyes to find any issues, giving you the opportunity to resolve them before they become major and expensive problems. Since most breakdowns happen when the weather is extreme, these tune-ups help prevent unexpected malfunctions. As a result, you can depend on having a reliable and energy efficient cooling and heating system during the summer or winter months.
Vernon Rockville Heating and Cooling Troubleshooting
As pointed out above, an annual heating or AC checkup helps increase the operation of your system. Therefore, it is a worthwhile investment. These tune-ups give the technician the opportunity to look over your system and troubleshoot any issues. We look for thermostat issues, performance issues, oversee the combustion system, refrigerant leaks, and even more.
We also make sure that your system is performing well, incorporating the efficiency of your system. We will update you of any problems that could potentially impact your home heating or air conditioning costs. Another issue that we look for is improper heating or cooling that triggers your HVAC system to heat or cool unevenly. During the troubleshooting professional service, we also check and replace the filters if needed and fully inspect the exterior unit to make sure that it is not being obstructed due to debris build-up.
HVAC Installation Services In Vernon Rockville
A new HVAC system in your home or office is an opportunity to improve your comfort and cut down your power expenditures. Nevertheless, did you know that the installation needs to be perfect for you to really gain the rewards of your new system? When working with Miller Oil Company, you can expect the best HVAC installation service in the greater Vernon Rockville area. We deliver friendly, professional, and affordable heating and cooling replacements. We have the experience, knowledge, and skills to work with all makes and models. Each of our employees is fully educated and certified.
When you work with us, you know that you are getting full pricing transparency with no hidden fees, zero risks, and no stress. We have the capacity to resolve all of your service and installation requirements for your HVAC system.
Be sure to speak with us right now for any of your Vernon Rockville, CT HVAC needs. We have the service providers on staff to assist you with any issues or problems you may be having and we take pride in providing the best HVAC service in the entire area.
Heating & Cooling Repair Resources Near Me Vernon Rockville AC Repair
HVAC Contractor Vernon Rockville CT
Vernon Rockville Heating and Cooling
Boiler Repair Services Vernon Rockville CT
Vernon Rockville Furnace Repair
Vernon Rockville Home AC Repair
Heating and Air Vernon Rockville CT
Points of Interest in Vernon Rockville
Vernon became a separate town from Bolton, Connecticut in October 1808. It assumed all assets of Rockville in 1965. Therefore, Vernon contains Rockville, along with two other small villages, Talcottville and Dobsonville. Vernon is at the east of Hartford on Interstate 84. The total area of Vernon is 18.1 square miles. According to the United States Census Bureau, Vernon has a population of 29,491 in 2005. The racial makeup in Vernon is 89.95% White, 3.99% Black, 3.58% Hispanic, and 2.65% Asian. The estimated median household income for a household is $47,816 while the estimated per capita income per family is $59,599.
Places to check out in Vernon Rockville:
Our high level of customer support ensure that we'll get your home's HVAC system operating quickly and affordably!
We install and service the following heating equipment for our Vernon Rockville customers:
We install, service and repair the following cooling equipment in Vernon Rockville, CT:
Get comfortable in your home again with Miller Oil Company! Call us today to schedule a free estimate for new HVAC equipment or to schedule fast heating and cooling system repairs or service.
Local Reviews
for Vernon Rockville, CT
---
Miller Oil Company services all of Vernon Rockville, Connecticut, including the following zip codes: 06066. Click here to return to our service area.