Friendly, Affordable HVAC Repairs in Tolland CT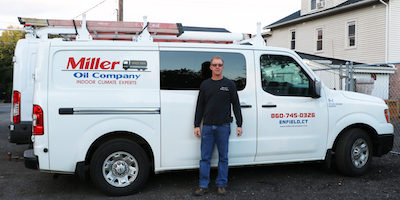 We are your resource for all heating and cooling repairs, service, installation and maintenance needs in Tolland Connecticut. Call us for fast service on your HVAC equipment. We work on oil, propane and gas equipment, however, keep in mind that only our oil repairs are offered with 24-hour service. Gas and propane repairs are on a schedule-only basis.
Get started today with your heating and cooling repairs by calling our Home Comfort Specialists:
We are a locally owned and operated HVAC contractor servicing homes and business in and around Tolland, CT.
Miller Oil Company is Tolland's leading HVAC contractor. We offer a full line of heating and cooling repairs for all types of equipment, oil, gas, propane and electric.
Tolland, Tolland County, CT Service Area
We service all of Tolland CT and handle furnace repair, air conditioning repair, boiler repairs, heater repairs, heat pump repairs, ductless heating, and cooling repairs and more. We also install new HVAC equipment for homes and businesses throughout Tolland.
Tolland has a population of 14,791 and is located at Latitude 41.8714865 and Longitude -72.3686931
Call Us For Heating And Cooling In Tolland, CT
Miller Oil Company is your source for any HVAC installations or repairs in Tolland, CT. Our repair technicians are the best repairmen in the area. We can get your home's HVAC system working again, quickly and affordably. At Miller Oil Company, we provide a full range of HVAC services, including installation, maintenance, tune-ups, as well as repairs.
As experienced heating and cooling technicians in the industry, we can troubleshoot any problem that you encounter. Also, we can repair it very quickly so that your Tolland HVAC equipment operates the way that you expect it to once again. We understand how essential it is to have your home heating and cooling functioning, and we pride ourselves on being able to not only resolve any HVAC concern you may be having but also on our ability to do it as effectively as possible. Some of the types of services that we provide can be found below.
Tolland Residential HVAC Services
If you have ever had to deal with a broken heating system in the wintry weather, you know that it is more than inconvenient. Your home is cold and you need to look for alternate methods to generate heat. At Miller Oil Company, we are fully committed to our customers. We have the techniques and experience to get your heater up and running again immediately.
If your air conditioner has broken down, then you can count on swift, budget-friendly, and competent services. By giving us a ring, you will be given a comprehensive inspection, a diagnosis, as well as the necessary remedies to repair your HVAC equipment in an economical manner.
Commercial HVAC Services In Tolland, CT
To achieve the most effective results on the job, you need to try to keep your Tolland employees comfortable. Their comfort has an effect on their mindset and levels of work productivity. At Miller Oil Company, we can help you improve the comfort of your commercial property by providing comprehensive commercial cooling and heating services.
At Miller Oil Company, we offer the services that are essential to guarantee that your HVAC system performs efficiently and also optimally. With our installations, replacements, repairs and tune-up services, your HVAC system can work the manner that it ought to and the way that you need it to.
Heater and AC Tune-Up Services Tolland, Connecticut
Routine maintenance is necessary to make sure that your system runs optimally in Tolland. Our comprehensive tune-up services can help your system provide you with the level of comfort that you should have while functioning at peak efficiency. A system that runs efficiently is a fantastic way to lower your home heating and cooling payments.
We use a thorough tune-up guideline to ensure that we inspect your unit from top to bottom. We clean the HVAC system, lubricate it, and look out for any minor issues. This inspection gives you the option to repair any minor problems before they grow into major and more expensive ones. As a result, not only is our tune-up an exceptional means to reduce your electricity costs, but it is a terrific way to reduce your HVAC repair service costs. Since most breakdowns happen when the weather is extreme, these tune-ups help prevent unexpected malfunctions. Consequently, you can rely on having a reliable and energy efficient cooling and heating system all throughout the summer or winter season.
Tolland Heating and Cooling Troubleshooting
As stated above, a yearly heating or AC check-up helps promote the performance of your system. Thus, it is a valuable investment. A tune-up involves a thorough inspection of your heater or cooling system. Our technicians will troubleshoot any issues that they identify with your unit. Our service technicians will check every part of your system, including your thermostat, heat exchanger, coolant, and much more.
One of the top priorities of a tune-up is to ensure that your system is running as efficiently as possible. Anything that is affecting this will be dealt with to help decrease your energy costs. Another issue that we check for is improper heating or cooling that causes your HVAC system to heat or cool unevenly. Our service technicians will replace your air filter and ensure that there are no obstructions with your unit that can affect its ability to create a pleasant indoor environment.
HVAC Installation Services In Tolland
Getting your HVAC system set up properly is crucial to getting your unit to run optimally. When working with Miller Oil Company, you can count on the best HVAC installation service in the greater Tolland area. We deliver courteous, professional, and affordable heating and air conditioning installations. This is something that we have been providing for many years. Every one of our employees are fully educated and certified.
When you hire us, you know that you are getting total pricing transparency with no hidden charges, zero risks, and no stress. We have the capacity to address all of your service and installation demands for your HVAC system.
Give us a call today if you are in Tolland, CT. If you have any questions or concerns, we will resolve them for you. One of our technicians will put in the time to thoroughly resolve your questions as we are proud to be the region's best HVAC provider.
Heating & Cooling Repair Resources Near Me
Tolland AC Repair
HVAC Contractor Tolland CT
Tolland Heating and Cooling
Boiler Repair Services Tolland CT
Tolland Furnace Repair
Tolland Home AC Repair
Heating and Air Tolland CT
Points of Interest in Tolland
Tolland was initially part of Windsor. However, people started moving east when they felt that Windsor was becoming overcrowded. The area first became a settlement in 1713 and was designated a county in 1785. In 2011, Tolland was named the 37th Best Place to Live In in the United States. The total area of Tolland is 40.4 square miles. According to the United States Census Bureau, Tolland has a population of 15,052 in 2010. As of 2010, the racial makeup in Tolland is 93.2% White, 1.1% Black, 2.2% Hispanic, and 2.3% Asian. The estimated median household income in 2016 is $106,509 while the estimated per capita income in the same year is $43,011. The median home price is $277,021.
Places to check out in Tolland:
Our high level of customer support ensure that we'll get your home's HVAC system operating quickly and affordably!
We install and service the following heating equipment for our Tolland customers:
We install, service and repair the following cooling equipment in Tolland, CT:
Get comfortable in your home again with Miller Oil Company! Call us today to schedule a free estimate for new HVAC equipment or to schedule fast heating and cooling system repairs or service.
Local Reviews
for Tolland, CT
Miller Oil Company
Rated
5.0
out of 5 stars based on
1
customer reviews
---
So far so good
Bob

-

Tolland

,

CT

06084



Review of
Miller Oil Company
---
ALEXANDER R.
Boiler tune up
Near

Hillcrest Dr,

Tolland

,

CT

06084
Antonio M.
Oil boiler pm
Near

Mile Hill Rd,

Tolland

,

CT

06084
Miller Oil Company services all of Tolland, Connecticut, including the following zip codes: 06084. Click here to return to our service area.