Friendly, Affordable HVAC Repairs in Suffield CT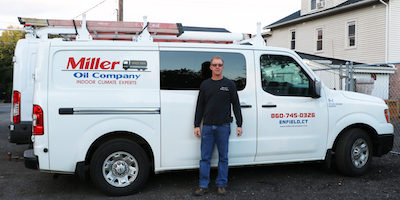 We are your resource for all heating and cooling repairs, service, installation and maintenance needs in Suffield Connecticut. Call us for fast service on your HVAC equipment. We work on oil, propane and gas equipment, however, keep in mind that only our oil repairs are offered with 24-hour service. Gas and propane repairs are on a schedule-only basis.
Get started today with your heating and cooling repairs by calling our Home Comfort Specialists:
We are a locally owned and operated HVAC contractor servicing homes and business in and around Suffield, CT
.
Miller Oil Company is Suffield's leading HVAC contractor. We offer a full line of heating and cooling repairs for all types of equipment, oil, gas, propane and electric.
Suffield, Hartford County, CT Service Area
We service all of Suffield CT and handle furnace repair, air conditioning repair, boiler repairs, heater repairs, heat pump repairs, ductless heating, and cooling repairs and more. We also install new HVAC equipment for homes and businesses throughout Suffield.
Suffield has a population of 15,625 and is located at: Latitude 41.9915062 and Longitude -72.7017741
Call Us For Heating And Cooling In Suffield, CT
Miller Oil Company is your resource for any HVAC installations or repairs in Suffield, CT. We have the professional background and expertise to help handle any heating and cooling troubles you might be dealing with. You can feel confident that we can address all of your home comfort needs.
We offer full HVAC troubleshooting in Suffield and can provide you with the appropriate fix that you need to get everything functioning optimally. We understand that a proper diagnosis to an ailing HVAC equipment is critical when the weather is unbearable. We also know that servicing the unit quickly is essential. Below, you will find some of the services that you can count on when using Miller Oil Company.
Suffield Residential HVAC Services
If you have ever had to deal with a broken heating system in the winter season, you know that it is more than just inconvenient. It is annoying and has an effect on your safety. One of the priorities at Miller Oil Company is to provide our customers with exceptional residential HVAC services. If your furnace is giving you problems, then it is crucial for us to get it performing once again.
In addition, we offer the same services to help keep your household cool during the hotter months when you need your air conditioning functioning correctly. By giving us a ring, you will be given a full inspection, a diagnosis, along with the required solutions to fix your HVAC equipment in an economical manner.
Commercial HVAC Services In Suffield, CT
To achieve the best results at work, you need to try to keep your Suffield employees comfortable. Their comfort impacts their frame of mind and levels of productivity. Miller Oil Company offers exceptional commercial HVAC services that can enhance the comfort of your office building.
We provide everything that you could possibly require to keep your HVAC system operational and functioning optimally. Our NATE certified technicians have a wide range of knowledge and experience. They can assist you with installations, repairs, and also the maintenance of your heating and cooling system.
Heater and AC Tune-Up Services Suffield, Connecticut
Routine maintenance is essential to make sure that your system runs optimally in Suffield. Our comprehensive tune-up services can really help your system provide you with the level of comfort that you need while operating at optimal efficiency. A system that runs efficiently is a wonderful way to minimize your home cooling and heating payments.
We use a detailed tune-up checklist to ensure that we inspect your unit from top to bottom. We clean the HVAC system, lubricate it, and look for any small issues. This inspection gives you the option to repair any minor complications before they grow into major and more expensive ones. For this reason, not only is our tune-up a terrific way to reduce your energy costs, but it is a great way to reduce your HVAC repair costs. Since most breakdowns happen when the weather is severe, these tune-ups help prevent unexpected malfunctions. Consequently, you can rely on having a reliable and energy efficient cooling and heating system throughout the summertime or winter months.
Suffield Heating and Cooling Troubleshooting
When it relates to keeping your home heating and cooling systems functioning correctly, you are going to want to invest in routine maintenance. A tune-up includes things like a thorough inspection of your heating system or air conditioning system. Our technicians will address any issues that they identify with your unit. Not only do we inspect for potential thermostat issues that might be causing your system to malfunction, but we also search for potential refrigerant leaks as this can be very common.
We also make sure that your system is functioning well, including the efficiency of your system. We will update you of any issues that could potentially affect your home heating or air conditioning costs. We check to see if your heating or cooling system has the ability to supply an even, balanced temperature throughout your office or home. An air filter replacement is carried out and we check your outdoor system for any blockages including plants or other blockages.
HVAC Installation Services In Suffield
A brand new HVAC system is quite an investment. Nevertheless, did you know that the quality of the installation will considerably impact its performance? When working with Miller Oil Company, you can expect the best HVAC installation service in the greater Suffield area. We deliver friendly, professional, and affordable heating and air conditioning installs. We have the experience, expertise, and skills to work with all makes and models. All of the experts that we have on staff have the appropriate certifications, insurance, and experience.
When you employ us, you know that you are getting total pricing transparency with no hidden charges, zero risks, and no stress. Whenever you need a repair service, install, or tune-up, you can count on us to deliver the service that you would want.
Contact Miller Oil Company for all of your Suffield, CT home heating and air conditioning requirements. You can schedule an appointment for a complimentary, in-home consultation with one of our highly trained professionals.
Heating & Cooling Repair Resources Near Me Suffield AC Repair
HVAC Contractor Suffield CT
Suffield Heating and Cooling
Boiler Repair Services Suffield CT
Suffield Furnace Repair
Suffield Home AC Repair
Heating and Air Suffield CT
Points of Interest in Suffield
Suffield is a town located in Hartford County, Connecticut. Its town center, called Suffield Depot, is a census-designated place for the village of Suffield. Suffield is also near the Connecticut River Valley, bordering Enfield and Massachusetts. It has a total land area of 42.3 square miles and a total water area of .7 square miles. The United States Census Bureau reports that Suffield has a population of 15,625 in 2016. As of 2010, the racial makeup in Suffield is 84.3% White, 7.6% Black, 5.6% Hispanic, and 1.3% Asian. The estimated median household income in 2016 is $91,241 while the estimated per capita income in the same year is $40,342. The median home price is $287,251.
Places to check out in Suffield:
Our high level of customer support ensure that we'll get your home's HVAC system operating quickly and affordably!
We install and service the following heating equipment for our Suffield customers:
We install, service and repair the following cooling equipment in Suffield, CT:
Get comfortable in your home again with Miller Oil Company! Call us today to schedule a free estimate for new HVAC equipment or to schedule fast heating and cooling system repairs or service.
Local Reviews
for Suffield, CT
Miller Oil Company
Rated
4.9
out of 5 stars based on
12
customer reviews
---
Great service
Paula

-

Suffield

,

CT

06078



Review of
Miller Oil Company
---
Owner
Ralph Carucci

-

Suffield

,

CT

06078



Review of
Miller Oil Company
Doug and Miller Oil are awesome!
---
Perfect job!
Eileen

-

Suffield

,

CT

06078



Review of
Miller Oil Company
our water boiler failed with no warning and we were so happy to have it replaced the same day. Excellent service in every way!
---
Professional, prompt, competent.
Gary

-

Suffield

,

CT

06078



Review of
Miller Oil Company
Arrived on time, did a thorough job.
---
Great service. Antonio was very helpfull, explained how often we should replace filters, etc.
Sonny

-

Suffield

,

CT

06078



Review of
Miller Oil Company
We would definitely use your company for service again.
---
Friendly Quick Service
Almstead

-

Suffield

,

CT

06078



Review of
Miller Oil Company
Very comfortable attendant. Worked diligently and professionally. Would defiantly recommend to others.
---
Clean installation
McCloud

-

Suffield

,

CT

06078



Review of
Miller Oil Company
New boiler installation displayed a high level of craftsmanship.
---
Dependable, Quality Service
Krystal

-

Suffield

,

CT

06078



Review of
Miller Oil Company
We have used Miller Oil for nearly ten years to service our furnance. Recently Miller came out same day for a repair. The service man was competent and friendly. He diagnosed the problem quickly and repaired. We were very happy with our service.
---
Great and polite service
Ed

-

Suffield

,

CT

06093



Review of
Miller Oil Company
---
Great service!!!
Jeff & Sarah

-

Suffield

,

CT

06078



Review of
Miller Oil Company
Very knowledgeable and friendly!!
---
Superior and Courteous Service
Joanne Mason

-

Suffield

,

CT

06078



Review of
Miller Oil Company
I contacted Miller Oil Co. Monday morning at 8:00am because our oil furnace was leaking water and we had no hot water. Russ arrived within the hour and quickly diagnosed the problem and replaced the necessary parts to get our system operational again.
---
Terrific service
Lori

-

Suffield

,

CT

06093



Review of
Miller Oil Company
Showed up on time. Was nice to my annoying barking dog. Obviously an expert in his field.
---
Antonio M.
Annual tuneup of oil boiler
Near

Branch Rd,

Suffield

,

CT

06078
Doug M.
Annual tuneup of oil furnace
Near

East Street N,

Suffield

,

CT

06078
Doug M.
Service call, repair water leak and install new thermostat
Near

Kent Ave,

Suffield

,

CT

06078
Russell A.
Install Thermo Pride furnace
Near

S Stone St,

Suffield

,

CT

06093
Russell A.
no heat call
Near

Halladay Ave W,

Suffield

,

CT

06078
Russell A.
replaced leaky water heater
Near

Cold Spring Ln,

Suffield

,

CT

06078
Antonio M.
2 oil boiler cleanings
Near

River Blvd,

Suffield

,

CT

06078
Antonio M.
Oil furnaces pm
Near

Hickory St,

Suffield

,

CT

06078
Joseph M.
Tune up
Near

Dusky Ln,

Suffield

,

CT

06078
Russell A.
installed boiler
Near

Suffield St,

Suffield

,

CT

06078
Rick M.
Cleaning wm boiler riello burner
Near

Stony Brook Dr,

Suffield

,

CT

06078
Russell A.
No heat call
Near

Dara Ln,

Suffield

,

CT

06078
Rick M.
Cleaning W M hw boiler Beckett burner
Near

4th St,

Suffield

,

CT

06078
Rick M.
Cleaning dunkirk h. w. boiler , beckett AFG burner
Near

Whitfield Way,

Suffield

,

CT

06078
Miller Oil Company services all of Suffield, Connecticut, including the following zip codes: 06026, 06035, 06078, 06080, 06093. Click here to return to our service area.