HVAC Tariffville CT Contractor, Fast & Friendly Repairs & Installations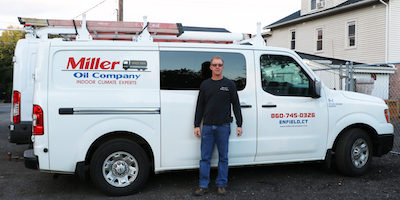 In Tariffville, Connecticut, we stand as the primary choice for comprehensive heating and cooling services. Whether you need installations, repairs, or routine maintenance, we're just a call away for swift HVAC assistance. Our expertise covers oil, propane, and gas systems. It's worth noting that we provide 24/7 support for oil-related issues. However, for gas and propane services, please schedule an appointment in advance.
Get started today with your HVAC Tariffville CT heating and cooling repairs by calling our Home Comfort Specialists:
We are a locally owned and operated HVAC contractor servicing homes and businesses in and around Tariffville, CT.
Miller Oil Company is Tariffville's leading HVAC contractor. We offer a full line of heating and cooling repairs for all types of equipment, oil, gas, propane, and electric.
Tariffville, Hartford County, CT Service Area
We service all of Tariffville CT and handle furnace repair, air conditioning repair, boiler repairs, heater repairs, heat pump repairs, ductless heating, and cooling repairs and more. We also install new HVAC equipment for homes and businesses throughout Tariffville.
Tariffville has a population of 1,810 and is located at Latitude 41.907647 and Longitude -72.767465.
Call Us For Heating And Cooling In Tariffville, CT
In Tariffville, CT, Miller Oil Company stands as your dependable ally for all HVAC requirements. Housing some of the best technicians in the region, we pledge quick and economical solutions for all your HVAC challenges. Our wide spectrum of services spans from installations and upkeep to fine-tuning and repairs.
Drawing from our vast experience in the realm of heating and cooling, our experts excel in pinpointing and rectifying any HVAC predicaments you might encounter. Knowing the crucial role a seamless HVAC system plays in your residence, we're deeply committed to delivering unparalleled efficiency in addressing your needs. Below is a snapshot of the specialized services we proudly offer.
Tariffville Residential HVAC Services
Facing a faulty heating system amidst the biting cold of winter isn't merely inconvenient; it can turn your home into an icebox, prompting a search for other warmth sources. In such trying times, Miller Oil Company remains your unwavering support. Equipped with seasoned expertise and tried-and-true techniques, we're poised to swiftly rejuvenate your heating system to prime performance.
If summer finds your air conditioner on the fritz, have faith in our efficient, budget-friendly, and skillful interventions. A mere ring to us guarantees an in-depth inspection, accurate troubleshooting, and cost-effective strategies to revamp your HVAC unit to its finest state.
Commercial HVAC Services In Tariffville, CT
Prioritizing the comfort of your Tariffville staff is key to fostering peak performance in the workplace. Their overall well-being intricately ties into their morale and efficiency. With this understanding, Miller Oil Company offers a vast array of heating and cooling solutions, tailored to uplift the ambiance of your business environment.
At Miller Oil Company, we provide indispensable services geared towards maximizing your HVAC system's functionality. Be it new installations, system upgrades, timely repairs, or routine check-ups, we are dedicated to ensuring your HVAC setup aligns perfectly with your unique requirements, guaranteeing optimal operation at all times.
Heater and AC Tune-Up Services Tariffville, Connecticut
Consistent maintenance is essential to ensure that your HVAC system in Tariffville performs at its best. Our all-inclusive tune-up solutions are tailored to bolster your system's performance, granting you the comfort you rightfully deserve while ensuring optimal efficiency. Indeed, an efficiently operating system is a prime strategy to minimize your household's heating and cooling expenditures.
We adhere to a detailed tune-up protocol that allows us to examine every facet of your unit comprehensively. From cleaning to lubricating the HVAC machinery, and identifying potential minor hitches, we've got it all covered. Our methodical assessment offers you a proactive approach to address small concerns before they escalate into larger, costlier issues. Thus, our maintenance service not only aids in curbing your energy bills but also in slashing potential repair expenses. Bearing in mind that many system glitches occur during severe weather fluctuations, our routine check-ups act as a safeguard against unforeseen disruptions. This ensures you benefit from a steadfast and energy-savvy HVAC system, be it during the sweltering summer heat or the frigid winter chill.
Tariffville Heating and Cooling Troubleshooting
As highlighted, an annual review for your heating or AC system plays a pivotal role in bolstering its efficacy, marking it as a prudent investment. Such a tune-up encompasses an exhaustive evaluation of your heating or cooling mechanism. Our seasoned technicians will delve into any irregularities they detect within your unit, ensuring each component, from the thermostat and heat exchanger to the coolant, is in prime condition.
A primary objective of our tune-up service is to optimize your system's operational efficiency. Any factors hampering this are promptly addressed, aiming to mitigate your energy expenditures. We also monitor for discrepancies like uneven heating or cooling, ensuring your HVAC system provides consistent temperature distribution. Furthermore, our technicians will update your air filter and ascertain there's no impediment to your unit's capacity to maintain a conducive indoor atmosphere.
HVAC Installation Services In Tariffville
The correct installation of your HVAC system is a cornerstone for its peak performance. With Miller Oil Company by your side, you're partnering with the premier HVAC installation specialists in the expansive Tariffville region. We pride ourselves on delivering respectful, expert, and budget-friendly heating and air conditioning installation solutions — a standard we've upheld for many years. Rest assured, each member of our team is comprehensively trained and accredited.
Engaging with us assures you of complete transparency in pricing—there are no concealed fees, unforeseen challenges, or stress. We're adept and poised to cater to all your HVAC service and installation needs.
If Tariffville, CT is your location, don't hesitate to reach out. Should you harbor any queries or need clarification, we're here to assist. Our dedicated technicians will invest the necessary effort to address your concerns in-depth, exemplifying our reputation as the region's leading HVAC service provider.
Heating & Cooling Repair Resources Near Me
Tariffville AC Repair
HVAC Contractor Tariffville CT
Tariffville Heating and Cooling
Boiler Repair Services Tariffville CT
Tariffville Furnace Repair
Tariffville Home AC Repair
Heating and Air Tariffville CT
Points of Interest in Tariffville
Located within the beautiful town of Simsbury, Tariffville is a village boasting charm, history, and unique attractions. Whether you're a local or a visitor, there's plenty to appreciate in this quaint Connecticut gem.
1. Tariffville Gorge: This stunning natural wonder is a must-visit for nature enthusiasts. The Farmington River rushes through the gorge, providing breathtaking vistas and rapids that attract whitewater paddlers from various locations. Alongside the river, hiking trails offer visitors a chance to explore the area's beauty, observe local wildlife, and enjoy the serene sound of flowing water.
2. Tariffville Historic District: The heart of Tariffville, the Historic District, showcases a rich tapestry of 19th-century homes and structures. These buildings serve as a testament to Tariffville's industrial heritage, offering a window into the past. Strolling through the district, visitors can appreciate the architectural beauty and the stories these buildings have to tell.
3. Tariffville Park: A perfect spot for families and individuals alike, Tariffville Park offers green spaces for relaxation, picnicking, and recreation. Playgrounds for children, well-maintained walking paths, and shaded areas make it an ideal location for a sunny afternoon or a weekend outing.
4. Adventure Sports: For those with a penchant for adrenaline, Tariffville serves as a hub for adventure sports, especially during the annual Farmington River Whitewater Slalom. Canoeists and kayakers flock to the village to tackle the challenging rapids, making it a vibrant spot for sports enthusiasts.
5. Local Artisan Shops and Cafes: Tariffville is also home to a selection of boutique shops and cozy cafes, where visitors can purchase handmade crafts, antiques, or enjoy a delightful meal. The local businesses, with their personalized touch and warmth, add to the village's allure.
In essence, Tariffville is more than just a village; it's a vibrant community rich in natural beauty, history, and culture. The blend of outdoor activities and historical sites ensures that every visit is filled with discovery and enjoyment.
Places to check out in Tariffville:
Our high level of customer support ensures that we'll get your home's HVAC system operating quickly and affordably!
We install and service the following heating equipment for our Tariffville customers:
We install, service and repair the following cooling equipment in Tariffville, CT:
Get comfortable in your home again with Miller Oil Company! Call us today to schedule a free estimate for new HVAC equipment or to schedule fast heating and cooling system repairs or services.
Local Reviews
for Tariffville, CT
---
Miller Oil Company services all of Tariffville, Connecticut, including the following zip code: 06081. Click here to return to our service area.