Friendly, Affordable HVAC Repairs in Hazardville CT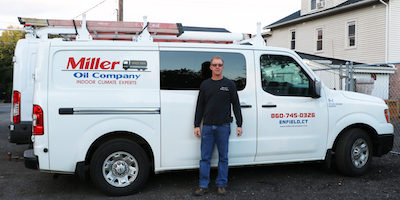 We are your resource for all heating and cooling repairs, service, installation and maintenance needs in Hazardville Connecticut. Call us for fast service on your HVAC equipment. We work on oil, propane and gas equipment, however, keep in mind that only our oil repairs are offered with 24-hour service. Gas and propane repairs are on a schedule-only basis.
Get started today with your heating and cooling repairs by calling our Home Comfort Specialists:
We are a locally owned and operated HVAC contractor servicing homes and business in and around Hazardville, CT
.
Miller Oil Company is Hazardville's leading HVAC contractor. We offer a full line of heating and cooling repairs for all types of equipment, oil, gas, propane and electric.
Hazardville, Hartford County, CT Service Area
We service all of Hazardville CT and handle furnace repair, air conditioning repair, boiler repairs, heater repairs, heat pump repairs, ductless heating, and cooling repairs and more. We also install new HVAC equipment for homes and businesses throughout Hazardville.
Hazardville has a population of 4,599 and is located at: Latitude 41.9873187 and Longitude -72.5448093
Call Us For Heating And Cooling In Hazardville, CT
Miller Oil Company is your source for any HVAC installations or repairs in Hazardville, CT. We have the professional practical experience and expertise to help solve any heating and cooling problems you might be facing. We offer full residential and commercial HVAC services.
We provide full HVAC troubleshooting in Hazardville and can provide you with the appropriate fix that you need to get everything functioning efficiently. We understand how important it is to have your heating and cooling functioning, and we pride ourselves on having the opportunity to not only resolve any HVAC concern you might be having but also on our capability to do it as effectively as possible. Some of the types of services that we provide can be located below.
Hazardville Residential HVAC Services
If you have ever had to cope with a broken heating system in the winter season, you know that it is more than inconvenient. It is annoying and impacts your safety and security. One of the priorities at Miller Oil Company is to provide our clients remarkable residential HVAC services. If your heating system is giving you challenges, then it is necessary for us to get it working once again.
Likewise, we offer the same services to help keep your household cool during the hotter months when you need your air conditioner functioning appropriately. We offer everything that you could possibly need including proper assessment, diagnostics, repair, installation, as well as routine maintenance.
Commercial HVAC Services In Hazardville, CT
Many research studies have revealed that when staff members feel comfortable at work and they are satisfied and more productive. Therefore, it is essential, for the general well-being of your Hazardville business, to keep a comfortable indoor environment. We have the ability to help you ensure the comfort of your entire workplace by offering our comprehensive commercial HVAC services.
We provide everything that you could possibly require to keep your HVAC system operational and working optimally. With our installations, replacements, repairs and tune-up services, your HVAC system can function the way that it should and the way that you expect it to.
Heater and AC Tune-Up Services Hazardville, Connecticut
Routine maintenance is vital to ensure that your system runs optimally in Hazardville. Since heating and cooling your home make up the majority of your electricity costs, a tune-up is a great approach to reduce these expenses. Our HVAC maintenance services can help your system run at its best to ensure that it performs efficiently while supplying you with the comfort that you need to have to get through the harsh outdoor temperatures.
We use an extensive tune-up list to ensure that we inspect your unit inside out. We clean the HVAC system, lubricate it, and look out for any small issues. This inspection gives you the opportunity to fix any minor problems before they intensify into major and more expensive ones. For this reason, not only is our tune-up a fantastic method to reduce your energy costs, but it is a good way to reduce your HVAC repair costs. These are just a few of the things that we will do during our complete heater and AC tune-up.
Hazardville Heating and Cooling Troubleshooting
To have a HVAC system that works the manner that you want it to, you will need to set up annual furnace or air conditioning maintenance. A tune-up includes a thorough inspection of your heating system or air conditioning unit. Our technicians will address any problems that they find with your unit. Our service technicians will check every aspect of your system, including your thermostat, heat exchanger, cooling agent, and much more.
Among one of the top priorities of a tune-up is to ensure that your system is running as efficiently as possible. Anything that is having an effect on this will be addressed to help decrease your energy costs. We check to see if your heating or cooling system has the ability to supply an even, balanced temperature throughout your office or home. Our experts will replace your air filter and make certain that there are no stoppages with your unit that can affect its potential to create a pleasant indoor environment.
HVAC Installation Services In Hazardville
A new HVAC system is quite an investment. That being said, did you know that the quality of the installation will significantly influence its performance? When working with Miller Oil Company, you can count on the best HVAC installation service in the greater Hazardville area. We deliver courteous, professional, and affordable heating and air conditioning replacements. This is something that we have been providing for many years. We have the absolute best HVAC technicians on staff who all have the necessary licenses, years of experience, and skills.
When you employ us, you know that you are getting full pricing transparency with no hidden charges, zero risks, and no stress. We have the ability to address all of your service and installation requirements for your HVAC system.
Make sure to reach out to us today for any of your Hazardville, CT HVAC needs. We have the contractors on staff to help you with any concerns or problems you might be having and we take pride in offering the absolute best HVAC service in the entire area.
Heating & Cooling Repair Resources Near Me Hazardville AC Repair
HVAC Contractor Hazardville CT
Hazardville Heating and Cooling
Boiler Repair Services Hazardville CT
Hazardville Furnace Repair
Hazardville Home AC Repair
Heating and Air Hazardville CT
Points of Interest in Hazardville
Hazardville is a section of Enfield. It used to be an industrial village that manufactured gunpowder. The village's name was taken from Colonel Augustus George Hazard, the owner of one of the black powder mills in the area. Hazardville has a total land area of 3.3 square miles. The United States Census Bureau reports that Hazardville has a population of 4,599 in 2010. As of 2010, the racial makeup in Hazardville is 81.6% White, 7% Hispanic, 5.7% American Indian, 1.2% Black, and 1.5% Asian. The estimated median household income in 2016 is $78,464 while the per capita income of the same year is $33,864.
Places to check out in Hazardville:
Our high level of customer support ensure that we'll get your home's HVAC system operating quickly and affordably!
We install and service the following heating equipment for our Hazardville customers:
We install, service and repair the following cooling equipment in Hazardville, CT:
Get comfortable in your home again with Miller Oil Company! Call us today to schedule a free estimate for new HVAC equipment or to schedule fast heating and cooling system repairs or service.
Local Reviews
for Hazardville, CT
---
Miller Oil Company services all of Hazardville, Connecticut, including the following zip codes: 06082. Click here to return to our service area.