Friendly, Affordable HVAC Repairs in Granby CT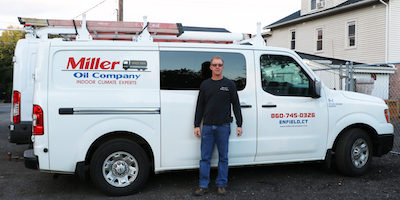 We are your resource for all heating and cooling repairs, service, installation and maintenance needs in Granby Connecticut. Call us for fast service on your HVAC equipment. We work on oil, propane and gas equipment, however, keep in mind that only our oil repairs are offered with 24-hour service. Gas and propane repairs are on a schedule-only basis.
Get started today with your heating and cooling repairs by calling our Home Comfort Specialists:
We are a locally owned and operated HVAC contractor servicing homes and business in and around Granby, CT
.
Miller Oil Company is Granby's leading HVAC contractor. We offer a full line of heating and cooling repairs for all types of equipment, oil, gas, propane and electric.
Granby, Hartford County, CT Service Area
We service all of Granby CT and handle furnace repair, air conditioning repair, boiler repairs, heater repairs, heat pump repairs, ductless heating, and cooling repairs and more. We also install new HVAC equipment for homes and businesses throughout Granby.
Granby has a population of 11,282 and is located at: Latitude 41.954061 and Longitude -72.78877
Call Us For Heating And Cooling In Granby, CT
If you are on the search for heating and cooling installation or repair in Granby, CT, Miller Oil Company is ready to offer skilled professional assistance. Our repair technicians are the very best repairmen in the area. We can get your home's HVAC system working again, quickly and affordably. We offer full residential and commercial HVAC professional services.
We deliver full HVAC troubleshooting in Granby and can offer you with the proper fix that you need to get everything functioning optimally. We know that a proper diagnosis to an ailing HVAC unit is essential when the weather is intolerable. We also know that repairing the unit quickly is essential. Some of the types of services that we offer can be seen below.
Granby Residential HVAC Services
If you have ever had to cope with a broken heating system in the winter weather, you know that it is more than just inconvenient. Your home is cold and you have to to find alternate strategies to generate heat. At Miller Oil Company, we are fully dedicated to our clients. We have the abilities and experience to get your heater up and running again immediately.
If your air conditioner has broken down, then you can count on quick, competitively priced, and skilled services. Our experienced heating and cooling professionals can provide you with a thorough inspection, a diagnosis, and practical solutions that can resolve your ailing HVAC unit.
Commercial HVAC Services In Granby, CT
Many research studies have shown that when staff members feel comfortable at work and they are satisfied and more productive. Therefore, it is essential, for the general well-being of your Granby business, to keep a comfortable indoor environment. At Miller Oil Company, we can help you improve the comfort of your commercial property by providing comprehensive commercial cooling and heating services.
Our professional services cover everything that you may need so that your equipment runs efficiently and can provide a high degree of comfort. With our installations, replacements, repairs and tune-up services, your HVAC system can perform the manner that it should and the way that you need it to.
Heater and AC Tune-Up Services Granby, Connecticut
Part of keeping your Granby system running properly includes routine maintenance. Since heating and cooling your home make up the majority of your electricity expenditures, a tune-up is a great method to reduce these expenses. Our HVAC maintenance services can really help your system perform at its best to ensure it performs efficiently while supplying you with the comfort that you need to have to get through the extreme outdoor conditions.
A tune-up involves the cleaning of all of the components of your system. The components are lubricated to ensure energy-saving performance. Our technicians will use their trained eyes to search for any issues, giving you the opportunity to resolve them before they become major and expensive problems. The tasks involved during a routine maintenance check help prevent any breakdowns when you need your heating system or air conditioning unit the most.
Granby Heating and Cooling Troubleshooting
To have a heating and cooling system that works the manner that you want it to, you will need to schedule annual furnace or air conditioning maintenance. A tune-up incorporates a thorough inspection of your heating unit or air conditioning system. Our technicians will address any problems that they identify with your unit. We look for thermostat issues, performance concerns, oversee the combustion process, refrigerant leaks, and more.
We also check the efficiency of each system to ensure that you are not working with potential challenges that may be driving up your energy bills. We check to see if your heating or cooling system has the ability to provide an even, balanced temperature throughout your home or office. During the troubleshooting service, we also check and change the air filters if needed and fully inspect the outside unit to make sure that it is not being blocked due to debris build up.
HVAC Installation Services In Granby
Getting your HVAC system installed properly is key to getting your unit to function optimally. At Miller Oil Company, we take pride in offering the absolute best installations in Granby. Considering that we have been in the HVAC industry for quite a long time, we have the experience of performing remarkable installations, no matter the fuel source or model. All of the professionals that we have on staff have the necessary certifications, insurance, as well as experience.
We have an extensive history in industry and we have thrived all of these years by offering our clients great services at affordable prices. You can count on us to service your equipment accurately, the first time around.
Call Miller Oil Company for all of your Granby, CT heating and cooling needs. You can arrange an appointment for a cost-free, in-home consultation with one of our highly trained experts.
Heating & Cooling Repair Resources Near Me Granby AC Repair
HVAC Contractor Granby CT
Granby Heating and Cooling
Boiler Repair Services Granby CT
Granby Furnace Repair
Granby Home AC Repair
Heating and Air Granby CT
Points of Interest in Granby
Granby is a rural town at the foothills of Litchfield Hills of the Berkshires. Dense woods and hills and mountains surround it. Granby has a total area of 40.7 square miles, of which the town center, Salmon Brook CDP, has a total area of 3 square miles. The United States Census Bureau reports that Granby has a population of 11,247 in 2016. As of 2010, the racial makeup in Granby is 95% White, 1.7% Hispanic, 1% Black, and .9% Asian. The estimated median household income in 2016 is $111,013 while the per capita income of the same year is $48,493.
Places to check out in Granby:
Our high level of customer support ensure that we'll get your home's HVAC system operating quickly and affordably!
We install and service the following heating equipment for our Granby customers:
We install, service and repair the following cooling equipment in Granby, CT:
Get comfortable in your home again with Miller Oil Company! Call us today to schedule a free estimate for new HVAC equipment or to schedule fast heating and cooling system repairs or service.
Local Reviews
for Granby, CT
Miller Oil Company
Rated
5.0
out of 5 stars based on
2
customer reviews
---
Professional and Good Products
Allie

-

Granby

,

CT

06035



Review of
Miller Oil Company
We just had our 31 year old boiler replaced by Miller Oil. Doug came out and gave a very reasonable estimate. Very obvious that he knew what he was doing. Didn't try to sell any unnecessary equipment. Scheduling was fast. The three many crew that installed was very professional and knowledgeable. We will definitely be using Miller Oil for our maintenance and oil needs.
---
Great service, polite and efficient
Gitberg

-

Granby

,

CT

06035



Review of
Miller Oil Company
Miller Oil Company services all of Granby, Connecticut, including the following zip codes: 06035, 06060, 06090. Click here to return to our service area.