Friendly, Affordable HVAC Repairs in Melrose CT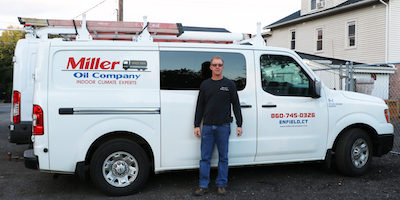 We are your resource for all heating and cooling repairs, service, installation and maintenance needs in Melrose Connecticut. Call us for fast service on your HVAC equipment. We work on oil, propane and gas equipment, however, keep in mind that only our oil repairs are offered with 24-hour service. Gas and propane repairs are on a schedule-only basis.
Get started today with your heating and cooling repairs by calling our Home Comfort Specialists:
We are a locally owned and operated HVAC contractor servicing homes and business in and around Melrose, CT
.
Miller Oil Company is Melrose's leading HVAC contractor. We offer a full line of heating and cooling repairs for all types of equipment, oil, gas, propane and electric.
Melrose, Hartford County, CT Service Area
We service all of Melrose CT and handle furnace repair, air conditioning repair, boiler repairs, heater repairs, heat pump repairs, ductless heating, and cooling repairs and more. We also install new HVAC equipment for homes and businesses throughout Melrose.
Melrose has a population of 3,265 and is located at: Latitude 41.9375971 and Longitude -72.5211975
Call Us For Heating And Cooling In Melrose, CT
If you are on the search for heating and cooling installation or repair service in Melrose, CT, Miller Oil Company is prepared to offer qualified professional assistance. We have the professional experience and expertise to help resolve any heating and cooling troubles you might be facing. You can feel confident that we can deal with all of your home comfort necessities.
As trained heating and cooling technicians in the profession, we can troubleshoot any issue that you come across. Also, we can repair it rapidly so that your Melrose HVAC equipment works the manner in which you expect it to once again. Miller Oil Company understands that having a residential property with a functioning furnace or AC unit is critical in the severe weather. For that reason, when working with us, not only will we remedy your cooling or heating issue but we will do it within a reasonable timeframe. Below, you will discover some of the services that you can look forward to when employing Miller Oil Company.
Melrose Residential HVAC Services
If you have ever had to face a broken heating system in the winter months, you know that it is more than just inconvenient. Your dwelling is cold and you have to to look for alternate means to generate heat. At Miller Oil Company, we are fully committed to our customers. We have the techniques and experience to get your heating system up and running again in no time.
If your air conditioner is malfunctioning during the summer, then you can expect the same quality of service. By giving us a phone call, you will receive a full inspection, a diagnosis, as well as the required options to fix your HVAC equipment in an affordable manner.
Commercial HVAC Services In Melrose, CT
Many research studies have proven that when employees feel comfortable at work and they are happy and more productive. Therefore, it is crucial, for the general well-being of your Melrose business, to keep a comfortable indoor environment. Miller Oil Company offers remarkable commercial HVAC services that can boost the comfort of your office building.
At Miller Oil Company, we offer the services that are required to ensure that your HVAC system performs efficiently and optimally. With our installations, replacements, repairs and tune-up services, your HVAC system can work the way that it ought to and the way that you need it to.
Heater and AC Tune-Up Services Melrose, Connecticut
Routine maintenance is necessary to make sure that your system runs optimally in Melrose. Since heating and cooling your home make up the majority of your power expenses, a tune-up is a great means to reduce these expenses. Our HVAC maintenance services can help your system perform at its best so that it performs efficiently while supplying you with the comfort that you need to have to get through the extreme outdoor conditions.
A tune-up involves the cleaning of all of the components of your system. The components are lubricated to ensure energy-efficient performance. Our technicians will use their trained eyes to find any issues, giving you the opportunity to deal with them before they become major and expensive problems. These are just a few of the things that we will do during our complete heater and AC tune-up.
Melrose Heating and Cooling Troubleshooting
When it involves keeping your heating and cooling systems performing properly, you are going to want to invest in routine maintenance. There are several things that we carry out during our heating and cooling troubleshooting assessments. We look for thermostat issues, performance problems, oversee the combustion process, refrigerant leaks, and even more.
We also make sure that your system is operating well, including the efficiency of your system. We will notify you of any issues that could potentially impact your home heating or cooling costs. We check to see if your cooling or heating system is able to deliver an even, balanced temperature throughout your home or office. An air filter replacement is performed and we check your outdoor system for any blockages including plants or other debris.
HVAC Installation Services In Melrose
A brand-new HVAC system is quite an investment. That being said, did you know that the quality of the installation will substantially affect its performance? We pride ourselves on offering comprehensive, competent, and affordable HVAC installation for both residential as well as commercial clients. Since we have been in the HVAC industry for quite some time, we have the experience of performing remarkable installations, no matter the fuel source or model. All of the service technicians that we have on staff have the necessary certifications, insurance, and also experience.
As a family owned and operated establishment, we offer fair and affordable costs. Any time you need a repair, install, or tune-up, you can trust us to deliver the service that you would want.
Call Miller Oil Company for every one of your Melrose, CT heating and cooling necessities. We have the technicians on staff to help you with any issues or problems you may be having and we take pride in delivering the absolute best HVAC service in the entire area.
Heating & Cooling Repair Resources Near Me Melrose AC Repair
HVAC Contractor Melrose CT
Melrose Heating and Cooling
Boiler Repair Services Melrose CT
Melrose Furnace Repair
Melrose Home AC Repair
Heating and Air Melrose CT
Points of Interest in Melrose
Melrose is one of the five villages in East Windsor. It is a small village that mostly encompasses a single road. Melrose was founded by a widow named Margaret Thompson and her nine children in 1720. It is, therefore, a very traditional village with many of the families living there have called it home for six generations. The Melrose School, often referred to as the center of the village, is a one-room schoolhouse that was closed down in 1938. It has been used as a meeting place for local community groups and other local functions since then.
Places to check out in Melrose:
Our high level of customer support ensure that we'll get your home's HVAC system operating quickly and affordably!
We install and service the following heating equipment for our Melrose customers:
We install, service and repair the following cooling equipment in Melrose, CT:
Get comfortable in your home again with Miller Oil Company! Call us today to schedule a free estimate for new HVAC equipment or to schedule fast heating and cooling system repairs or service.
Local Reviews
for Melrose, CT
---
Miller Oil Company services all of Melrose, Connecticut, including the following zip codes: 06016. Click here to return to our service area.