HVAC East Longmeadow MA Contractor, Dependable & Affordable Repairs & Installations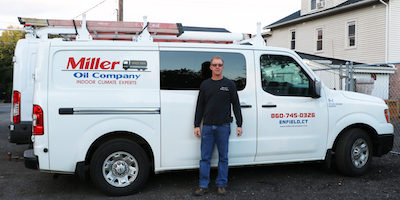 In East Longmeadow, Massachusetts, our establishment is recognized as the foremost provider for all-encompassing heating and cooling services, which include installations, repairs, and regular upkeep. We invite you to reach out for prompt HVAC support. Our proficiency covers oil, propane, and gas systems. Kindly note, while we offer round-the-clock assistance for oil-related concerns, scheduled appointments are necessary for gas and propane services.
Get started today with your HVAC East Longmeadow MA heating and cooling repairs by calling our Home Comfort Specialists:
We are a locally owned and operated HVAC contractor servicing homes and businesses in and around East Longmeadow, MA.
Miller Oil Company is East Longmeadow's leading HVAC contractor. We offer a full line of heating and cooling repairs for all types of equipment, oil, gas, propane, and electric.
East Longmeadow, Hampden County, MA Service Area
We service all of East Longmeadow MA, and handle furnace repair, air conditioning repair, boiler repairs, heater repairs, heat pump repairs, ductless heating, and cooling repairs and more. We also install new HVAC equipment for homes and businesses throughout East Longmeadow.
East Longmeadow has a population of 16,430 and is located at Latitude 42.0617615 and Longitude -72.4987905.
Call Us For Heating And Cooling In East Longmeadow, MA
In East Longmeadow, MA, Miller Oil Company is recognized as a trusted partner for comprehensive HVAC solutions. With a dedicated team of regionally-renowned technicians, we ensure prompt and cost-effective responses to your HVAC needs. Our extensive range of services encompasses installations, maintenance, fine-tuning, and diagnostic assessments.
With a wealth of knowledge in the heating and cooling sector, our adept technicians are skilled at identifying and addressing any HVAC challenges that arise. Recognizing the significance of an efficient HVAC system for your residence, our commitment to service excellence remains unwavering. Please find a detailed description of our specialized services further below.
East Longmeadow Residential HVAC Services
In East Longmeadow, MA, Miller Oil Company stands as a trusted resource for all your HVAC needs. With a team of top-tier technicians hailing from the region, we guarantee prompt and value-driven solutions tailored to your HVAC issues. Our expansive suite of services covers installations, regular maintenance, system fine-tuning, and diagnostic services.
Benefitting from a vast pool of knowledge in the realm of heating and cooling, our adept technicians are well-equipped to detect and resolve any HVAC challenges you might face. Recognizing the essential nature of a flawlessly operating HVAC system in one's home, we maintain an unwavering dedication to ensuring unparalleled efficiency in addressing your requirements. Below is a synopsis of our distinct services.
Commercial HVAC Services In East Longmeadow, MA
Prioritizing the comfort of your East Longmeadow staff is essential for fostering peak performance in the workplace. Their overall well-being intricately ties into their morale and efficiency. With this understanding, Miller Oil Company offers a vast array of heating and cooling solutions, tailored to elevate the ambiance of your business environment.
At Miller Oil Company, we provide indispensable services geared towards maximizing your HVAC system's functionality. Be it new installations, system upgrades, timely repairs, or routine check-ups, we are dedicated to ensuring your HVAC setup aligns perfectly with your unique requirements, guaranteeing optimal operation at all times.
Heater and AC Tune-Up Services East Longmeadow, Massachusetts
Regular upkeep is essential to ensure the seamless functioning of your HVAC system in East Longmeadow. Our comprehensive maintenance services are crafted to amplify your system's efficiency, enabling you to relish unparalleled comfort while the system performs optimally. A well-maintained system stands as a principal method to minimize heating and cooling costs for your residence.
By following a rigorous maintenance regimen, we conduct an exhaustive review of each element of your system. This includes cleaning the HVAC infrastructure, ensuring adequate lubrication, and pinpointing any nascent issues. Our in-depth evaluations allow you to address and rectify minor issues before they burgeon into significant, more costly problems. Consequently, our regular maintenance not only targets energy cost reductions but also serves to diminish potential repair outlays. Recognizing that HVAC issues often arise in extreme climatic conditions, our systematic evaluations act as a bulwark against unexpected hitches, ensuring you benefit from a consistent and energy-efficient HVAC system throughout both scorching summers and icy winters.
East Longmeadow Heating and Cooling Troubleshooting
As emphasized, conducting a yearly assessment of your heating or AC system is crucial for maximizing its performance, making it a wise investment. This assessment involves an in-depth inspection of your heating or cooling equipment. Our skilled technicians will investigate any anomalies they detect in your setup, verifying that components such as the thermostat, heat exchanger, and coolant function impeccably.
A fundamental objective of our maintenance approach is to elevate your system's functional efficiency. Any challenges inhibiting this will be promptly rectified, aiming to curtail your energy expenditures. We also remain vigilant for variations, like uneven heating or cooling, to ensure your HVAC system consistently modulates temperatures. In addition, our technicians will refresh your air filter and verify there are no hindrances that could compromise your unit's capacity to sustain a comfortable indoor ambiance.
HVAC Installation Services In East Longmeadow
For the optimal functionality of your HVAC system, correct installation is paramount. By choosing Miller Oil Company in East Longmeadow, you're aligning with the region's elite HVAC installation services. We consistently strive to deliver professional, quality-focused, and cost-effective heating and air conditioning installations—a benchmark we've maintained consistently. Importantly, every individual in our team possesses extensive training and certification.
With us, you're assured of transparent pricing without any hidden costs or unforeseen complications, promising a smooth service experience. We are equipped to handle a wide spectrum of HVAC service and installation requirements.
For residents and businesses in East Longmeadow, MA, we're just a call away. If there are questions or any clarifications needed, our team stands ready to provide guidance. Our dedicated technicians are committed to addressing your needs in-depth, further reinforcing our standing as the top-tier HVAC service provider in the area.
Heating & Cooling Repair Resources Near Me
East Longmeadow AC Repair
HVAC Contractor East Longmeadow MA
East Longmeadow Heating and Cooling
Boiler Repair Services East Longmeadow MA
East Longmeadow Furnace Repair
East Longmeadow Home AC Repair
Heating and Air East Longmeadow MA
Points of Interest in East Longmeadow
1. Heritage Park: Nestled in the heart of East Longmeadow, Heritage Park offers residents and visitors a tranquil space for relaxation and recreation. With sprawling green fields, picturesque walking trails, and playgrounds for children, it's a favorite for families, joggers, and nature enthusiasts alike.
2. Fenway Golf: For those with a penchant for mini-golf, Fenway Golf is an absolute treat. This well-maintained course offers challenges for both novice and seasoned players. Beyond mini-golf, the facility also boasts batting cages, making it a multifaceted recreational destination.
3. Storrs Library: A hub of knowledge and community activities, the Storrs Library serves as more than just a place to borrow books. It hosts various community events, workshops, and reading sessions, making it a focal point of local culture and education.
4. East Longmeadow Rotary Memorial Concert Series: During the summer months, the local rotary club hosts an array of concerts, drawing in both local talents and renowned artists. It's an excellent opportunity for residents and visitors to enjoy quality music in a vibrant community setting.
5. Shops and Cafes: Dotted throughout East Longmeadow are a range of boutique shops and cozy cafes. These establishments not only provide unique shopping experiences but also offer a taste of local flavors and delicacies.
In essence, East Longmeadow, MA, is a blend of serene natural spots, recreational areas, and cultural hubs. Whether you're exploring its parks, enjoying a round of mini-golf, or attending a community event, there's always something to captivate your interest in this charming Massachusetts town.
Places to check out in East Longmeadow:
Our high level of customer support ensures that we'll get your home's HVAC system operating quickly and affordably!
We install and service the following heating equipment for our East Longmeadow customers:
We install, service and repair the following cooling equipment in East Longmeadow, MA:
Get comfortable in your home again with Miller Oil Company! Call us today to schedule a free estimate for new HVAC equipment or to schedule fast heating and cooling system repairs or services.
Local Reviews
for East Longmeadow, MA
---
Miller Oil Company services all of East Longmeadow, Massachusetts, including the following zip code: 01028. Click here to return to our service area.