Friendly, Affordable HVAC Repairs in Ellington CT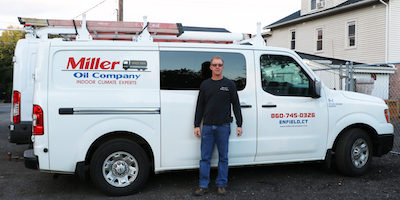 We are your resource for all heating and cooling repairs, service, installation and maintenance needs in Ellington Connecticut. Call us for fast service on your HVAC equipment. We work on oil, propane and gas equipment, however, keep in mind that only our oil repairs are offered with 24-hour service. Gas and propane repairs are on a schedule-only basis.
Get started today with your heating and cooling repairs by calling our Home Comfort Specialists:
We are a locally owned and operated HVAC contractor servicing homes and business in and around Ellington, CT
.
Miller Oil Company is Ellington's leading HVAC contractor. We offer a full line of heating and cooling repairs for all types of equipment, oil, gas, propane and electric.
Ellington, Tolland County, CT Service Area
We service all of Ellington CT and handle furnace repair, air conditioning repair, boiler repairs, heater repairs, heat pump repairs, ductless heating, and cooling repairs and more. We also install new HVAC equipment for homes and businesses throughout Ellington.
Ellington has a population of 15,602 and is located at: Latitude 41.917283 and Longitude -72.458236
Call Us For Heating And Cooling In Ellington, CT
Having a comfy home is important and Miller Oil Company is your neighborhood Ellington HVAC contractor! Our repair technicians are the very best repairmen in the area. We can get your home's HVAC system working again, quickly and affordably. We offer complete residential and commercial HVAC solutions.
We offer full HVAC troubleshooting in Ellington and can offer you with the effective fix that you need to get everything functioning optimally. We understand that a proper diagnosis to an ailing HVAC system is critical when the weather is unbearable. We also know that repairing the unit quickly is essential. Below, we will go over several of the specific services we offer at Miller Oil Company.
Ellington Residential HVAC Services
If you have ever had to cope with a broken heating system in the winter, you know that it is more than inconvenient. Not only is it extremely inconvenient, but it can cause your entire family significant discomfort. That is the reason that we are fully committed to helping keep your entire household as warm as possible with our residential HVAC services.
Likewise, we offer the same services to help keep your home cool during the hotter months when you need your air conditioner functioning effectively. We offer everything that you could possibly need including proper analysis, diagnostics, repair, installation, as well as routine maintenance.
Commercial HVAC Services In Ellington, CT
Always keeping your Ellington commercial building or office environment as comfortable as possible is not only necessary to maximize productivity, but also to keep everyone as happy as possible. Miller Oil Company offers expert commercial HVAC services that can enhance the comfort of your office building.
At Miller Oil Company, we offer the services that are essential to ensure that your HVAC system performs efficiently and optimally. We have fully certified technicians on staff to assist you with anything including full installation, routine maintenance to keep your HVAC system functioning optimally, and full repair services.
Heater and AC Tune-Up Services Ellington, Connecticut
Keeping up with routine maintenance on your Ellington heating system and AC units is crucial to keep both units functioning effectively. Since heating and cooling your home account for the majority of your utility expenditures, a tune-up is a great approach to reduce these expenses. Our HVAC maintenance services can help your system perform at its best to make sure that it performs efficiently while providing you with the comfort that you require to get through the harsh outdoor conditions.
Our all-inclusive tune-ups include a comprehensive cleaning of condenser coils to increase unit efficiency, a thorough evaluation of the coolant level, a full calibration of your thermostat to assure accurate operation, assessment of your ductwork, inspection of electric connections in your units to ensure maximum safety, and a complete evaluation of both the blower motor together with the belt. Since most breakdowns happen when the weather is severe, these tune-ups help protect against unexpected malfunctions. Thus, you can count on having a reliable and energy efficient cooling and heating system throughout the summer months or winter months.
Ellington Heating and Cooling Troubleshooting
To have a cooling and heating system that works the way that you want it to, you will need to set up annual furnace or air conditioner maintenance. A tune-up includes a thorough inspection of your furnace or air conditioning unit. Our technicians will troubleshoot any concerns that they identify with your unit. We look for thermostat issues, performance concerns, oversee the combustion process, refrigerant leaks, and even more.
We also make sure that your system is performing well, including the efficiency of your system. We will notify you of any issues that could possibly influence your home heating or air conditioning costs. We check for complications with your system's performance. We make sure that your furnace or air conditioner is able to create a balanced temperature throughout your home or office building. An air filter replacement is performed and we check your outdoor system for any blockages including plants or other debris.
HVAC Installation Services In Ellington
Getting your HVAC system set up properly is important to getting your unit to work optimally. When working with Miller Oil Company, you can count on the best HVAC installation service in the greater Ellington area. We provide courteous, professional, and affordable heating and cooling installs. We have the background, knowledge, and skills to work with all makes and models. Every one of our staff members are fully qualified and certified.
We have an extensive history in the business and we have survived all of these years by giving our clients remarkable services at affordable rates. You can trust us to service your system the right way, the 1st time around.
Be sure to speak with us now for any of your Ellington, CT HVAC needs. If you have any questions or concerns, we will address them for you. One of our technicians will take the time to thoroughly address your questions as we are proud to be the area's best HVAC service provider.
Heating & Cooling Repair Resources Near Me Ellington AC Repair
HVAC Contractor Ellington CT
Ellington Heating and Cooling
Boiler Repair Services Ellington CT
Ellington Furnace Repair
Ellington Home AC Repair
Heating and Air Ellington CT
Points of Interest in Ellington
Before it was named Ellington, the area was called Weexskashuck, or Great Marsh, by the natives. It is an agricultural community whose motto is "A great place to grow." It has a total land area of 34 square miles and .6 square miles of water area. Ellington is bordered by East Windsor, Enfield, Somers, Stafford, South Windsor, Tolland, and Willington. The United States Census Bureau states that Ellington has a population of 16,071 in 2016. As of 2010, the racial makeup in Ellington is 90.4% White, 3.3% Asian, 2.6% Hispanic, and 1.8% Black. The estimated median household income in 2016 is $85,877 while the per capita income of the same year is $39,952.
Places to check out in Ellington:
Our high level of customer support ensure that we'll get your home's HVAC system operating quickly and affordably!
We install and service the following heating equipment for our Ellington customers:
We install, service and repair the following cooling equipment in Ellington, CT:
Get comfortable in your home again with Miller Oil Company! Call us today to schedule a free estimate for new HVAC equipment or to schedule fast heating and cooling system repairs or service.
Local Reviews
for Ellington, CT
Miller Oil Company
Rated
4.5
out of 5 stars based on
2
customer reviews
---
Friendly and fast service
Jade

-

Ellington

,

CT

06029



Review of
Miller Oil Company
---
Service technician was awesome.
Joseph Pacheco

-

Ellington

,

CT

06029



Review of
Miller Oil Company
Your technician was not only neat but very thorough. He took the time to explain and show everything that was done and why it was necessary. Will definitely use this service again and will specifically ask for Joe.
---
Joseph M.
Annual tuneup of oil boiler
Near

Jobs Hill Rd,

Ellington

,

CT

06029
Joseph M.
Annual tuneup of oil boiler
Near

Pinney St,

Ellington

,

CT

06029
Russell A.
Installing Indirect H20 heater
Near

Windmill Rd,

Ellington

,

CT

06029
Russell A.
complaint of a noise
Near

Orchard St,

Ellington

,

CT

06029
Joseph M.
Tune up / Service
Near

Crystal Lake Rd,

Ellington

,

CT

06029
Russell A.
Prime and start
Near

Patriot Cir,

Ellington

,

CT

06029
Miller Oil Company services all of Ellington, Connecticut, including the following zip codes: 06029. Click here to return to our service area.