Friendly, Affordable HVAC Repairs in Windsorville CT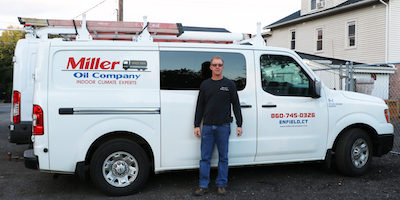 We are your resource for all heating and cooling repairs, service, installation and maintenance needs in Windsorville Connecticut. Call us for fast service on your HVAC equipment. We work on oil, propane and gas equipment, however, keep in mind that only our oil repairs are offered with 24-hour service. Gas and propane repairs are on a schedule-only basis.
Get started today with your heating and cooling repairs by calling our Home Comfort Specialists:
We are a locally owned and operated HVAC contractor servicing homes and business in and around Windsorville, CT
.
Miller Oil Company is Windsorville's leading HVAC contractor. We offer a full line of heating and cooling repairs for all types of equipment, oil, gas, propane and electric.
Windsorville, Hartford County, CT Service Area
We service all of Windsorville CT and handle furnace repair, air conditioning repair, boiler repairs, heater repairs, heat pump repairs, ductless heating, and cooling repairs and more. We also install new HVAC equipment for homes and businesses throughout Windsorville.
Windsorville has a population of 996 and is located at: Latitude 41.890931 and Longitude -72.5353647
Call Us For Heating And Cooling In Windsorville, CT
Miller Oil Company is your resource for any HVAC installations or repairs in Windsorville, CT. We have the professional background and expertise to help address any heating and cooling difficulties you might be dealing with. At Miller Oil Company, we provide a full range of HVAC services, including installation, maintenance, tune-ups, and also repairs.
As skilled heating and cooling technicians in the trade, we can troubleshoot any issue that you come across. Also, we can repair it quickly so that your Windsorville HVAC system runs the way that you expect it to once more. We realize how important it is to have your heating and cooling working, and we pride ourselves on having the ability to not only solve any HVAC problem you might be having but also on our capability to do it as efficiently as possible. Listed below, we will discuss several of the specific services we offer at Miller Oil Company.
Windsorville Residential HVAC Services
One of the final things that you would like to have to deal with in the middle of the colder months is a faulty central heater. It is uncomfortable and has an effect on your safety. At Miller Oil Company, we are fully committed to our clients. We have the skills and experience to get your heating unit up and running again immediately.
If your air conditioner is malfunctioning during the summer, then you can anticipate the same quality of service. By giving us a call, you will be given a full inspection, a diagnosis, as well as the needed options to repair your HVAC equipment in a budget-friendly manner.
Commercial HVAC Services In Windsorville, CT
Many research studies have proven that when workers feel comfortable at work and they are satisfied and more productive. Therefore, it is vital, for the general well-being of your Windsorville business, to keep a comfortable indoor environment. We have the ability to help you ensure the comfort of your entire work environment by offering our comprehensive commercial HVAC support services.
At Miller Oil Company, we offer the services that are essential to make sure that your HVAC system performs efficiently and also optimally. We have fully certified professionals on staff to help you with anything including full installation, routine maintenance to keep your HVAC system functioning optimally, and full repair.
Heater and AC Tune-Up Services Windsorville, Connecticut
A part of keeping your Windsorville system running well includes routine maintenance. Our company offers comprehensive professional tune-up services that can correctly increase the life expectancy of each unit and keep each unit working at max efficiency which can save you a significant amount of money overall.
We use an extensive tune-up list to ensure that we inspect your unit inside out. We clean the HVAC system, lubricate it, and look for any minor issues. This inspection gives you the option to repair any minor predicaments before they grow into major and more costly ones. Because of this, not only is our tune-up a terrific means to reduce your electricity costs, but it is a good way to reduce your HVAC repair costs. The tasks involved during a regular maintenance check help prevent any breakdowns when you need your central heater or air conditioning unit the most.
Windsorville Heating and Cooling Troubleshooting
As discussed above, an annual heating or AC checkup helps increase the effectiveness of your system. Therefore, it is a valuable investment. These tune-ups give the service technician the chance to check your system and troubleshoot any problems. Our service technicians will check every part of your system, including your thermostat, heat exchanger, coolant, and much more.
We also inspect the efficiency of each system to ensure that you are not working with potential issues that may be driving up your power bills. Another issue that we look for is improper heating or cooling that triggers your HVAC system to heat or cool unevenly. An air filter replacement is conducted and we check your outdoor unit for any blockages including plants or other blockages.
HVAC Installation Services In Windsorville
A new HVAC system in your home or business is an opportunity to enhance your comfort and reduce your energy charges. Nevertheless, did you know that the installation will have to be perfect for you to really gain the perks of your new system? At Miller Oil Company, we take pride in offering the very best installations in Windsorville. Because we have been in the HVAC industry for quite some time, we have the experience of performing accurate installations, no matter the fuel source or model. All of the service technicians that we have on staff have suitable certifications, insurance, and also experience.
When you work with us, you know that you are getting complete pricing transparency with no hidden charges, zero risks, and no stress. When you need a repair service, install, or tune-up, you can trust us to provide the service that you would expect.
Call Miller Oil Company for every one of your Windsorville, CT home heating, and cooling necessities. You can set up an appointment for a free, in-home consultation with one of our highly trained professionals.
Heating & Cooling Repair Resources Near Me Windsorville AC Repair
HVAC Contractor Windsorville CT
Windsorville Heating and Cooling
Boiler Repair Services Windsorville CT
Windsorville Furnace Repair
Windsorville Home AC Repair
Heating and Air Windsorville CT
Points of Interest in Windsorville
Along with Broad Brook, Melrose, Scantic, and Warehouse Point, Windsorville is one of the five villages found in East Windsor. Initially, Windsorville The was once its own community, and had its own post office, church, park and mini-mart.
Places to check out in Windsorville:
Our high level of customer support ensure that we'll get your home's HVAC system operating quickly and affordably!
We install and service the following heating equipment for our Windsorville customers:
We install, service and repair the following cooling equipment in Windsorville, CT:
Get comfortable in your home again with Miller Oil Company! Call us today to schedule a free estimate for new HVAC equipment or to schedule fast heating and cooling system repairs or service.
Local Reviews
for Windsorville, CT
---
Miller Oil Company services all of Windsorville, Connecticut, including the following zip codes: 06016. Click here to return to our service area.