Friendly, Affordable HVAC Repairs in Windsor Locks CT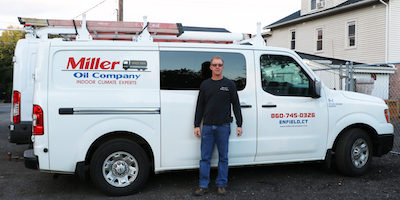 We are your resource for all heating and cooling repairs, service, installation and maintenance needs in Windsor Locks Connecticut. Call us for fast service on your HVAC equipment. We work on oil, propane and gas equipment, however, keep in mind that only our oil repairs are offered with 24-hour service. Gas and propane repairs are on a schedule-only basis.
Get started today with your heating and cooling repairs by calling our Home Comfort Specialists:
We are a locally owned and operated HVAC contractor servicing homes and business in and around Windsor Locks, CT
.
Miller Oil Company is Windsor Locks's leading HVAC contractor. We offer a full line of heating and cooling repairs for all types of equipment, oil, gas, propane and electric.
Windsor Locks, Hartford County, CT Service Area
We service all of Windsor Locks CT and handle furnace repair, air conditioning repair, boiler repairs, heater repairs, heat pump repairs, ductless heating, and cooling repairs and more. We also install new HVAC equipment for homes and businesses throughout Windsor Locks.
Windsor Locks has a population of 12,512 and is located at: Latitude 41.9242917 and Longitude -72.6454469
Call Us For Heating And Cooling In Windsor Locks, CT
Having a comfy home is fundamental and Miller Oil Company is your local area Windsor Locks HVAC contractor! We have the professional practical experience and expertise to help resolve any heating and cooling issues you might be coping with. You can feel confident that we can take care of all of your home comfort goals.
We deliver full HVAC troubleshooting in Windsor Locks and can offer you with the proper fix that you need to get everything functioning efficiently. Miller Oil Company recognizes that having a residence with a functioning heating system or air conditioning system is crucial in the severe weather. Therefore, when working with us, not only will we fix your heating or cooling issue but we will do it within a reasonable timeframe. Listed below, we will go over several of the specific services we provide at Miller Oil Company.
Windsor Locks Residential HVAC Services
If you have ever had to cope with a broken heating system in the cold season, you know that it is more than just inconvenient. Not only is it extremely annoying, but it can cause your entire family significant discomfort. That is exactly why we are fully devoted to helping keep your whole home as warm as possible with our residential HVAC services.
If your air conditioner is malfunctioning during the summer season, then you can rely upon the same quality of service. By giving us a phone call, you will be given a full inspection, a diagnosis, and the necessary strategies to fix your HVAC equipment in an economical manner.
Commercial HVAC Services In Windsor Locks, CT
Many studies have shown that when employees feel comfortable at work and they are happy and more productive. Therefore, it is vital, for the overall well-being of your Windsor Locks business, to keep a comfortable indoor environment. At Miller Oil Company, we can help you enhance the comfort of your commercial property by providing comprehensive commercial heating and cooling services.
Our professional services cover anything that you need to have so that your system runs efficiently and can provide a high level of comfort. Our NATE certified service technicians have a wide range of knowledge and experience. They can assist you with installations, repairs, and the maintenance of your cooling and heating system.
Heater and AC Tune-Up Services Windsor Locks, Connecticut
Routine maintenance is imperative to make sure that your system runs optimally in Windsor Locks. Since heating and cooling your home make up the majority of your energy expenditures, a tune-up is a great means to reduce these expenses. Our HVAC maintenance services can really help your system perform at its best to ensure that it performs efficiently while providing you with the comfort that you need to get through the severe outdoor conditions.
Our thorough tune-ups consist of a comprehensive cleaning of condenser coils to boost unit efficiency, a thorough evaluation of the coolant level, a full calibration of your thermostat to assure accurate operation, examination of your ductwork, inspection of electric connections in your units to ensure maximum safety, as well as a complete evaluation of both the blower motor as well as the belt. The tasks incorporated during a routine maintenance check help protect against any breakdowns when you need your heater or air conditioner the most.
Windsor Locks Heating and Cooling Troubleshooting
When it relates to keeping your heating and cooling systems running properly, you are going to want to invest in routine maintenance. There are many things that we complete during our heating and cooling troubleshooting examinations. We look for thermostat issues, performance concerns, oversee the combustion system, refrigerant leaks, and more.
Among one of the main concerns of a tune-up is to ensure that your system is running as efficiently as possible. Anything that is having an effect on this will be resolved to help lower your energy costs. We check to see if your cooling or heating system has the ability to deliver an even, balanced temperature throughout your office or home. During the troubleshooting professional service, we also check and change the filters if needed and fully inspect the outside unit to ensure that it is not being obstructed due to debris build-up.
HVAC Installation Services In Windsor Locks
A new HVAC system is quite an investment. Nevertheless, did you know that the quality of the installation will greatly impact its performance? When working with Miller Oil Company, you can count on the best HVAC installation service in the greater Windsor Locks area. We offer pleasant, professional, and affordable heating and air conditioning installs. This is something that we have been doing for many years. Every one of our employees are fully trained and certified.
As a family owned and operated establishment, we offer fair and affordable rates. You can count on us to service your equipment correctly, the very first time around.
Make sure to speak with us today for any of your Windsor Locks, CT HVAC needs. You can schedule an appointment for a free, in-home consultation with one of our highly trained specialists.
Heating & Cooling Repair Resources Near Me Windsor Locks AC Repair
HVAC Contractor Windsor Locks CT
Windsor Locks Heating and Cooling
Boiler Repair Services Windsor Locks CT
Windsor Locks Furnace Repair
Windsor Locks Home AC Repair
Heating and Air Windsor Locks CT
Points of Interest in Windsor Locks
Windsor Locks is a town in Hartford County, Connecticut that was initially part of Windsor. It became its own settlement in 1854. Windsor Locks is located at the west part of Connecticut River and is home to Bradley International Airport, the second largest airport in New England. As a result, Windsor Locks is a major northeastern distribution center and producer for aerospace products and paper goods. The total area of Windsor Locks is 9.4 square miles. According to the United States Census Bureau, Windsor Locks has a population of 12,525 in 2016. The racial makeup in Windsor Locks is 92.47% White, 2.67% Black, 2.22% Hispanic, and 2.57% Asian. The estimated median household income for a household is $48,837 while the estimated per capita income per family is $59,054.
Places to check out in Windsor Locks:
Our high level of customer support ensure that we'll get your home's HVAC system operating quickly and affordably!
We install and service the following heating equipment for our Windsor Locks customers:
We install, service and repair the following cooling equipment in Windsor Locks, CT:
Get comfortable in your home again with Miller Oil Company! Call us today to schedule a free estimate for new HVAC equipment or to schedule fast heating and cooling system repairs or service.
Local Reviews
for Windsor Locks, CT
Miller Oil Company
Rated
5.0
out of 5 stars based on
5
customer reviews
---
Excellent HVAC Knowledge
Ned Arcouette

-

Windsor Locks

,

CT

06096



Review of
Miller Oil Company
Tony was thorough and very knowledgeable. I will definitely ask for him to return to service my HVAC systems.
---
Great service, Fair pricing. Much lower than competitor.
Sue

-

Windsor Locks

,

CT

06096



Review of
Miller Oil Company
---
Timely, Efficient, Honest & Reliable
Jnk92

-

Windsor Locks

,

CT

06096



Review of
Miller Oil Company
I've had Miller Oil annually tune up & clean my furnace. Very pleased with the professionalism of their employees and I've learned helpful information over the years.
---
wonderful service , very prompt
Kraut Charlotte

-

Windsor Locks

,

CT

06096



Review of
Miller Oil Company
As always very prompt service, friendly technicians and very experienced .. I only have Miller Oil maintain our heating system because I trust their work ethics and they stand behind their work 100% .
---
Great Service
Charlotte

-

Windsor Locks

,

CT

06096



Review of
Miller Oil Company
We can always depend on Miller Oil's prompt response,and great service technicians. They are Informative, professional, and cordial.
---
Antonio M.
Annual tuneup of gas furnace
Near

Woodridge Dr,

Windsor Locks

,

CT

06096
Antonio M.
Annual tuneup of oil boiler
Near

School St,

Windsor Locks

,

CT

06096
Russell A.
No heat and hot water call. Replaced hydrostat and unit is working.
Near

Circle Dr,

Windsor Locks

,

CT

06096
Antonio M.
Install inducer motor
Near

Ross Way,

Windsor Locks

,

CT

06096
Antonio M.
Oil boiler pm
Near

Elmwood Dr,

Windsor Locks

,

CT

06096
Russell A.
Noise
Near

Fairfield Dr,

Windsor Locks

,

CT

06096
Joseph M.
Tune up
Near

Bel-Aire Cir,

Windsor Locks

,

CT

06096
Russell A.
Oil leak
Near

Fairfield Dr,

Windsor Locks

,

CT

06096
Russell A.
Oil leak
Near

Fairfield Dr,

Windsor Locks

,

CT

06096
Miller Oil Company services all of Windsor Locks, Connecticut, including the following zip codes: 06088, 06096, 06199. Click here to return to our service area.