Friendly, Affordable HVAC Repairs in Poquonock CT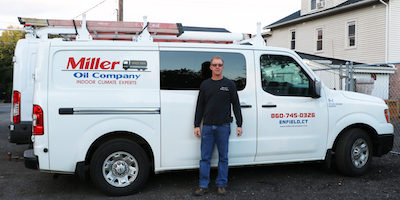 We are your resource for all heating and cooling repairs, service, installation and maintenance needs in Poquonock Connecticut. Call us for fast service on your HVAC equipment. We work on oil, propane and gas equipment, however, keep in mind that only our oil repairs are offered with 24-hour service. Gas and propane repairs are on a schedule-only basis.
Get started today with your heating and cooling repairs by calling our Home Comfort Specialists:
We are a locally owned and operated HVAC contractor servicing homes and business in and around Poquonock, CT
.
Miller Oil Company is Poquonock's leading HVAC contractor. We offer a full line of heating and cooling repairs for all types of equipment, oil, gas, propane and electric.
Poquonock, Hartford County, CT Service Area
We service all of Poquonock CT and handle furnace repair, air conditioning repair, boiler repairs, heater repairs, heat pump repairs, ductless heating, and cooling repairs and more. We also install new HVAC equipment for homes and businesses throughout Poquonock.
Poquonock has a population of 1,247 and is located at: Latitude 41.9048198 and Longitude -72.6787032
Call Us For Heating And Cooling In Poquonock, CT
If you are on the search for heating and cooling installation or repair in Poquonock, CT, Miller Oil Company is ready to offer qualified professional assistance. Our expert HVAC technicians can address all your heating and ac concerns. You can rest assured that we can take care of all of your home comfort goals.
Our HVAC technicians understand every make and model and they can troubleshoot your Poquonock system appropriately. Also, with their expertise and skill, they can fix any system to ensure that it performs optimally. Miller Oil Company knows that having a home with a working heater or cooling system is fundamental in the extreme weather. Therefore, when working with us, not only will we solve your cooling or heating issue but we will do it within a reasonable timeframe. Below, you will find some of the professional services that you can expect when using Miller Oil Company.
Poquonock Residential HVAC Services
If you have ever had to deal with a broken heating system in the winter season, you know that it is more than inconvenient. Not only is it incredibly inconvenient, but it can cause your entire home serious discomfort. One of the top priorities at Miller Oil Company is to offer our customers exceptional residential HVAC services. If your furnace is giving you problems, then it is crucial for us to get it working once again.
Also, we provide the same services to help keep your household cool during the warmer months when you need your air conditioning functioning correctly. Our skilled heating and cooling professionals can supply you with a thorough inspection, a diagnosis, and practical solutions that can fix your ailing HVAC unit.
Commercial HVAC Services In Poquonock, CT
Many research studies have demonstrated that when employees feel comfortable at work and they are happy and more productive. Therefore, it is essential, for the general well-being of your Poquonock business, to keep a comfortable indoor environment. We have the capability to help you guarantee the comfort of your entire work environment by providing our comprehensive commercial HVAC solutions.
Our professional services cover anything that you may need so that your system runs efficiently and can provide a high degree of comfort. Our NATE certified technicians have a wealth of knowledge and experience. They can assist you with installations, repairs, and also the maintenance of your cooling and heating system.
Heater and AC Tune-Up Services Poquonock, Connecticut
An aspect of keeping your Poquonock system running properly includes routine maintenance. Our company offers comprehensive expert tune-up services that can effectively improve the life expectancy of each unit and keep each unit running at optimal efficiency which can save you a notable amount of money in the long run.
A tune-up involves the cleaning of all of the components of your system. The components are lubricated to ensure energy-efficient performance. Our technicians will use their trained eyes to find any issues, giving you the opportunity to address them before they become major and expensive problems. These are just a few of the aspects that we will do during our complete heater and AC tune-up.
Poquonock Heating and Cooling Troubleshooting
When it involves keeping your home heating and air-conditioning systems operating effectively, you are going to want to invest in routine maintenance. There are a number of duties that we accomplish during our heating and cooling troubleshooting assessments. Our technicians will check every component of your system, including your thermostat, heat exchanger, refrigerant, and much more.
We also take a look at the efficiency of each system to make sure that you are not working with potential troubles that could be driving up your power bills. We check to see if your cooling or heating system has the ability to provide an even, balanced temperature throughout your home or office. During the troubleshooting professional service, we also check and change the air filters if needed and fully inspect the outdoor unit to ensure that it is not being obstructed due to debris build-up.
HVAC Installation Services In Poquonock
A new HVAC system in your house or business is an opportunity to boost your comfort and minimize your utility charges. However, did you know that the installation will have to be perfect for you to genuinely gain the benefits of your new system? We pride ourselves on offering complete, competent, and reasonably priced HVAC installation for both residential as well as commercial customers. Given that we have been in the HVAC industry for quite a long time, we have the experience of performing flawless installations, no matter the fuel source or model. Each of our staff members are fully educated and certified.
When you employ us, you know that you are getting complete pricing transparency with no hidden charges, zero risks, and no stress. You can trust us to service your system the right way, the first time around.
Make sure to contact us now for any of your Poquonock, CT HVAC needs. You can schedule an appointment for a cost-free, in-home consultation with one of our highly trained experts.
Heating & Cooling Repair Resources Near Me Poquonock AC Repair
HVAC Contractor Poquonock CT
Poquonock Heating and Cooling
Boiler Repair Services Poquonock CT
Poquonock Furnace Repair
Poquonock Home AC Repair
Heating and Air Poquonock CT
Points of Interest in Poquonock
Poquonock is located at the northern area of Windsor. For post-office box purposes, Poquonock was given its own zip code, which is 06064. One of the four public elementary schools, Poquonock Primary School, in the area is in Poquonock. Welch Park is also located at Poquonock. It features a public pool, basketball and tennis courts, baseball diamonds, and a playground.
Places to check out in Poquonock:
Our high level of customer support ensure that we'll get your home's HVAC system operating quickly and affordably!
We install and service the following heating equipment for our Poquonock customers:
We install, service and repair the following cooling equipment in Poquonock, CT:
Get comfortable in your home again with Miller Oil Company! Call us today to schedule a free estimate for new HVAC equipment or to schedule fast heating and cooling system repairs or service.
Local Reviews
for Poquonock, CT
---
Miller Oil Company services all of Poquonock, Connecticut, including the following zip codes: 06095. Click here to return to our service area.