Friendly, Affordable HVAC Repairs in North Thompsonville CT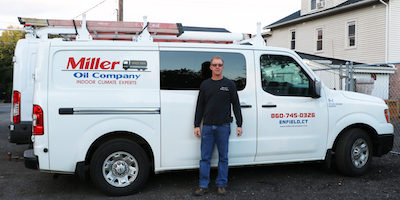 We are your resource for all heating and cooling repairs, service, installation and maintenance needs in North Thompsonville Connecticut. Call us for fast service on your HVAC equipment. We work on oil, propane and gas equipment, however, keep in mind that only our oil repairs are offered with 24-hour service. Gas and propane repairs are on a schedule-only basis.
Get started today with your heating and cooling repairs by calling our Home Comfort Specialists:
We are a locally owned and operated HVAC contractor servicing homes and business in and around North Thompsonville, CT
.
Miller Oil Company is North Thompsonville's leading HVAC contractor. We offer a full line of heating and cooling repairs for all types of equipment, oil, gas, propane and electric.
North Thompsonville, Hartford County, CT Service Area
We service all of North Thompsonville CT and handle furnace repair, air conditioning repair, boiler repairs, heater repairs, heat pump repairs, ductless heating, and cooling repairs and more. We also install new HVAC equipment for homes and businesses throughout North Thompsonville.
North Thompsonville has a population of 22,161 and is located at Latitude 42.016207 and Longitude -72.5923109
Call Us For Heating And Cooling In North Thompsonville, CT
Miller Oil Company is your resource for any HVAC installations or repairs in North Thompsonville, CT. We have the professional background and expertise to help solve any heating and cooling problems you might be dealing with. At Miller Oil Company, we provide a full assortment of HVAC services, including installation, maintenance, tune-ups, and repairs.
Our HVAC technicians are aware of every make and model and they can troubleshoot your North Thompsonville system accurately. Likewise, with their knowledge and skill, they can service any system so that it performs optimally. We know that a proper diagnosis to an ailing HVAC equipment is vital when the weather is intolerable. We also know that repairing the unit quickly is essential. In this article, we will go over several of the specific services we offer at Miller Oil Company.
North Thompsonville Residential HVAC Services
One of the last things that you would like to have to deal with during the course of the colder months is a faulty furnace. It is annoying and impacts your safety and security. That is why we are fully dedicated to helping keep your entire household as warm as possible with our residential HVAC professional services.
In addition, we provide the exact same services to help keep your family cool during the hotter months when you need your air conditioning functioning efficiently. We offer everything that you could possibly require including proper examination, diagnostics, repair, installation, and also routine maintenance.
Commercial HVAC Services In North Thompsonville, CT
Many research studies have shown that when staff members feel comfortable at work and they are satisfied and more productive. Therefore, it is critical, for the overall well-being of your North Thompsonville business, to keep a comfortable indoor environment. We have the ability to help you ensure the comfort of your entire work environment by providing our comprehensive commercial HVAC professional services.
We provide everything that you could possibly require to keep your HVAC system working and functioning optimally. With our installations, replacements, repairs and tune-up services, your HVAC system can perform the manner that it ought to and the way that you expect it to.
Heater and AC Tune-Up Services North Thompsonville, Connecticut
Keeping up with normal maintenance on your North Thompsonville home heating and AC units is crucial in order to keep both units functioning effectively. We offer comprehensive expert tune-up services that can properly boost the service life of each unit and keep each unit working at optimal efficiency which can save you a great amount of cash in the long run.
A tune-up involves the cleaning of all of the parts of your system. The components are lubricated to ensure energy-saving performance. Our technicians will use their experienced eyes to look out for any issues, giving you the chance to address them before they become major and expensive problems. These are just a few of the aspects that we will do during our complete heater and AC tune-up.
North Thompsonville Heating and Cooling Troubleshooting
When it pertains to keeping your home heating and air-conditioning systems performing correctly, you are going to want to invest in routine maintenance. A tune-up includes a thorough inspection of your heater or air conditioner. Our technicians will troubleshoot any issues that they find with your unit. We look for thermostat issues, performance issues, oversee the combustion system, refrigerant leaks, and even more.
Among one of the top priorities of a tune-up is to make certain that your system is running as efficiently as possible. Anything that is having an effect on this will be taken care of to help reduce your energy costs. Another issue that we check for is incorrect heating or cooling that results in your HVAC system to heat or cool unevenly. Our professionals will replace your air filter and ensure that there are no blockages with your unit that can affect its capability to create a comfortable indoor environment.
HVAC Installation Services In North Thompsonville
Getting your HVAC system installed properly is fundamental to getting your unit to function optimally. When working with Miller Oil Company, you can expect the best HVAC installation service in the greater North Thompsonville area. We deliver friendly, professional, and affordable heating and air conditioning replacements. We have the practical experience, knowledge, and skills to deal with all makes and models. All of the professionals that we have on staff have the necessary certifications, insurance, and experience.
As a family owned and operated business, we offer fair and affordable prices. We have the ability to solve all of your service and installation demands for your HVAC system.
Give us a call today if you are in North Thompsonville, CT. You can schedule an appointment for a cost-free, in-home appointment with one of our highly trained specialists.
Heating & Cooling Repair Resources Near Me North Thompsonville AC Repair
HVAC Contractor North Thompsonville CT
North Thompsonville Heating and Cooling
Boiler Repair Services North Thompsonville CT
North Thompsonville Furnace Repair
North Thompsonville Home AC Repair
Heating and Air North Thompsonville CT
Points of Interest in North Thompsonville
North Thompsonville is located in Enfield, Hartford County, Connecticut. It's a suburban city that has a population of 22,161. The population density is estimated to be 1,343 per square mile. The estimated median household income is $68,162 while the per capita income of the same year is $29,747. The average high temperature in North Thompsonville is 84.5 degrees in July. Whereas, the average low temperature is 17.7 degrees in January. Also, North Thompsonville receives an average 49.4 inches of rainfall annually, with 40.5 inches of snowfall per year.
Places to check out in North Thompsonville:
Our high level of customer support ensure that we'll get your home's HVAC system operating quickly and affordably!
We install and service the following heating equipment for our North Thompsonville customers:
We install, service and repair the following cooling equipment in North Thompsonville, CT:
Get comfortable in your home again with Miller Oil Company! Call us today to schedule a free estimate for new HVAC equipment or to schedule fast heating and cooling system repairs or service.
Local Reviews
for North Thompsonville, CT
---
Miller Oil Company services all of North Thompsonville, Connecticut, including the following zip codes: 06082, 06083. Click here to return to our service area.