Friendly, Affordable HVAC Repairs in East Windsor CT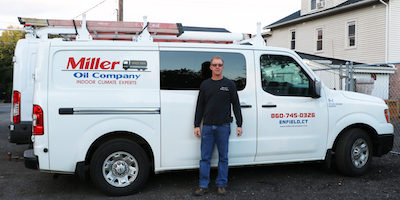 We are your resource for all heating and cooling repairs, service, installation and maintenance needs in East Windsor Connecticut. Call us for fast service on your HVAC equipment. We work on oil, propane and gas equipment, however, keep in mind that only our oil repairs are offered with 24-hour service. Gas and propane repairs are on a schedule-only basis.
Get started today with your heating and cooling repairs by calling our Home Comfort Specialists:
We are a locally owned and operated HVAC contractor servicing homes and business in and around East Windsor, CT
.
Miller Oil Company is East Windsor's leading HVAC contractor. We offer a full line of heating and cooling repairs for all types of equipment, oil, gas, propane and electric.
East Windsor, Hartford County, CT Service Area
We service all of East Windsor CT and handle furnace repair, air conditioning repair, boiler repairs, heater repairs, heat pump repairs, ductless heating, and cooling repairs and more. We also install new HVAC equipment for homes and businesses throughout East Windsor.
East Windsor has a population of 11,355 and is located at: Latitude 41.916136 and Longitude -72.55788
Call Us For Heating And Cooling In East Windsor, CT
If you are on the search for heating and cooling installation or repair work in East Windsor, CT, Miller Oil Company is ready to offer skilled professional assistance. Our expert HVAC technicians can resolve all your heating and ac concerns. At Miller Oil Company, we provide a full range of HVAC services, including installation, maintenance, tune-ups, as well as repairs.
As seasoned heating and cooling technicians in the business, we can troubleshoot any complication that you come across. Also, we can repair it rapidly so that your East Windsor HVAC unit functions the way that you expect it to once more. We understand how vital it is to have your heating and cooling working, and we pride ourselves on being able to not only resolve any HVAC problem you may be having but also on our ability to do it as efficiently as possible. Listed below, we will review a few of the specific services we offer at Miller Oil Company.
East Windsor Residential HVAC Services
One of the final things that you would like to have to deal with at the time of the colder months is a malfunctioning furnace. Your home is cold and you need to find alternate strategies to generate heat. One of the goals at Miller Oil Company is to offer our customers remarkable residential HVAC services. If your furnace is giving you challenges, then it is essential for us to get it working once again.
Similarly, we offer the same services to help keep your home cool during the hotter months when you need your central air conditioning functioning efficiently. By giving us a call, you will receive a comprehensive inspection, a diagnosis, and the necessary solutions to repair your HVAC equipment in an economical manner.
Commercial HVAC Services In East Windsor, CT
Keeping your East Windsor commercial building or office environment as comfortable as possible is not only necessary to maximize productivity, but also to keep everyone as happy as possible. At Miller Oil Company, we can help you improve the comfort of your commercial property by providing comprehensive commercial heating and cooling services.
At Miller Oil Company, we offer the services that are vital to ensure that your HVAC system performs efficiently and also optimally. We have fully certified contractors on staff to help you with anything including full installation, routine maintenance to keep your HVAC system functioning optimally, and full repair services.
Heater and AC Tune-Up Services East Windsor, Connecticut
Routine maintenance is essential to ensure that your system runs optimally in East Windsor. Our comprehensive tune-up services can really help your system provide you with the level of comfort that you deserve while running at peak efficiency. A system that runs efficiently is a terrific way to decrease your home cooling and heating expenses.
Our thorough tune-ups involve a comprehensive cleaning of condenser coils to raise unit efficiency, a thorough evaluation of the coolant level, a full calibration of your thermostat to guarantee accurate operation, inspection of your ductwork, inspection of electric connections in your units to ensure maximum safety, and a complete evaluation of both the blower motor and the belt. These are just a few of the aspects that we will complete during our complete heater and AC tune-up.
East Windsor Heating and Cooling Troubleshooting
As pointed out above, an annual heating or AC checkup helps promote the effectiveness of your system. Therefore, it is a valuable investment. There are multiple things that we carry out during our heating and cooling troubleshooting evaluations. Not only do we check for potential thermostat issues that could be causing your system to become defective, but we also search for potential refrigerant leaks as this can be very common.
We also examine the efficiency of each system to make sure that you are not dealing with potential challenges that could be driving up your utility bills. We check to see if your heating or cooling system is able to supply an even, balanced temperature throughout your office or home. An air filter replacement is conducted and we check your outdoor unit for any blockages including plants or other blockages.
HVAC Installation Services In East Windsor
Getting your HVAC system put in properly is essential to getting your unit to function optimally. When working with Miller Oil Company, you can count on the best HVAC installation service in the greater East Windsor area. We provide courteous, professional, and affordable heating and cooling replacements. Considering that we have been in the HVAC industry for quite a long time, we have the experience of performing remarkable installations, regardless of fuel source or model. All of our employees are fully qualified and certified.
As a family owned and operated business, we provide fair as well as affordable prices. You can trust us to service your unit accurately, the first time around.
Contact Miller Oil Company for every one of your East Windsor, CT home heating and air conditioning concerns. You can schedule an appointment for a complimentary, in-home appointment with one of our highly trained professionals.
Heating & Cooling Repair Resources Near Me East Windsor AC Repair
HVAC Contractor East Windsor CT
East Windsor Heating and Cooling
Boiler Repair Services East Windsor CT
East Windsor Furnace Repair
East Windsor Home AC Repair
Heating and Air East Windsor CT
Points of Interest in East Windsor
East Windsor, nicknamed East Side, has five sections, namely, Broad Brook, Melrose, Scantic, Warehouse Point, and Windsorville. It has a total land area of 26.3 square miles and .58 square miles of water area. East Windsor is bordered by Enfield (north), South Windsor (south), Ellington (east), and Windsor Locks and Winsor (west). The United States Census Bureau states that East Windsor has a population of 11,355 in 2016. As of 2010, the racial makeup in East Windsor is 81.2% White, 6.6% Black, 5.7% Hispanic and 4.6% Asian. The estimated median household income in 2016 is $69,893 while the per capita income of the same year is $35,656.
Places to check out in East Windsor:
Our high level of customer support ensure that we'll get your home's HVAC system operating quickly and affordably!
We install and service the following heating equipment for our East Windsor customers:
We install, service and repair the following cooling equipment in East Windsor, CT:
Get comfortable in your home again with Miller Oil Company! Call us today to schedule a free estimate for new HVAC equipment or to schedule fast heating and cooling system repairs or service.
Local Reviews
for East Windsor, CT
---
Joseph M.
Annual tuneup of oil boiler
Near

Depot St,

East Windsor

,

CT

06016
Joseph M.
No heat service call on oil system
Near

N Water St,

East Windsor

,

CT

06088
Antonio M.
Annual tuneup of oil furnace
Near

Scantic Rd,

East Windsor

,

CT

06088
Russell A.
no heat call
Near

Fairway Dr,

East Windsor

,

CT

06088
Rick M.
Cleaning utica starfire boiler beckett AF2 burner
Near

Winton Rd,

East Windsor

,

CT

06088
Rick M.
2 annual tune ups. Lennox warm air furnace with beckettAF11 burner and bock 50 gal. hot water tank with a carlin ez1 oil burner.
Near

Azalea Ct,

East Windsor

,

CT

06016
Miller Oil Company services all of East Windsor, Connecticut, including the following zip codes: 06016, 06088. Click here to return to our service area.