Friendly, Affordable HVAC Repairs in East Granby CT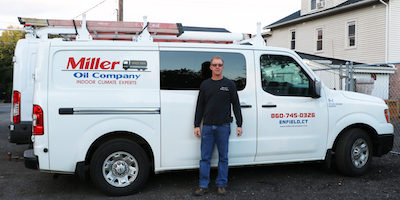 We are your resource for all heating and cooling repairs, service, installation and maintenance needs in East Granby Connecticut. Call us for fast service on your HVAC equipment. We work on oil, propane and gas equipment, however, keep in mind that only our oil repairs are offered with 24-hour service. Gas and propane repairs are on a schedule-only basis.
Get started today with your heating and cooling repairs by calling our Home Comfort Specialists:
We are a locally owned and operated HVAC contractor servicing homes and business in and around East Granby, CT
.
Miller Oil Company is East Granby's leading HVAC contractor. We offer a full line of heating and cooling repairs for all types of equipment, oil, gas, propane and electric.
East Granby, Hartford County, CT Service Area
We service all of East Granby CT and handle furnace repair, air conditioning repair, boiler repairs, heater repairs, heat pump repairs, ductless heating, and cooling repairs and more. We also install new HVAC equipment for homes and businesses throughout East Granby.
East Granby has a population of 5,170 and is located at: Latitude 41.941208 and Longitude -72.727316
Call Us For Heating And Cooling In East Granby, CT
Miller Oil Company is your source for any HVAC installations or repairs in East Granby, CT. We have the professional experience and expertise to help resolve any heating and cooling problems you might be dealing with. We offer full residential and commercial HVAC professional services.
As experienced heating and cooling technicians in the profession, we can troubleshoot any complication that you come across. Also, we can repair it quickly so that your East Granby HVAC system works the manner in which you expect it to once more. Miller Oil Company recognizes that having a residence with a functioning heater or air conditioner is critical in the harsh weather. Therefore, when working with us, not only will we resolve your cooling or heating issue but we will do it within a reasonable timeframe. Below, you will discover some of the services that you can look forward to when employing Miller Oil Company.
East Granby Residential HVAC Services
If you have ever had to deal with a broken heating system in the winter months, you know that it is more than inconvenient. It is uncomfortable and has an effect on your well-being. That is the reason why we are fully devoted to helping keep your entire household as warm as possible with our residential HVAC professional services.
In addition, we provide the exact same services to help keep your household cool during the warmer months when you need your air conditioner functioning correctly. By giving us a call, you will receive a full inspection, a diagnosis, along with the needed options to repair your HVAC equipment in an economical manner.
Commercial HVAC Services In East Granby, CT
Always keeping your East Granby commercial building or office environment as comfortable as possible is not only important to maximize work productivity, but also to keep everyone as content as possible. We have the ability to help you ensure the comfort of your entire work environment by offering our comprehensive commercial HVAC support services.
We provide everything that you could possibly need to keep your HVAC system working and functioning optimally. With our installations, replacements, repairs and tune-up services, your HVAC system can work the manner that it ought to and the way that you need it to.
Heater and AC Tune-Up Services East Granby, Connecticut
An aspect of keeping your East Granby system running properly includes routine maintenance. Since heating and cooling your home make up the majority of your power expenses, a tune-up is a great solution to reduce these expenses. Our HVAC maintenance services can help your system run at its best so that it performs efficiently while providing you with the comfort that you need to get through the severe outdoor temperatures.
We use a detailed tune-up list to ensure that we inspect your unit inside out. We clean the HVAC system, lubricate it, and look for any minor issues. This inspection gives you the chance to fix any minor complications before they grow into major and more expensive ones. Consequently, not only is our tune-up an outstanding approach to reduce your energy costs, but it is a terrific way to reduce your HVAC repair service costs. Since most breakdowns happen when the weather is extreme, these tune-ups help protect against unexpected malfunctions. As a result, you can count on having a reliable and energy efficient cooling and heating system throughout the summer or winter months.
East Granby Heating and Cooling Troubleshooting
When it concerns keeping your heating and air-conditioning systems performing correctly, you are going to want to invest in routine maintenance. There are various tasks that we complete during our heating and cooling troubleshooting assessments. Not only do we inspect for potential thermostat issues that could be causing your system to malfunction, but we also search for potential refrigerant leaks as this can be very common.
We also evaluate the efficiency of each system to make sure that you are not dealing with potential concerns that could be increasing your power bills. We check for concerns with your system's performance. We make certain that your furnace or air conditioning unit is able to create a balanced temperature throughout your home or office building. An air filter replacement is carried out and we check your outdoor unit for any blockages including plants or other blockages.
HVAC Installation Services In East Granby
Getting your HVAC system set up properly is essential to getting your unit to function optimally. We pride ourselves on offering complete, professional, and budget-friendly HVAC installation for both residential as well as commercial customers. Because we have been in the HVAC industry for quite a long time, we have the experience of performing impeccable installations, no matter the fuel source or model. Each of our employees are fully qualified and certified.
As a family owned and operated company, we offer fair as well as affordable prices. When you need a repair service, install, or tune-up, you can count on us to provide the service that you would want.
Make sure to reach out to us now for any of your East Granby, CT HVAC needs. If you have any questions or concerns, we will address them for you. One of our technicians will put in the time to adequately answer your questions as we are proud to be the local area's best HVAC provider.
Heating & Cooling Repair Resources Near Me East Granby AC Repair
HVAC Contractor East Granby CT
East Granby Heating and Cooling
Boiler Repair Services East Granby CT
East Granby Furnace Repair
East Granby Home AC Repair
Heating and Air East Granby CT
Points of Interest in East Granby
Native Americans originally inhabited East Granby. Europeans first settled in the area in 1664, making it one of the four Congregational parishes in Simsbury. The town is bordered by Salisbury Plain (east), and Farmington River (south). The Metacomet Ridge runs through the center of this town and has a total area of 17.7 square miles. According to the United States Census Bureau, East Granby has a population of 5,207 in 2016. As of 2017, the racial makeup in East Granby is 87.1% White, 5.5% Black, and 1.7% Asian. The estimated median household income in 2000 is $68,696 while the per capita income of the same year is $30,805.
Places to check out in East Granby:
Our high level of customer support ensure that we'll get your home's HVAC system operating quickly and affordably!
We install and service the following heating equipment for our East Granby customers:
We install, service and repair the following cooling equipment in East Granby, CT:
Get comfortable in your home again with Miller Oil Company! Call us today to schedule a free estimate for new HVAC equipment or to schedule fast heating and cooling system repairs or service.
Local Reviews
for East Granby, CT
Miller Oil Company
Rated
5.0
out of 5 stars based on
3
customer reviews
---
Satisfied
ROY

-

East Granby

,

CT

06026



Review of
Miller Oil Company
Worker was conscious about Covid safe practices, job was clean.
---
Clean
Roy

-

East Granby

,

CT

06026



Review of
Miller Oil Company
Our service provider was a pleasure to have, he explained the working function of our furnace for it was new to us. In addition, he left our basement clean which is much appreciated.
---
Great Service
Trace

-

East Granby

,

CT

06026



Review of
Miller Oil Company
The team from Miller did a great job installing our new furnace. Came in, did the job, cleaned everything up and done. They even checked another issue I was concerned about while they were at it. That kind of service is rare these days.
---
ALEXANDER R.
YEARLY TUNE-UP PREVENTATIVE MAINTENACE
Near

Heather Ln,

East Granby

,

CT

06026
Antonio M.
Oil boiler pm
Near

Heather Ln,

East Granby

,

CT

06026
Russell A.
Installing furnace
Near

N Main St,

East Granby

,

CT

06026
Russell A.
No heat 1 zone
Near

Holcomb St,

East Granby

,

CT

06026
Russell A.
No heat
Near

Rainbow Rd,

East Granby

,

CT

06026
Miller Oil Company services all of East Granby, Connecticut, including the following zip codes: 06026, 06081, 06096. Click here to return to our service area.