Friendly, Affordable HVAC Repairs in West Suffield CT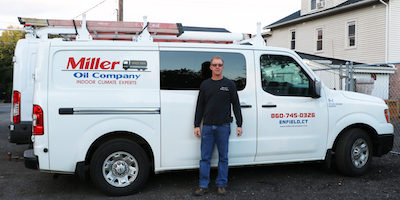 We are your resource for all heating and cooling repairs, service, installation and maintenance needs in West Suffield Connecticut. Call us for fast service on your HVAC equipment. We work on oil, propane and gas equipment, however, keep in mind that only our oil repairs are offered with 24-hour service. Gas and propane repairs are on a schedule-only basis.
Get started today with your heating and cooling repairs by calling our Home Comfort Specialists:
We are a locally owned and operated HVAC contractor servicing homes and business in and around West Suffield, CT
.
Miller Oil Company is West Suffield's leading HVAC contractor. We offer a full line of heating and cooling repairs for all types of equipment, oil, gas, propane and electric.
West Suffield, Hartford County, CT Service Area
We service all of West Suffield CT and handle furnace repair, air conditioning repair, boiler repairs, heater repairs, heat pump repairs, ductless heating, and cooling repairs and more. We also install new HVAC equipment for homes and businesses throughout West Suffield.
West Suffield has a population of 3,214 and is located at Latitude 42.0185603 and Longitude -72.7466593
Call Us For Heating And Cooling In West Suffield, CT
Having a comfortable home is important and Miller Oil Company is your local area West Suffield HVAC contractor! Our repair technicians are the best repairmen in the area. We can get your home's HVAC system working again, quickly and affordably. You can feel confident that we can take care of all of your home comfort requirements.
We offer full HVAC troubleshooting in West Suffield and can provide you with the proper fix that you need to get everything functioning optimally. We know that a proper diagnosis to an ailing HVAC equipment is essential when the weather is unbearable. We also know that servicing the unit quickly is essential. Listed below, we will examine a number of the specific services we provide at Miller Oil Company.
West Suffield Residential HVAC Services
Facing a malfunctioning heating system when the weather is cold is an unpleasant ordeal. Your dwelling is cold and you need to search for alternate methods to produce heat. That is the reason that we are fully dedicated to helping keep your whole family as warm as possible with our residential HVAC professional services.
In addition, we deliver the same services to help keep your household cool during the warmer months when you need your air conditioner functioning effectively. We offer everything that you could possibly require such as proper examination, diagnostics, repair, installation, as well as routine maintenance.
Commercial HVAC Services In West Suffield, CT
Many studies have shown that when employees feel comfortable at work and they are happy and more productive. Therefore, it is important, for the overall well-being of your West Suffield business, to keep a comfortable indoor environment. We have the capability to help you guarantee the comfort of your entire work environment by offering our comprehensive commercial HVAC services.
At Miller Oil Company, we offer the services that are essential to guarantee that your HVAC system performs efficiently and optimally. Our NATE certified experts have a wide range of knowledge and experience. They can assist you with installations, repairs, and also the maintenance of your cooling and heating system.
Heater and AC Tune-Up Services West Suffield, Connecticut
A component of keeping your West Suffield system running properly includes routine maintenance. Our comprehensive tune-up services can help your system provide you with the level of comfort that you need while functioning at peak efficiency. A heating and cooling system that runs efficiently is an exceptional way to decrease your home cooling and heating payments.
Our comprehensive tune-ups include a comprehensive cleaning of condenser coils to increase unit efficiency, a full evaluation of the coolant level, a full calibration of your thermostat to guarantee accurate operation, examination of your ductwork, inspection of electric connections in your units to ensure maximum safety, and a complete evaluation of both the blower motor and the belt. These are just a few of the aspects that we will perform during our complete heater and AC tune-up.
West Suffield Heating and Cooling Troubleshooting
When it comes down to keeping your home heating and air-conditioning systems working effectively, you are going to want to invest in routine maintenance. These tune-ups give the expert the chance to look over your system and troubleshoot any problems. Not only do we inspect for potential thermostat issues that could be causing your system to become defective, but we also look for potential refrigerant leaks as this can be very common.
We also check the efficiency of each system to make sure that you are not working with potential complications that might be increasing your utility bills. Another matter that we check for is incorrect heating or cooling that causes your HVAC system to heat or cool unevenly. During the troubleshooting professional service, we also check and replace the filters if needed and fully inspect the outside unit to ensure that it is not being obstructed due to debris build-up.
HVAC Installation Services In West Suffield
A new HVAC system in your home or business is an opportunity to enhance your comfort and minimize your power charges. However, did you know that the installation has to be perfect for you to truly gain the rewards of your new system? We pride ourselves on offering comprehensive, professional, and reasonably priced HVAC installation for both residential as well as commercial customers. This is something that we have been doing for many years. All of the service technicians that we have on staff have the proper certifications, insurance, as well as experience.
We have a long history in the industry and we have thrived all of these years by offering our clients exceptional services at affordable prices. We have the ability to address all of your service and installation requirements for your HVAC system.
Give us a call right away if you are in West Suffield, CT. We have the service providers on staff to assist you with any issues or problems you may be having and we take pride in providing the absolute best HVAC service in the whole entire area.
Heating & Cooling Repair Resources Near Me West Suffield AC Repair
HVAC Contractor West Suffield CT
West Suffield Heating and Cooling
Boiler Repair Services West Suffield CT
West Suffield Furnace Repair
West Suffield Home AC Repair
Heating and Air West Suffield CT
Points of Interest in West Suffield
West Suffield's zip code is 06093. It has a total land area of 17 square miles. Also, West Suffield has a population of 3,322 in 2010. As of 2010, the racial makeup in West Suffield is 95.1% White, .75% Black, 1.65% Hispanic, and .53% Asian. The estimated median household income in West Suffield is $100,446 while the median home price is $282,000. The average high temperature in West Suffield is 83 degrees in July. Whereas, the average low temperature is 16 degrees in January. Also, West Suffield receives an average 44 inches of rainfall and snowfall annually.
Places to check out in West Suffield:
Our high level of customer support ensure that we'll get your home's HVAC system operating quickly and affordably!
We install and service the following heating equipment for our West Suffield customers:
We install, service and repair the following cooling equipment in West Suffield, CT:
Get comfortable in your home again with Miller Oil Company! Call us today to schedule a free estimate for new HVAC equipment or to schedule fast heating and cooling system repairs or service.
Local Reviews
for West Suffield, CT
---
Miller Oil Company services all of West Suffield, Connecticut, including the following zip codes: 06093. Click here to return to our service area.