Friendly, Affordable HVAC Repairs in Scantic CT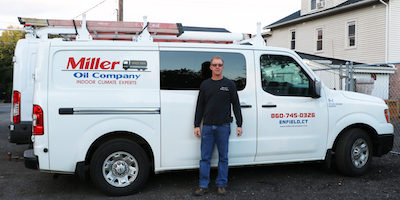 We are your resource for all heating and cooling repairs, service, installation and maintenance needs in Scantic Connecticut. Call us for fast service on your HVAC equipment. We work on oil, propane and gas equipment, however, keep in mind that only our oil repairs are offered with 24-hour service. Gas and propane repairs are on a schedule-only basis.
Get started today with your heating and cooling repairs by calling our Home Comfort Specialists:
We are a locally owned and operated HVAC contractor servicing homes and business in and around Scantic, CT
.
Miller Oil Company is Scantic's leading HVAC contractor. We offer a full line of heating and cooling repairs for all types of equipment, oil, gas, propane and electric.
Scantic, Hartford County, CT Service Area
We service all of Scantic CT and handle furnace repair, air conditioning repair, boiler repairs, heater repairs, heat pump repairs, ductless heating, and cooling repairs and more. We also install new HVAC equipment for homes and businesses throughout Scantic.
Scantic has a population of 2,897 and is located at: Latitude 41.8962087 and Longitude -72.5525876
Call Us For Heating And Cooling In Scantic, CT
If you are on the lookout for heating and cooling installation or repair in Scantic, CT, Miller Oil Company is available to offer skilled professional assistance. Our repair technicians are the absolute best repairmen in the area. We can get your home's HVAC system working again, quickly and affordably. You can feel confident that we can resolve all of your home comfort goals.
We offer full HVAC troubleshooting in Scantic and can provide you with the necessary fix that you need to get everything functioning optimally. We realize how vital it is to have your home heating and cooling functioning, and we pride ourselves on having the opportunity to not only fix any HVAC issue you might be having but also on our ability to do it as efficiently as possible. Below, you will discover some of the professional services that you can expect when using Miller Oil Company.
Scantic Residential HVAC Services
Facing a malfunctioning heating system when the weather is cold is an unpleasant experience. Your dwelling is cold and you have to search for alternate strategies to generate heat. That is the reason that we are fully committed to helping keep your entire home as warm as possible with our residential HVAC professional services.
If your air conditioner is malfunctioning during the summer season, then you can rely upon the same quality of service. We offer everything that you could possibly need such as proper analysis, diagnostics, repair, installation, as well as routine maintenance.
Commercial HVAC Services In Scantic, CT
To achieve the most effective results on the job, you need to keep your Scantic employees comfortable. Their comfort has an effect on their frame of mind and levels of productiveness. We have the capability to help you guarantee the comfort of your entire work environment by offering our comprehensive commercial HVAC solutions.
Our professional services cover anything that you need to have so that your equipment runs efficiently and can provide a high level of comfort. Our NATE certified professionals have a wealth of knowledge and experience. They can assist you with installations, repairs, as well as the maintenance of your heating and cooling system.
Heater and AC Tune-Up Services Scantic, Connecticut
Keeping up with routine maintenance on your Scantic heating system and AC units is crucial in order to keep both units functioning adequately. Since heating and cooling your home account for the majority of your electricity costs, a tune-up is a great means to reduce these expenses. Our HVAC maintenance services can really help your system run at its best to ensure that it performs efficiently while supplying you with the comfort that you need to have to get through the extreme outdoor temperatures.
Our extensive tune-ups involve a comprehensive cleaning of condenser coils to enhance unit efficiency, a thorough evaluation of the refrigerant level, a full calibration of your thermostat to guarantee accurate operation, inspection of your ductwork, inspection of electrically powered connections in your units to ensure maximum safety, as well as a complete evaluation of both the blower motor and the belt. The tasks involved during a routine maintenance check help defend against any breakdowns when you need your heater or air conditioner the most.
Scantic Heating and Cooling Troubleshooting
As pointed out above, a yearly heating or AC inspection helps promote the effectiveness of your system. Therefore, it is a valuable investment. There are multiple duties that we execute during our heating and cooling troubleshooting inspections. Our specialists will check every part of your system, including your thermostat, heat exchanger, refrigerant, and even more.
Among one of the priorities of a tune-up is to make certain that your system is running as efficiently as possible. Anything that is affecting this will be dealt with to help reduce your energy costs. We check to see if your cooling or heating system is able to provide an even, balanced temperature throughout your home or office. During the troubleshooting professional service, we also check and replace the air filters if needed and fully inspect the outside unit to ensure that it is not being blocked due to debris build-up.
HVAC Installation Services In Scantic
Getting your HVAC system set up properly is key to getting your unit to function optimally. We pride ourselves on offering comprehensive, professional, and economical HVAC installation for both residential as well as commercial customers. This is something that we have been doing for many years. Each of our employees are fully educated and certified.
We have a long history in the business and we have thrived all of these years by offering our clients great services at affordable rates. You can rely on us to service your system accurately, the 1st time around.
Give us a call right away if you are in Scantic, CT. If you have any questions or concerns, we will address them for you. One of our technicians will take the time to thoroughly answer your questions as we are proud to be the region's best HVAC service company.
Heating & Cooling Repair Resources Near Me Scantic AC Repair
HVAC Contractor Scantic CT
Scantic Heating and Cooling
Boiler Repair Services Scantic CT
Scantic Furnace Repair
Scantic Home AC Repair
Heating and Air Scantic CT
Points of Interest in Scantic
Along with Broad Brook, Melrose, Scantic, and Warehouse Point, Windsorville, Scantic is one of the sections of East Windsor. The village is located on the east side of Simon Road immediately north of the East Windsor town line. It is bordered by Enfield (north) and the State of Connecticut (east). The Scantic River also flows southwest through this village, along with other towns and communities. In fact, the village is one of the two areas named after the Scantic River, whereas the other namesake village can found in Hampden. Locals from this Scantic frequent the Scantic Valley Farm, a local farm where locals can shop for organic, farm-fresh goods.
Places to check out in Scantic:
Our high level of customer support ensure that we'll get your home's HVAC system operating quickly and affordably!
We install and service the following heating equipment for our Scantic customers:
We install, service and repair the following cooling equipment in Scantic, CT:
Get comfortable in your home again with Miller Oil Company! Call us today to schedule a free estimate for new HVAC equipment or to schedule fast heating and cooling system repairs or service.
Local Reviews
for Scantic, CT
---
Miller Oil Company services all of Scantic, Connecticut, including the following zip codes: 06016. Click here to return to our service area.